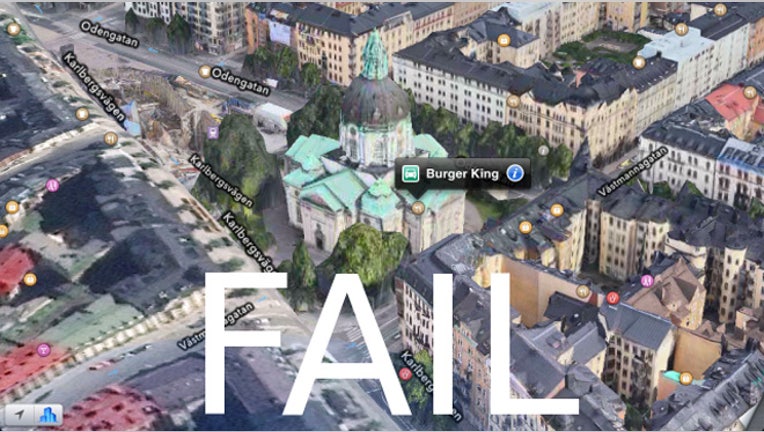 This year was loaded with amazing tech stories, both good and bad. But there were some pretty huge blunders that left us with our jaws wide open, staring in disbelief at our screens as we wrote up the news stories. Here are 10 of the biggest tech blunders of this year that we can think of.
Apple Maps
Does this one really need any real explanation? Did you see it when it launched? Sure, it's OK for basic navigation, but it's still downright awful and, thankfully, Google saved the day by releasing its own far superior mapping application. The Maps fiasco was so bad that Apple let go of top executives and CEO Tim Cook had to issue an apology.
Google's Nexus Q
You might be wondering what the Nexus Q even is. Google unveiled it earlier this year along with the Nexus 7 tablet, but quickly pulled it from its shelves. The Nexus Q was supposed to be an NFC-based home media solution that allowed you to pair your phone or tablet and stream content to your home media center, but it was heavy, over priced and consumers didn't have long to order one. Yeah, this one was certainly a blunder because we're not even sure why it was ever announced in the first place.
Microsoft Surface RT Pricing
Microsoft entered the tablet market this year with its Surface RT, which most pundits thought would go head-to-head with the $199 Amazon Kindle Fire and Nexus 7. Instead, Microsoft launched the tablet with a sky-high $499 price tag, and that's before you toss in the cheaper $119 touch cover. Ouch! It's a tough tablet to recommend, too, because it runs on an ARM-based processor that doesn't handle standard x86 Windows applications. Instead, you're limited to a starved app store.
Read more of this year's top ten tech blunders on TechnoBuffalo.com.
LightSquared Goes Bankrupt
LightSquared was desperately trying to launch its own 4G LTE network, which it was going to use to help build-out Sprint's own 4G nationwide network. Unfortunately, the company ended up filing for bankruptcy after the FCC repeatedly said that the firm's wireless signals would interfere with GPS satellites. The whole situation was a mess, especially because Lightsquared said the government's testers had close ties with the GPS industry. Sprint ultimately continued to build out its 4G LTE network, but without any help from LighSsquared.
Sony Botches its Android 4.1 Jelly Bean Roll-Out
This one came as a shock only recently. Sony said that it was going to update several of its 2012 Android phones to Jelly Bean, but it left out several of them. That's inexcusable, especially since other companies such as Motorola are rolling out the update to devices that launched in 2011. Anyone who bought an Android handset in 2012 should be able to expect that the hardware is beefy enough to handle Jelly Bean.
Instagram's ToS Debacle
Instagram recently decided to update its terms of service with a few terms that suggested it would place its user's photos into partner advertisements. The entire tech community created an uproar, and Instagram quickly backtracked and went to a different terms of service. The new rules seemed better on the surface, but they actually left Instagram with more control due to language that was more vague than the "newer" ToS. What did we learn from it? Unless you can understand legalese, or plan on filing a class action lawsuit, your content is probably being used to generate revenue in some way. If you don't like it, then you should probably stop posting your content online.
Facebook's IPO
Facebook made its initial public offering earlier this year and its stock was officially traded beginning on May 18th. It closed the day at its all time high of $38.23. The stock is currently trading in the $26 range, but the stock fell as low as $17.73, and the company received a lot of flack after the IPO after Morgan Stanley botched the launch. Ultimately, the state of Massachusetts decided to fine Morgan Stanley $5 million for breaking securities laws. Still, Facebook itself has failed to prove to investors that it has a solid revenue generation plan in place. We've since seen the addition of advertisements, and Facebook also purchased Instagram with hopes of generating additional revenue from the service.
Read more of this year's top ten tech blunders on TechnoBuffalo.com.