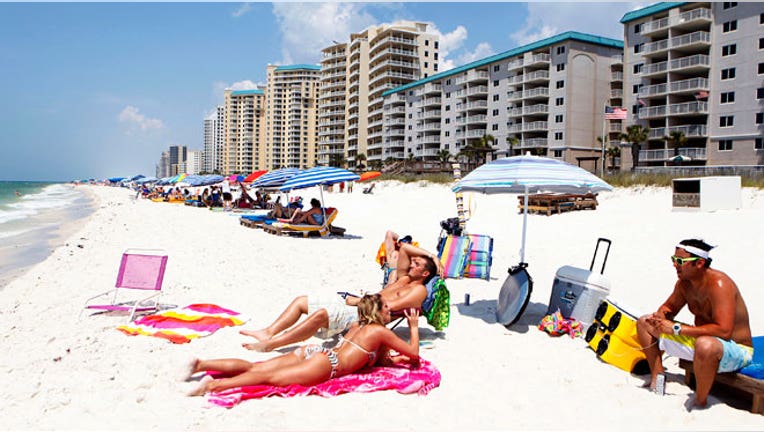 Spring break is a time for college students to relax and recharge their batteries mid-semester, but planning an extravagant trip that ends up breaking the bank could lead to more stress when they return to campus.
"While blowing a ton of money on spring break might seem like a lot of fun, students need to keep in mind the very real expenses they are going to be faced with come summer and come graduation, when they will have real concerns like rent, groceries, etc," says Stephanie Kaplan, CEO and editor in chief of Her Campus Media.
Especially since finals will be right around the corner when they return, it's important for students to finalize their plans and set a budget to avoid a financial mess and distractions from academics.
"There are a lot of expenses involved with planning a trip, so make sure you have accounted for everything but also have buffered in some cushion/emergency money in your budget," says Vincent Turner, CEO of Planwise. "Staying on budget - and not being completely broke when you get home - will be easier to do."
From budget tips and alternatives to the typical beach vacation, here are four ways students can make their time off affordable.
Money Saving Tip No.1:  Use Your Student ID
Depending on their destination, students can often use their enrollment status to save money on hotels, air fare, trains or even tour guides when visiting a new city, says Scott Gamm, founder of HelpSaveMyDollars.com.
"Social couponing sites typically offer special travel deals, for multiple travelers, which can include hotel, air fare and meals, and these can be domestic trips or  abroad too," he says.
Make sure to read the fine print beforehand--some student-friendly deals look great but include a specific timeframe or require an additional purchase, warns Turner.
Money Saving Tip No.2: Limit Dining Expenses
Eating out is a major expense, especially when doing it for three meals a day.  Steven Smith, CEO of Mvelopes, suggests going to the local grocery store to get food to cover some meals to give your wallet a break.
"You can definitely save money by getting some basic snacks, drinks, breakfast options, etc," he says. "Another way to help the food budget is to eat only two meals a day and supplement your diet with snack items, such as granola bars or fruit."
Turner recommends researching local happy hours and food specials before arriving and asking local residents for cheap dining options.
"Touristy areas are notorious for being overpriced--the locals are your secret weapon for finding the best food, shopping, etc. on a budget."
Money Saving Tip No.3: Think More Local  
Some students save all year for a tropical get away but can still get the spring break beach experience without leaving the U.S, says Kaplan.
"Places like Miami and Panama City still give you that spring break feel without the cost of international travel," she says.
While students with rewards program credit cards can redeem points for special airfare and hotel packages to travel overseas, Gamm cautions against using credit internationally without checking for fees first.
"If traveling abroad, beware of the 3% currency conversion fee that some credit card issuers charge," he says."There are some issuers that charge no fees, but check with your credit card issuer before you travel."
Rather than shell out a bunch for an all inclusive beach resort, students can get creative by going to see a friend at another college, take a camping trip, or consider a "staycation," suggests Turner.
"Fill your days with local activities you have been meaning to do all year--have a picnic in the park, go on a hike, go to the museum," he says.
Road trips to historical sites or venues within a few days' drive can also give students a way to spend time with friends or family and split the cost of gas, Smith says.
Money Saving Tip No.4: Take a Volunteer Trip
For students looking to give back and do something different this spring break, experts suggest researching different volunteer opportunities.
"Look into service and volunteer trips (many of which also allow a lot of time for going out and having fun) through companies like i to i Volunteering, Habitat for Humanity, the Student Conservation Association, and programs directly through your school," says Kaplan. "These trips can also serve as resume-builders."
Many programs offer a program package where students split their time between volunteering and touring, says Turner.
"These programs are usually targeting colleges, so talk to your school about the programs they have to offer. However, keep in mind that programs can actually be costly so make sure to do your research."