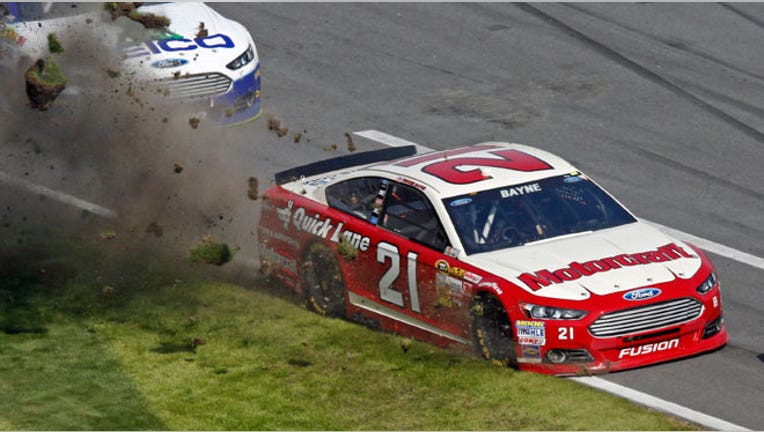 NASCAR wasn't immune to the economic downturn that shook Wall Street. In addition to an attendance slump, NASCAR lost some sponsors looking to cut back spending amid the turmoil.
But now the league and its portfolio of sponsors is back and stronger than before the recession, as the number of Fortune 500 companies like 3M (NYSE:MMM) and UPS (NYSE:UPS) that have NASCAR sponsorship deals has risen 8% since 2008.
According to NASCAR, about 23.4% of Fortune 500 brands, or 117 total, are involved as a sponsor of NASCAR's sanctioning body, teams or tracks, or as a licensee or media partner, up from 20% last year. Companies invested in the sport solely as advertisers were not included in the list.
So why do Fortune 500s flock to NASCAR? Consider that fans of the sport are widely considered to be the most loyal ones around and are more likely to care about the brands sponsoring their favorite driver.
"Fans understand the importance of sponsorship to the sport. They realize that's what makes the sport go," said Steve Phelps, NASCAR's Chief Marketing Officer. "If you're a sponsor in another sport, fans can appreciate it, but will they actively support you?"
For sponsors, NASCAR presents an opportunity to get the most out of their marketing dollar. Fans have proven to be loyal to the sport and the brands that support it.
Sponsors are looking for a return on their investment, and the old adage, "win on Sunday, sell on Monday," holds true not only for automakers but for the brands whose logos adorn the stock cars.
"Like most sports, the downturn impacted fans and the sport itself," but "the growth has been tremendous," said Brian Young, Vice President of Global Sales Operations for 3M, which has been a NASCAR sponsor for 25 years. "It's an attractive place to spend our money."
Win on Sunday, Sell on Monday
Fans of the racing league have long shown to be loyal followers of the sport, even when it comes to the companies that display their logos on cars, fire suits and elsewhere.
Independent research from firms like Turnkey Sports & Entertainment show NASCAR fans are the most brand-loyal fans out of all major U.S. sports.
A NASCAR study conducted by online research firm Toluna prior to the start of the 2013 season indicated that one out of every four fans strongly agrees that they support NASCAR sponsors more than sponsors of other sports. More than half of NASCAR fans (55%) said that when they see a company sponsoring NASCAR, they feel good about that brand.
"It translates to brands themselves getting a return on their investment," Phelps said when asked about fan loyalty to the sport and its sponsors. "It works for the brand because fans are supporting sponsors. It's what we call a cycle of success. NASCAR is the sport that works for business because of the relationship between fans and sponsors."
One of those sponsors, 3M, has a sponsorship deal with the league and with Roush Fenway Racing. The relationship with NASCAR brings 3M's logo to the front left fender -- the real estate owned by the league -- of almost every car.
3M's sponsorship deal with Roush Fenway allows the company to primarily use the #16 Ford (NYSE:F) Fusion driven by Greg Biffle. 3M also donates the car to the American Red Cross for two races each year and lends the car on occasion to Sherwin-Williams (NYSE:SHW), one of 3M's customer partners.
Young said the benefits of 3M's relationship with NASCAR and Roush Fenway are unmistakable: the car races on Sunday, and 3M sells its products -- which include Scotch Tape and Post-it notes -- the rest of the week.
"There's no other sport where there's a stronger connection between what fans do at the track and at the store," Young said.
Young said NASCAR is a "tremendous platform" that allows 3M to share the value of the NASCAR brand by building promotions tied to the car. A sponsorship with the sport also provides opportunities to "drive demand across platforms" like social media, he added, noting that NASCAR fans are more engaged on social media than other fans.
"Unlike any other sport, the drivers' and teams' willingness to interact with fans is unmatched," said Young, who spoke highly of the relationship with Biffle, Roush Fenway and the team's "hospitality."
"If it was football, it would be like having our customers attend the team meeting, be on the field for the coin toss and in the locker room after games," he explained. "It's truly a partnership, not a cold business relationship. We never talk about the contract, only what we can do. [Roush Fenway founder and CEO] Jack Roush and Greg Biffle are great business partners."
NASCAR Racing Other Leagues
The race on the track isn't the only battle for NASCAR and its teams. There's a competition for marketing dollars, and NASCAR believes it's winning.
"Sponsorship is important to NASCAR. It's an important area for us to be winning in. It's a very competitive landscape, and we're having far more success and have traditionally," Phelps said.
For one, sponsors get plenty of exposure. About 100,000 fans on average attend each NASCAR Sprint Cup Series event, easily topping other sports on a per-event basis. For comparison, 71,024 people attended Super Bowl XLVII in February, and two years earlier, Super Bowl XLV attracted a near-record of 103,219 fans.
Despite seeing ratings slip in recent years, other live sporting events can't compete with NASCAR's average of about six million viewers per Sprint Cup race over a 10-month schedule. And ratings for this year's Daytona 500 were up 24% over 2012.
FOX Sports said its portion of the 2013 season, which includes the Daytona 500, was the highest-rated sport in-season for the 13th consecutive season. 21st Century Fox (NASDAQ:FOXA) is the parent company of FOX Sports and FOX Business Network.
Like other sports, NASCAR is bringing in higher fees for the right to broadcast live races. NBC recently came to a $4.4 billion, 10-year deal for the rights to broadcast the final 20 Sprint Cup races and 19 Nationwide races starting in 2015. Walt Disney's (NYSE:DIS) ESPN and Time Warner's (NYSE:TWX) Turner Sports currently hold the rights to those races and are coming up on the end of their contract, which was for eight years and $2.7 billion.
FOX, which plans to launch its new FOX Sports 1 network next month, announced last fall an eight-year extension to its deal with NASCAR. The $2.4 billion agreement reflects a 36% rate increase.
Meanwhile, the number of Fortune 500 sponsors themselves has grown steadily to surpass levels seen before the economic downturn, perhaps an indication that NASCAR has more than regained its footing.
"That speaks volumes about our success," Phelps said of the post-recession turnaround.
Phelps sees the increase in Fortune 500 sponsors and others, like Toyota (NYSE:TM) and MillerCoors, as a sign that NASCAR has rebounded in a big way, and looking ahead, he anticipates continued growth for the sport.
Just as more fans can bring in additional sponsors, more marketing activity can help NASCAR attract new fans. NASCAR is taking on other efforts to widen its fan base as well, unveiling a new website and mobile apps. UPS, another prominent Fortune 500 sponsor, is active in NASCAR's "green" platform with a solar-powered trackside services unit.
"As companies do more in the marketplace, I think we'll see an uptick in the fan base. Our fan base continues to grow after the decline," Phelps said. "The sport is in the midst of a resurgence."