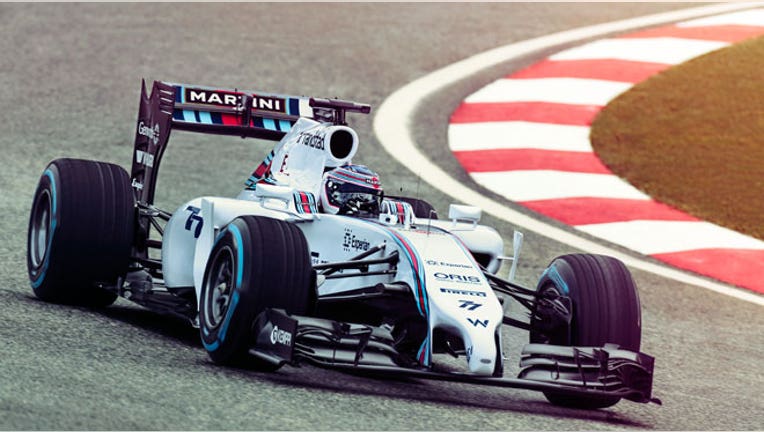 As it looks toward a bigger future in the U.S., Formula 1 is challenged with making its case to American sponsors.
The international motorsports franchise, known for its races in Europe, Asia and elsewhere, has undertaken an effort over the last few years to increase its presence in America. Formula 1 successfully brought its brand of racing to Austin, Texas, in 2012, although attempts to organize a race near New York have faltered.
On Thursday, London-based F1 team Williams Racing announced a new sponsorship from a brand familiar to those across the pond, partnering with wine and spirits maker Martini to launch Williams Martini Racing.
The sponsorship with Martini, which is owned by global liquor giant Bacardi, is seen as a boon for the team founded in 1977 by Sir Frank Williams.
His daughter, deputy team principal Claire Williams, said the deal brought together two iconic brands in a sport that has a global impact. Each year, Formula 1's full slate of races attracts more than 500 million television viewers in 187 countries.
"The U.S. market is a significant one for us," Williams said. "Our hope is that Martini attracts more brands to Williams."
Turin, Italy-based Martini believes the deal will play an important role in its own growth plans overseas. Formula 1 was a "really obvious place" to bring Martini back as a racing sponsor, said Heide Cohu, Bacardi's global brand communications director. Martini's history in motorsports dates back to the 1960s.
"Formula 1 has a global reach, in the same way we're a global brand," Cohu added.
Bringing in Sponsors
Like American racing powerhouse NASCAR, sponsorships play a key role in the success of Formula 1 and its teams.
"Sponsorships are our lifeblood," said Williams, who stepped into her current role last year.
In the U.S., those sponsors have been largely absent from Formula 1. Few drivers from the U.S. have participated in the sport, and F1 is a different brand of racing than NASCAR or even IndyCar. The last American behind the wheel of a Formula 1 car was Scott Speed in 2007. The last to win a race was legendary driver Mario Andretti in 1978.
"You need a sponsor here in the U.S. that wants to market their product or service in the U.S.," said Neal Pilson, founder of Pilson Communications and former president of CBS Sports. "There has to be an incentive. That's been lacking."
There has long been interest in bringing Formula 1 to a larger audience in America, Pilson added. When he was at CBS Sports, the network pitched a television package to F1 chief Bernie Ecclestone in an effort to air races on Sunday afternoons. The deal never went through.
Formula 1, which is majority owned by private equity firm CVC Capital, may be in a better position to gain a foothold in the U.S.
More people are watching European soccer and other games taking place overseas. According to Nielsen, more than 111 million U.S. viewers watched at least six minutes of the 2010 World Cup on English or Spanish networks, a 22% increase over the last World Cup in 2006.
"International sporting events are getting more attention and higher ratings. The American public is more sophisticated now on events outside our borders," Pilson commented.
Still, networks remain hesitant to bet long-term on Formula 1. Sponsorships and advertising remain key concerns, given the lack of widespread interest in the states.
NBC Sports Group, part of Comcast's (NASDAQ:CMCSA) NBC Universal, is the current U.S. rights holder for F1 races. The network signed a four-year deal beginning with the 2013 season.
"I'm not sure a U.S. network would want to undertake selling sponsorships," Pilson said. "But Formula 1 has the muscle to sell sponsorships in the U.S."
According to Cohu, Martini has gotten an overwhelming response to its new partnership with Williams, even before this week's announcement as rumors of a possible deal surfaced. Cohu said the company and F1 fans were excited to see a revitalized Martini Racing.
Williams and Formula 1 were the right ones for the job. Cohu explained that Martini is strong in Europe, particularly Italy, Spain and Russia, and the company hopes to bring its "Italian panache to the gritty racing history at Williams." Around the globe, Martini will work with supermarkets to make sure the sponsorship is adding value.
The Martini brand is still developing globally. Its sparkling wine becoming more popular in the   U.S., she added.
"I'm convinced Formula 1 can and will generate interest in motorsports," Cohu said when asked about Martini's expectations for U.S. growth.
Williams Martini Racing, which will make its debut on March 16 when Formula 1 opens its season in Australia, also counts credit history provider Experian and Brazilian energy company Petrobras among its sponsors.
"We have some great brands that partner with us," said Claire Williams, noting that her team has reached several new deals in recent months.  "We're hoping all that hard work translates into greater success for the team."
Casting a Wider Net
In addition to having no American drivers, Formula 1 is devoid of any teams from the U.S. That could soon change.
Gene Haas, who co-owns NASCAR's Stewart-Haas Racing with driver Tony Stewart, recently confirmed that Haas Racing applied to create a U.S.-based F1 team. The FIA, a governing body for international motorsports, is considering whether to approve an additional team for the 2015 season.
The move would be a major step in Formula 1's history in the U.S. Pilson believes it can catch on, especially since F1 racing appeals to a different set of sports fans.
"I don't think NASACAR fans will be the target audience," he said. "Formula 1 has an exotic attraction. The tracks are in interesting places. I always thought Formula 1 is an attractive, exciting sporting event, and I think there would be a strong market in the U.S. for Formula 1."
Pilson also noted how the crowd at Formula 1 races can be vastly different than most American races, saying the exotic locations attract a Hollywood-type crowd. A larger presence for F1 wouldn't "detract from NASCAR," he said.
Ecclestone, who will stand trial next month in Germany for an alleged bribery scheme, recently said F1 doesn't compete for the same fans as NASCAR. His remarks came after the top executive in charge of Texas Motor Speedway criticized Formula 1 for scheduling its Austin race the same weekend as a NASCAR race in Fort Worth.
Compared to the attention given to NASCAR and some other motorsports, promoting Formula 1 in the U.S. is still an uphill battle. Media coverage is limited, and the television audience remains slim.
Holding more U.S. races can go a long way toward "significantly enhancing the noise" for F1 in  the country, Pilson said.
Formula 1 has found some success in Texas, which will host its next race in November. A race in northern New Jersey, on the other side of the Hudson River from Manhattan, remains in limbo. Formula 1 is also looking to make a return to Long Beach, Calif.
Martini is prepared to do "anything we can do in advance of the Austin race to drum up interest," Cohu said.
For F1 to become a bigger player in American sports, domestic sponsorships are the biggest hurdle, and it remains unclear if U.S. companies are ready to partner with F1 teams.
"Part of the reason why Formula 1 hasn't caught on is the lack of sponsorship dollars in this country. Many of the cars have uniquely European sponsors," Pilson explained. "Formula 1  hasn't developed as well as it probably would have liked in the U.S., and that's not for a lack of trying."