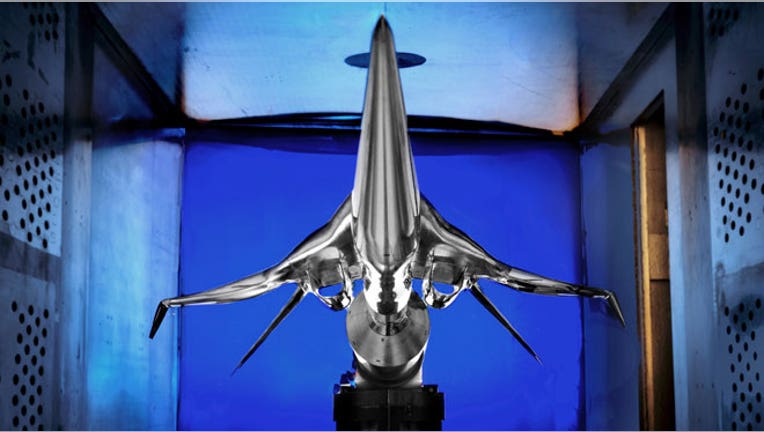 Space X and Tesla (NASDAQ:TSLA) founder Elon Musk seems pretty optimistic a train will one day be able to travel at mach speeds for short distances, but what about those longer trips that take many hours?
For New Yorkers who want to take the quick 3,000-mile trip to Los Angeles or the 7,000-mile journey to Tokyo, a solution faster than the speed of sound might soon be on the horizon.
Quiet supersonic jets, perhaps ones Musk builds himself one day, have attracted fresh attention and investment over the last few years from some major players, including NASA, Gulfstream, Boeing (NYSE:BA) and Lockheed Martin (NYSE:LMT).
"A quiet supersonic plane immediately solves every long distance city pair without the need for a vast new worldwide infrastructure," says Musk, who's responsible for Tesla electric cars and Dragon X, the first commercial spacecraft to visit the International Space Station.
While Musk's Hyperloop vacuum-train idea revealed earlier this week might solve travel problems between high-traffic cities located less than 900 miles apart, the entrepreneur says supersonic air travel will be "much faster and cheaper" for longer distances, knocking several hours from thousand-mile trips and making long-haul business travel more feasible than ever before.
No commercial supersonic flight has operated since the Concorde's final run in 2003 after 27 years of transporting people across the ocean from London's Heathrow and Paris's Charles De Gaulle to New York's JFK in half the time it takes today.
But NASA is focused more than ever on reducing the sonic boom – one of the main impediments of supersonic over-land air travel because of the nuisance it poses to people on the ground – while others are working on making supersonic jets more efficient and less dependent on fuel.
"I think one day we will see more supersonic aircraft," says Dimitri Papamoschou, a professor of mechanical and aerospace engineering at the University of California, Irvine.
Money Problems
Of course, overcoming the looming hurdles of next-generation supersonic transport requires billions of dollars, and a lack of funds has killed a number of these projects over the last 40 years.
A "cheap supersonic transport" between L.A. and N.Y. may not be available until "very far in the future," or within 25-50 years, estimates Papamoschou, who has studied the sound produced by propulsion engines.
If money weren't a problem, prototypes would begin popping up within the decade for larger supersonic transports, says Dr. Gecheng Zha, the director of the Aerodynamics and Computational Fluid Dynamics (CFD) Lab at the University of Miami.
Actual operation of a supersonic passenger jet big enough to seat as many as Boeing's carbon composite 787 Dreamliner would take at least another decade beyond that, says Zha, whose "Supersonic Bidirectional Flying Wing" idea was awarded a $100,000 grant in 2012 from NASA.
"We can build one now but who is going to buy it?" asks Papamoschou. "The economics right now just don't work out."
The World's Fastest Business Trip
But there are companies, including Gulfstream, Aerion and Supersonic Aerospace International, as well as NASA engineers and scientists that are working on concepts for much smaller supersonic business jets; and that could be available much sooner.
Aerion,  which has been partnering with NASA's Dryden Flight Research Center for the last decade, defines its next-generation business jet with Mach 1.6 capabilities as an "evolutionary solution with revolutionary results."
The "virtual visualization" of Aerion's supersonic business jet – which it says would feature demonstrated wing technology and proven Pratt & Whitney propulsion systems -- is based on "concrete data collected over years of testing and revision of the model." The manufacturer hopes its development will influence "all general aviation flight to come – supersonic and subsonic."
The 8-12-passenger Aerion SBJ is expected to be brought to the market through a joint venture with an "established aircraft manufacturer" by the end of the decade, Aerion says.
While it didn't say which jet maker would be chosen -- both Boeing and Airbus have done work on supersonic jets in the past -- Boeing over the last two years has built design studies of a concept it has dubbed Icon II that it says can carry 120 passengers at up to Mach 1.8 speeds (more than 1,000 miles per hour) for 5,000 nautical miles.
Boeing did not immediately respond to a request for comment regarding this article, but in an earlier study, the Chicago-based jet maker acknowledged that "advanced technologies can reduce fuel burn enough that a supersonic aircraft could be viable economically and environmentally, in multiple markets."
Meanwhile, Supersonic Aerospace International's 20-passenger QSST-X "virtually boomless" supersonic aircraft designed by Lockheed Martin is expected to have a range of more than 5,000 miles at Mach 1.6. The company touts both its speed and quietness, claiming it can catapult passengers from New York to Moscow in 4.5 hours, about half the time it takes today.
Of course, corporate and wealthy customers looking to travel at supersonic speeds will have to pay a pretty penny. Papamoschou sees supersonic transport selling at a premium to subsonic flights even if the costs to operate them come down as technologies improve.
"For them, time is money and they're probably willing to pay a premium," he said. "But for ordinary passengers, it will take quite a bit of time until we see something that's considerably faster than today's airplanes."
Aerion says it has received letters of intent for roughly 50 aircraft from a mix of individuals and corporations around the world. The orders remained "largely intact through the recession," which Aerion says reinforces "the market demand."