Ford Upbeat on 2015 After Earnings Slip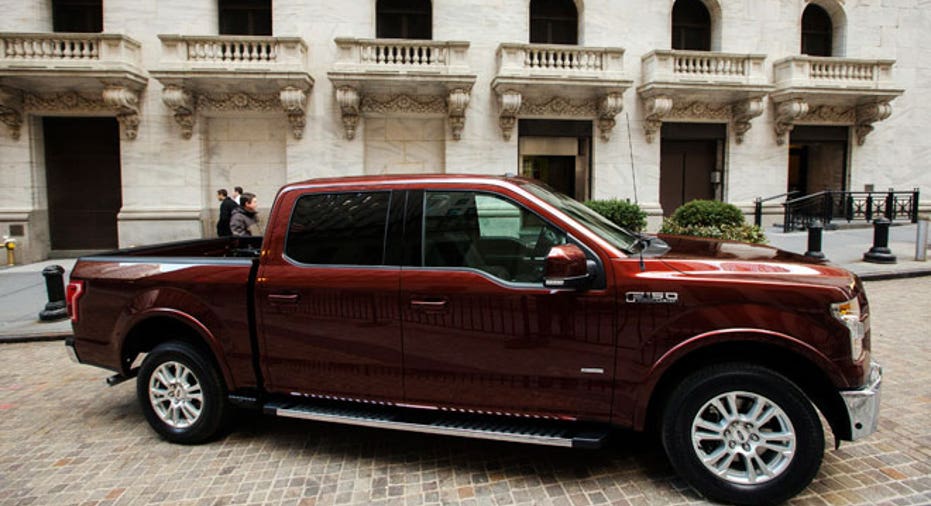 Ford Motor Co. (NYSE:F) reported a much smaller profit as a charge tied to Venezuela and a smaller profit in North America weighed on the automaker's fourth quarter.
Ford booked net income of $52 million, well below earnings of $3 billion in the same period a year earlier. On a per-share basis, net income slipped to a penny from 74 cents. Ford's adjusted earnings, which exclude the Venezuela write-down and other one-time items, came in at 26 cents versus 32 cents.
Revenue fell 4.5% to $35.9 billion.
Despite the struggles, Ford managed to surpass Wall Street estimates. Analysts were looking for adjusted earnings of 23 cents a share and revenue of $34.54 billion.
Ford shares fell 13 cents, or 0.9%, to $14.33 in recent trading Thursday. The stock is down 7.2% since the start of 2015.
The Dearborn, Mich.-based car manufacturer had warned that 2014 would be a year of transition marked by the introduction of new F-series pickup trucks -- arguably Ford's most important vehicle -- and a redesigned Mustang that is being sold globally for the first time.
Ford shut down its truck plants for a period during the summer in preparation for building the aluminum-bodied trucks, which began to arrive at dealers in December.
"2014 was a solid yet challenging year for Ford -- with our investments and a record number of new products launched around the world positioning us for strong growth this year and beyond," President and Chief Executive Mark Fields said in a statement.
As a result, Ford largely missed out on growing demand in the U.S. The industry shipped 16.52 million cars and trucks last year, a 5.9% increase compared to 2013 sales of 15.6 million. Ford's annual sales, including its namesake brand and Lincoln, fell 0.5% year-over-year.
Ford expects "substantially improved" financial results in 2015, Fields said during a conference call with analysts. The company reiterated its guidance for an overall 2015 pretax operating profit of $8.5 billion to $9.5 billion, along with higher automotive revenue and stronger margins. Ford's 2014 operating profit totaled $6.3 billion.
Fields recently told FOXBusiness.com that Ford has witnessed strong early demand for 2015 F-150s. According to Fields, the new trucks are selling in five days or less, making them the fastest-turning vehicles on Ford lots.
In the fourth quarter, global wholesale volume was down 2%. In North America, sales fell 6% to 700,000 vehicles, and Ford's U.S. market share dropped 1.1 percentage points to 14.3%.
Ford registered a North American pretax profit of $1.55 billion, a decrease from $1.8 billion in the prior year. Operating margin narrowed to 7.4% from 8.2%. Ford said it will distribute profit-sharing bonuses of $6,900 per hourly employee, reflecting a 2014 profit of $6.9 billion.
The overall bottom line came under pressure from a $700 million write-down to remove Venezuela from consolidated earnings. In addition, the year-ago period included a large tax gain of $2.1 billion.
Losses in South America grew to $187 million from $126 million. Ford's operating profit in Asia Pacific was $95 million, down slightly from $109 million.
Earnings at Ford Credit, which logged its best yearly results since 2011, rose $53 million to $408 million.
Ford saw a smaller loss in Europe of $443 million compared to $529 million. Last year, Ford cautioned that a turnaround in Europe would take longer than expected. The company scrapped its forecast for a European profit in 2015 and projected a $250 million loss. On Thursday, Ford's outlook called for improved results versus the $1.06 billion loss booked in 2014.