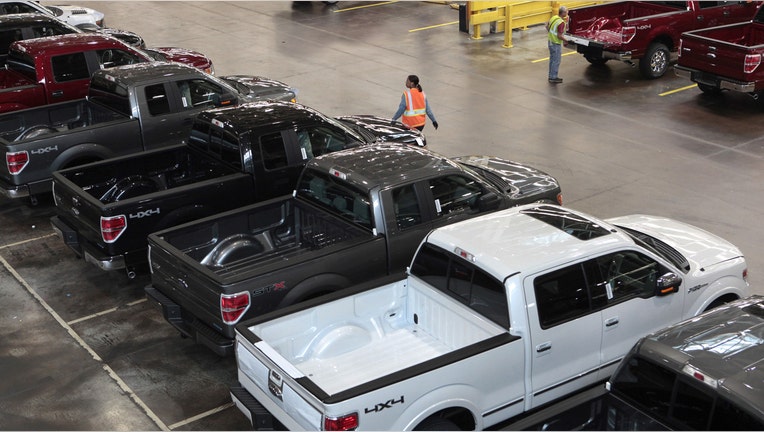 The United Auto Workers union on Tuesday threatened a strike in five days at a key plant making Ford's (NYSE:F) most important model, the F-150 pickup truck, due to disagreements on a new "local" labor contract, the UAW's Ford chief said.
UAW Vice President Jimmy Settles said a strike authorization had been approved by UAW President Dennis Williams.
Ford is currently in talks for a new four-year national contract affecting Ford's 52,700 U.S. unionized workers as well as for a new pact for the 7,500 workers at the Kansas City Assembly Plant in Missouri.
Settles said this is about problems with the local agreement.
Ford "has failed to negotiate in good faith at the local level," Settles said in a notice to Ford workers that the union then sent to the media on Tuesday evening.
A Ford spokeswoman said the company is "confident we will be able to negotiate a fair and competitive labor agreement with our UAW partners."
The union earlier this month chose to negotiate a national contract first with Fiat Chrysler Automobiles (NYSE:FCAU), and reached a tentative deal on Sept. 15. The Fiat Chrysler-UAW agreement may be rejected by union members in an ongoing ratification vote that has shown stiff opposition in early returns.
If the Fiat Chrysler tentative agreement is rejected by the company's 40,000 UAW members, the union will decide whether to go back to the table with Fiat Chrysler, focus on national talks with Ford or General Motors (NYSE:GM) or call for a strike at Fiat Chrysler plants.
The union and each of the Detroit Three automakers including Ford, Fiat Chrysler and GM have separate national agreements covering all of its UAW members as well as agreements at each union "local" branch.
The local and national contracts for all three companies run for four years and expired on Sept. 14 before the union and each company agreed on extensions.
Settles claims that Ford has not negotiated for Kansas City workers in good faith on "issues surrounding manpower provisions, the national heat stress program, and skilled trades scheduling amongst others."
Skilled trades, which include such workers as electricians, get paid a few dollars more per hour most production workers.
The F-150 is the best-selling Ford vehicle in North America and is key to the company's profit.
(Reporting by Bernie Woodall; Editing by Ken Wills and Diane Craft)