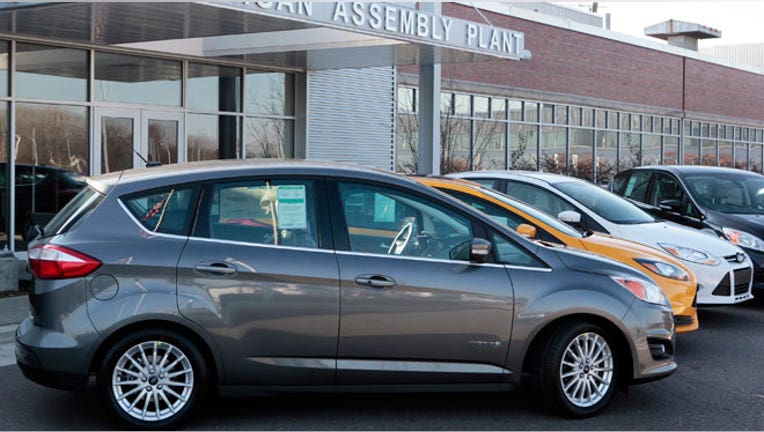 Automakers reported mixed results for September, as Ford (NYSE:F) and Chrysler Group logged stronger U.S. sales to buck an industry trend.
General Motors (NYSE:GM), the largest of Detroit's Big Three, and international rivals like Toyota (NYSE:TM) reported weaker results, something analysts had anticipated given that the first two days of the month -- including Labor Day -- were counted with August sales.
Kelley Blue Book senior analyst Alec Gutierrez said it's possible the calendar shift impacted some manufacturers more than others.
"It depends on how aggressively they promoted Labor Day sales," he said.
Kelley Blue Book expected industry-wide sales to fall 1.7% last month, while Edmunds.com was calling for a 3.7% drop year-over-year. A decline would bring an end to 27 consecutive months of sales gains, a streak that began in June 2011.
Ford said its new-vehicle sales climbed 5.8% over the year-ago month amid strong demand for its trucks and Fusion sedan, giving the company its best September sales since 2006.
The results beat Kelley Blue Book's projection for a 0.8% decline, while Edmunds was looking for 5% growth.
Gutierrez said Ford benefitted from production of the Fusion at its Flat Rock, Mich., assembly plant, which also makes the Mustang.
The car company sold a total of 185,146 vehicles, up from 174,976 a year ago but a 13% slide from August's total of 213,078.
Light-vehicle sales, which exclude heavy-duty trucks, were up 5.7%.
Sales at Ford's namesake brand rose 6.3%, while Lincoln recorded a 5.1% decline.
Car sales jumped 14%, led by a 62% gain for the Ford Fusion. Truck sales were up 8.3%. September was the fifth straight month of more than 60,000 in sales for Ford's F-series trucks, which were up 9.8% year-over-year.
Shares rallied 2.1% to $17.23 early Tuesday afternoon, adding to the stock's 30.2% gain as of Monday's close.
Chrysler also reported a stronger-than-expected September, as total sales ticked 0.7% higher to 143,017 vehicles. That reflects a slight increase from 142,041 a year ago and a 14% drop from 165,552 in August.
The Auburn Hills, Mich.-based automaker met expectations from Edmunds. Kelley Blue Book anticipated a 3.5% decline.
Chrysler was largely buoyed by car sales, which rose 3.4%. Truck sales were down half a percentage point, but Ram trucks rose 8%.
Chrysler's namesake line saw its sales increase 1.6%, outpaced by a 2.6% jump for Dodge. Jeep sales were down 4.5%.
Reid Bigland, the head of U.S. sales at Chrysler, noted that dealers "still outperformed the industry and extended our sales streak to 42-consecutive months of year-over-year sales gains" despite the loss of two selling days.
Last week, Italian parent company Fiat said there's "no assurance" Chrysler's IPO will move forward. Fiat is seeking to acquire full ownership of its U.S. unit, but VEBA, the UAW trust that owns the remaining 41.5% in Chrysler, exercised its option to demand a listing of some of its shares.
GM was particularly hurt by the early Labor Day holiday, as its sales tumbled 11% during a rough month for Chevrolet and GMC.
GM's sales totaled 187,195 vehicles in September, compared to 210,246 a year earlier. In August, the company sold 275,847 vehicles, 32% more than last month.
Retail sales dipped 6%, while fleet sales were down 27%.
Chevrolet posted a 15% decline, while sales for GMC slid 9.7%. Luxury brands Buick and Cadillac continued their recent run of success with 6.5% and 9.9% growth, respectively.
Gutierrez said GM was negatively impacted by the changeover to redesigned versions of its Chevrolet Silverado and GMC Sierra pickup trucks. Combined sales of the two pickups fell 8% last month.
The company also heavily promoted the Chevrolet Cruze, Gutierrez noted, but sales of the compact car were lower year-over-year.
Shares recently moved 21 cents lower to $35.76.
Toyota said in a preliminary report that its U.S. sales were down 4.3% during the tepid sales month, a steeper-than-expected decline.
The Japanese automaker sold 164,457 vehicles versus 171,910 a year ago. The company also fell back below Ford, which Toyota beat in August sales.
Shares pulled back in afternoon trading. The stock was down 46 cents at $127.57.
Honda (NYSE:HMC) was down 9.9% during September, with Acura posting an 18.9% drop.
The namesake Honda brand sold 93,915 vehicles, down 8.7%. Total sales hit 105,563, well below the 166,432 in August.
Shares were trading 17 cents higher at $38.31.