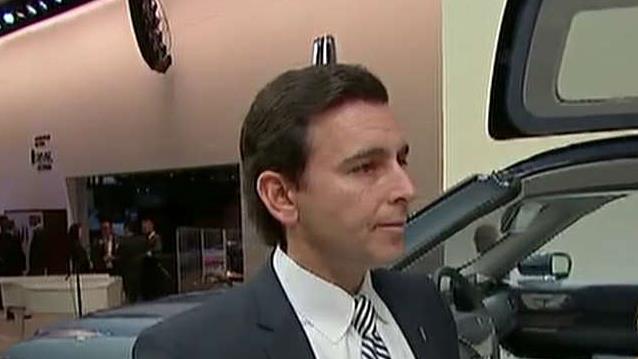 Despite Republican frontrunner Donald Trump's calls for a tariff on companies manufacturing vehicles outside of the United States, Ford Motor Company (NYSE:F) CEO Mark Fields says he's determined to continue to be a globally-competitive business.
"Overall, first and foremost, we're a multi-national company and it's important that we're going to remain a competitive multi-national company and leverage our manufacturing facilities around the world," Fields told the FOX Business Network's Jeff Flock at the New York Auto Show on Wednesday.
Fields said he is pleased to see what Ford contributes domestically to the economy.
"At the same time, we are very proud of what we do to contribute to economic development here in the United States. Since 2011, we've invested over $10 billion into our facilities here. We've hired 25,000 people here in the U.S. We've invested 80% of our capital expenditures across all of North America and 97% of our engineering is done here in the U.S," he noted.
"We export over 400,000 vehicles a year around the world. So we are very proud of what we do and we've committed over the next four years to invest another $9 billion dollars."
As vehicles on the road today continue to become more connected with drivers and their technology, concerns over privacy continue to rise. Similar concerns have been expressed in Apple's (NASDAQ:AAPL) battle with the FBI over encryption.
The Ford CEO also commented on the privacy issue and how the company would react.
"If we're served with legal papers… of course we'll always comply with the law," Fields said. "But in the case of the privacy of customers' data… we take that very, very seriously. We want to be trusted stewards of that data and we want to protect it. So clearly if anybody came to us and said we needed for you to do some engineering to get access to data that otherwise we don't have, we would have concerns with that. But, that's why we're watching the Apple situation very closely."