For Under Armour, Stephen Curry's new basketball sneaker stokes optimism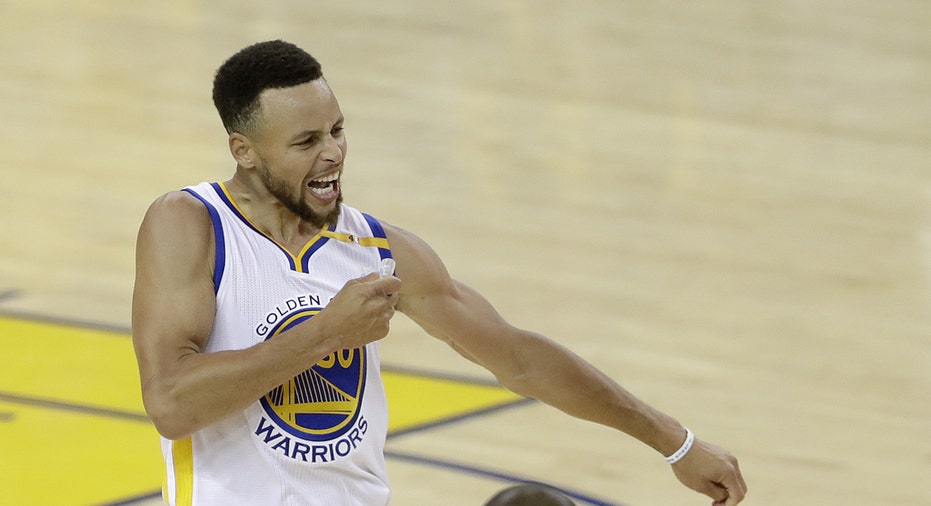 After several rough quarters, the positive reaction to Under Armour's latest edition of Golden State Warriors star Stephen Curry's signature basketball sneaker suggests the embattled apparel brand could be heading for a turnaround in the footwear space, according to a Wells Fargo research note released Tuesday.
The "Curry 4" received rave reviews on social media when the Warriors sharpshooter wore them during Game 1 of the NBA Finals last week, with 94% of related tweets showing a positive reaction, according to Wells Fargo. While the new sneaker isn't slated for release until this fall, the firm said the strong reaction could stoke much-needed optimism for the brand heading into 2018.
"Though it is still early (we are months away from the planned public launch in September), we believe this is a positive development for UAA's decelerating footwear business," the analysts wrote.
The early acclaim for the Curry 4 is markedly different than early reaction to the previous "Curry 3" edition of Under Armour's flagship sneaker brand, which drew largely negative reviews amid an overall shift away from basketball footwear in the retail marketplace. Performance basketball footwear sales have suffered across the industry as consumers gravitate toward more fashionable classic and retro styles.
The slowdown has had a major impact on Under Armour, which had relied on the early success of Curry's sneakers to drive sales in its fledgling footwear category. The company's footwear growth has decelerated in five straight quarters, according to Wells Fargo. Overall weakness in the retail space and intense competition from Nike and Adidas has also slowed Under Armour's rapid ascent.
Wells Fargo remains cautious about Under Armour for the rest of fiscal 2017, due in part to the company's already-ambitious growth projects in footwear for the remainder of the year, as well as skepticism from retail partners.
"Even with a strong social media response, retailers might buy the product conservatively to start, waiting for evidence of a resurgence before re-committing to the Curry franchise (meaning that strong sell-throughs in Fall 2017 might not translate to better wholesale orders until 2018)," the firm said.
Under Armour has yet to announce how much its Curry 4 sneakers will cost.