For Johnny Manziel, Rehab Is Only Shot At NFL Comeback: Crisis Expert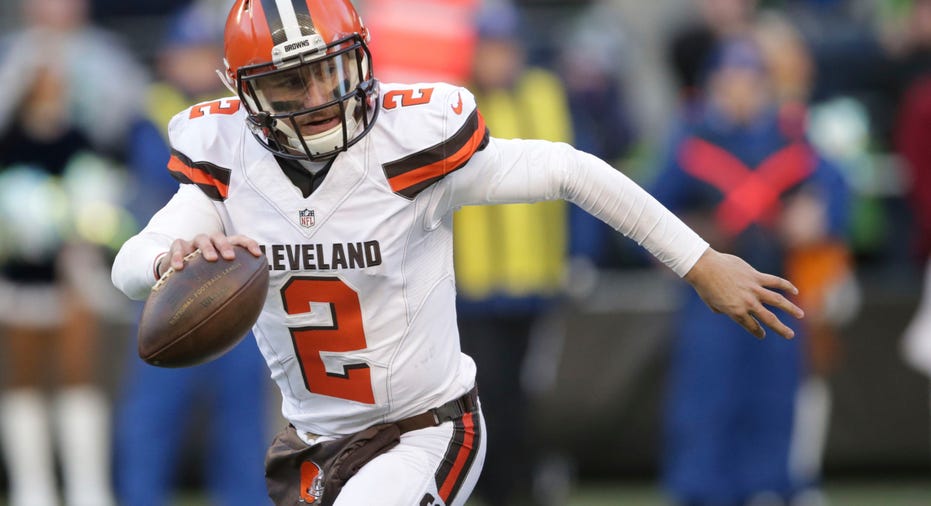 The fate of Johnny Manziel's spiraling football career – and potentially his life – rests on whether the former Cleveland Browns quarterback listens to the multiple individuals encouraging him to seek treatment for substance abuse issues, a crisis management expert told FOXBusiness.com.
Manziel's tumultuous offseason reached its low point Thursday, when a New York Post report revealed he hosted parties that caused about $20,000 in damage to a Los Angeles condo last week. Photos of the damage appeared to show evidence of drug and alcohol use. The allegations surfaced just hours after Manziel's agent, Drew Rosenhaus, gave him an ultimatum – either enter rehab or find new representation.
A stay in a months-long, intensive rehab program is "the only option" if Manziel wants to continue his NFL career one day, according to crisis management expert Jack Deschauer, who advised athletes during the NFL's "Spygate" scandal and the manslaughter trial of former NBA star Jayson Williams.
"The absolute only chance that Johnny Manziel has at a professional football career at this point would be to enter an inpatient rehabilitation program, a serious one, today, and stay there, whether it's a 30-day or a 90-day, and then complete it," Deschauer, a senior vice president at Washington D.C.-based firm Levick, told FOXBusiness.com. "And then honestly, remain stone cold sober for as long as his athletic career lasts. Otherwise he's going to be dead in six months."
Supporters have grown increasingly concerned about Manziel's erratic behavior in recent weeks. The 23-year-old Texas native looked pale and gaunt during a bizarre April 9 encounter with a TMZ film crew. Hours later, Manziel was purportedly a passenger in a car that crashed into a Hollywood light pole.
Manziel, who briefly entered rehab in February 2015, has been dogged by rumors of hard partying ever since his days at Texas A&M University. The Browns released him in March of this year, weeks after he was involved in a domestic incident with his then-girlfriend, Colleen Crowley. Manziel's previous agent, Erik Burkhardt, dropped him as a client after the 2015 season, citing failed efforts by himself and Manziel's family to get the quarterback into treatment.
The fact that Rosenhaus, who claims to have never dropped a client in 27 years as one of the NFL's most high-profile agents, is willing to take that step with Manziel is proof of the situation's severity.
"Of all the late night phone calls that Drew Rosenhaus has had to deal with, for all the clients that he's had, none of them has ever gotten to this point," Deschauer said.
A stay at an inpatient facility is just the first step on Manziel's path back to the NFL, Deschauer added. After completing treatment, Manziel has to show NFL teams that he is committed to sobriety and willing to work his way back onto the field.
That could mean a prolonged stint as a backup quarterback, or even a trip to the Canadian Football League or the Arena Football League.
In the past, NFL teams have shown a willingness to overlook off-field transgressions if they're convinced a player can help them win. Michael Vick returned to the NFL in 2009 after spending nearly two years in federal prison on dogfighting charges.
"As long as talent evaluators in the league think he still has the ability to play as well as he can when he's good, I think there's a door opening for him when he comes out of this," Deschauer said. "[But] he's going to have to spend months, if not a year, proving to the world that he can stay sober before he even gets to prove that he can throw the football around.
But any further off-field incidents could permanently damage Manziel's chances at an NFL career. Rosenhaus told Pro Football Talk on Friday that Manziel has yet to take steps toward getting help.
"If rock bottom is worse than this, it might be something that he couldn't possibly come back from, NFL-wise," Deschauer said.