For Grocers, it's Time to Put Up or Shut Down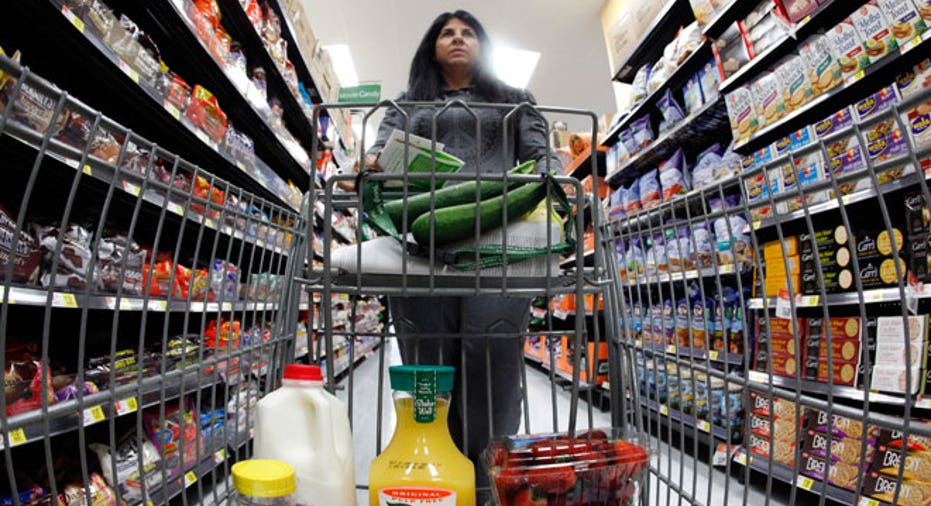 When it comes to filling the fridge and pantry, our trips to the grocery store are no longer our grandmother's shopping experience.
Consumers' change in spending habits, particularly the way we approach grocery spending, has created an "hourglass shift" in the sector, which has left many traditional stores stuck in the middle and struggling to compete.
"Stores have polarized from one end to the other," says supermarket consultant David Livingston. "The biggest growth areas have been with the upscale retailers, like the Whole Foods and Sprouts, and then the lower-priced stores, like the Costcos (NASDAQ:COST)." That leaves the traditional supermarkets forced to make changes if they want to stay alive in a saturated market.
According to Frank Dell, president and CEO of DELLMART & Company, supermarkets no longer sell more than 50% of grocery volume. "It used to be no one went against them when it came to selling traditional grocery goods. But now, convenience stores, dollar stores and discount retailers have aisles and aisles of food."
Long gone are the days of one massive grocery shopping trip on the weekend. Dell points out that the volume of each purchase at stores continues to decline as American shoppers are taking a page from Europeans' approach to grocery shopping.
"They go to a hyper market on the weekend and pantry load...pick up paper towels and non-perishables for the week and then buy fresh daily."
Gerri Willis Daily: Shop Smart and Save More on Groceries
"There was never a time when people just spent 20% more because they didn't care. Grocers are using this an excuse, they have to be willing to change to give customers what they really want."
More players in the game is a win for consumers, but it means supermarkets need to learn to adapt. "The old conventional games and gimmicks like card and loyalty programs, anything that distracted the customer (that grocers) are charging higher prices just don't cut it anymore," says Livingston.
The grocery store sector has experienced a lot of merger and bankruptcy activity in the wake of the Great Recession, but Livingston says the stores can't put all the blame on customers' spending pull back. "There was never a time when people just spent 20% more because they didn't care. Grocers are using this an excuse, they have to be willing to change to give customers what they really want."
Shopping More, Buying Less
Alternative formats like drugstores and discount retailers expanding their grocery offerings provides more price competition and choices for consumers. Dell points out that even Staples is offering coffee and paper towels.
According to Dell, supermarket volume peaks between 4 p.m. and 6 p.m. each night. "It's the 'what's for dinner' crowd. Mom is coming home from work and stopping in store and picking up something for immediate consumption. They go to Wal-Mart (NYSE:WMT) or Costco on the weekends to buy jeans and pantry load."
The Big Shrink
The switch to buying produce in one place, non-perishables in another and maybe even a third store for quick prepared meals has led the giant 50,000-square foot store with 4,500 products to go the way of the dinosaur.
"We want smaller stores, we want fresh stores, we don't want to walk up and down the aisles and see the same stuff week after week," says Kempert.
Even Wal-Mart, king of the super store is getting in on the shrinkage trend. "The majority of new (Wal-Mart) stores opening are under 25,000-square feet. Wal-Mart is entering smaller town where there is only one or two grocers and that couldn't support a super store," says Livingston.
He says the shift of bigger stores farther apart has changed to smaller stores closer together, and Wal-Mart is on the hunt for takeovers.
"There are smaller grocery chains out there up to their eyeballs in debt," says Livingston. "The smart ones are looking at the competition, identifying the weakest ones, finding where they do the best and then move in. They want to go in and cut the fish off at the head."
Price vs. 'Experience'
With consumers more willing to shop around to find the best deals, they are also looking for stores that can provide them an experience and unique offerings, according to experts, especially among Millennial shoppers.
Meal planning of Meatloaf Mondays and spaghetti Tuesdays are long gone. "We want to treasure hunt, food is very primal," says Phil Lempert, CEO and editor of The Lempert Report. "We are all pressed for time, so if you can offer unique foods that are tasty and healthy and convenient you are going to win the game."
He adds that technology has also created more informed shoppers. "You can't just hang a sign that says 'Fresh apples.' The consumer is going to ask where it was grown, how long it was in cold storage, and if you can't satisfy these questions they can go elsewhere."
Consumers also want to have a more personal relationship with the professionals behind the counter. He points to Wegmans as leading the pack in terms of providing value and service and adapting to consumer demands. "[CEO] Danny Wegman noticed a couple years ago that when fresh tomatoes came out, his sales increased. He realized this demand so he started his own fresh tomato farm and planted his seeds two weeks earlier than others so he would have them before anyone else."
"If I opened up a store across the street from a Wegmans with 10% cheaper prices, but not the same service, I would go out of business pretty soon."
Whole Foods was the leader of the unique and healthy movement pack, but has since fallen from grace. "Whole Foods really disrupted the grocer sector 20 years ago with its product offering and attention to health, but there's a reason its stock price is down 40%. Others figured out its business model but figured out how to do it cheaper," says Lempert. Now, grocers like Kroger, Hy-vee and Shop Right are pushing products and have put people behind the counter to help promote healthy lifestyles.
Going forward, Dell expects the growth of the private label brands to continue to surge as retailers get more innovative with their product offerings and packaging. He also adds that more personal touches could soon be coming to grocery stores. "The number of people watching cooking shows is through the roof, but no one really knows how to cook. I always thought groceries should get back into the business of teaching people how to cook."
The biggest question mark still hanging over the sector is home delivery. "We've had 10 years of attempts and failures of home delivery, but the sector needs to figure this out. We have a large population called baby boomers who will eventually lose their driver's license but want to stay at home, they are going to need their groceries delivered."