Food Trucks' Rocky Roads to Success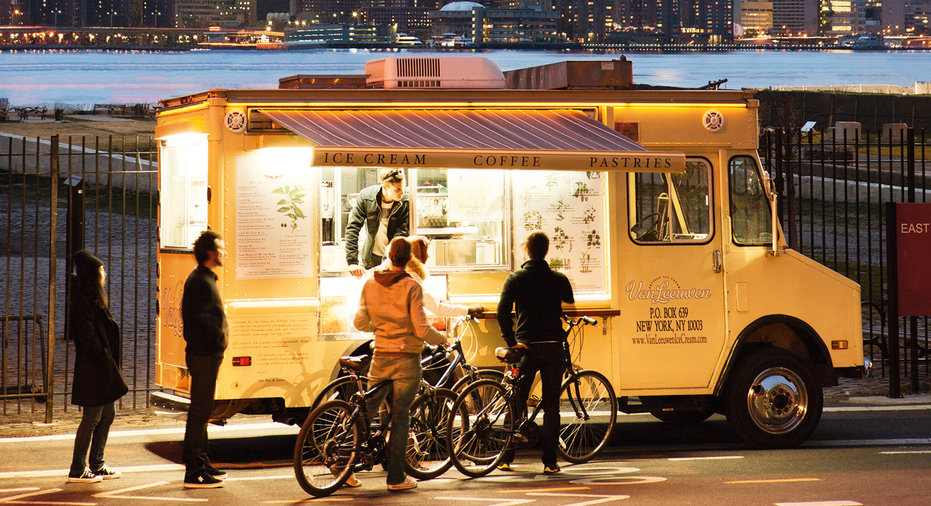 With the current craze in drive-by-dining, small business owners should consider all the facts before they hit the road. Here are some firsthand accounts of running a restaurant on wheels.
Luke Holden, the president and founder of Luke's Lobster in New York, said growing his restaurant has been easier than finding a footing in the food truck crowd of the city. He started his business in 2009, and opened three more restaurants before entering into the food truck arena. At this point, he said, the truck does more to get the brand noticed then to increase the bottom-line in profits.
The truck is also a lot "more difficult to manage" than the day-to-day restaurant operation, according to Holden, because of the unpredictability when it comes to location, weather and parking availability.
"It has been more of an outreach tool than a cash-flow tool. There are a lot of inherit struggles that come with operating a truck," said Holden. "You can't determine what the weather will do or parking issues. It is a difficult business to build stability in, and if you can't build stability in, it's harder to staff."
Parking issues have increased in New York, Holden said, over the past 8 months as meter rules changed. Sometimes his truck incurs almost $2,000 for parking in legal spaces a week. He said that the market for food trucks in New York has become "over saturated" and "more seasonal."
Holden advises entrepreneurs interested in the food truck world to do their market research and ask a lot of questions. For example, Holden said that in New York City it was no more economical to open a food truck than to open a small restaurant.
Some small business owners have experienced the opposite effects, having a successful food truck lead to an expansion into restaurants. Dimitrious Dimopoulos, Greek Lady Foods' owner in Philadelphia, said his family's goal was always to have a restaurant since they started on the truck in 1985. After they achieved their goal 12 years ago, they shut down the truck that got them there.
Dimopoulos said it took hard work and dedication to get into the restaurant business. He also suggests that small business owners looking to get into the food service industry go into the restaurant business if the budget is there, rather than starting out at first with a truck.
"It is a hard business [on the trucks]," said Dimopoulos. "You are outside with the weather and the elements."
The truck was the best business model for starting out for Van Leeuwen Ice Cream, according to co-founder Laura O'Neill. She started her business in New York City in the spring of 2008 on the idea of selling high-end artisanal ice cream from a truck. She said she found her business to be recession proof, and the ice cream truck to be a natural method for selling the product. When starting out, O'Neill and her partner worked from 10am-1am, she said this made it a little more flexible as a business model. It took her company 2 years before they were ready to expand into brick and mortar territory.
"It was a great way to establish our brand and we were able to be a little busier from the beginning," said O'Neill.
O'Neill also credits the timing of her launch with her company's success. She said she was able to secure several great steady locations for the food truck before the craze truly overtook the city. Her biggest advice for business owners starting out is to find out what business model truly works best with your product.
"I do worry that people see it as a trend, but there are so many difficulties that come with running trucks," said O'Neill. "You don't have to wake up early in the morning to jumpstart a store."
Heirloom LA  is new to the food truck scene in Los Angeles. Tara Maxey, Heirloom LA's co-founder, has been using a food truck for eight months as "brand equity," as her catering business is still the main source of revenue for the company.
"[The truck] garnered us a lot of press we wouldn't have had otherwise," said Maxey. "We approach our truck as more of a restaurant on wheels because that's our background. It's not really about the truck brigade. We are selective about where we put the truck."
Maxey advises anyone wishing to start up a food truck to try things out first and suggests renting a truck for a test run. She said she has seen other trucks fail because they do the prep work in their trucks, whereas Maxey has space from her catering service to prep everything before it hits the road.
"The thing that I stress to anyone who asks us how we grew so fast is truly taking advantage of your own free PR," said Maxey.