Food Fight: Rachael Ray Takes on New York City Over Free Student Lunches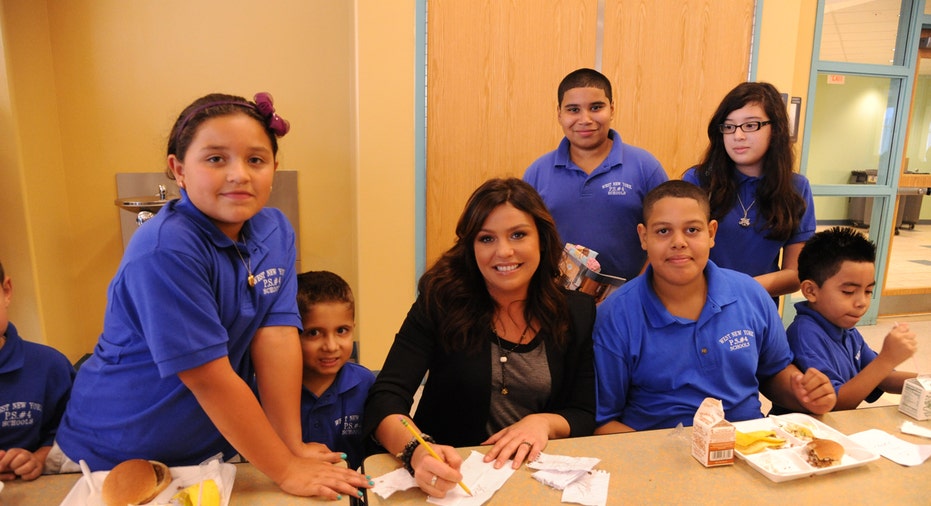 Rachael Ray, celebrity chef and talk show host, wants every New York City public school student to have a free lunch.
"No child should go hungry due to stigma and bullying in the lunchroom," Ray told FOXBusiness.com.
And her cause is gaining momentum: A petition on Change.org started last week has garnered over 30,000 signatures, calling on New York City Mayor Bill de Blasio to provide free lunches to all public school students.
"There are also many children whose families struggle to meet the most basic needs and can't afford the school lunch fee. Mayor de Blasio should be taking the steps to fulfill his campaign promise of instituting universal free lunch for all 1.1 million New York City public school students" Ray added.
According to the Feeding America network of food banks, 15.3 million children lived in food insecure households in 2014. Not to mention, households with children reported food insecurity at a higher rate (19%) compared to those without children (12%).
"Free lunch for everyone sort of levels the playing field; It's like everybody wearing a uniform," Jill Castle, a registered dietician and childhood nutrition expert, told FOXBusiness.com.
Mayor de Blasio provided funding for free middle school (grades 6th-8th) lunch in 2014, but Ray wants all students to be accounted for. She has visited several schools throughout New York City to discuss how to improve the school lunch program.
While Ray has not personally met with de Blasio for the cause, a mayoral spokesperson tells FOXBusiness.com:
"The administration was proud to expand school breakfast programs in elementary schools in the fiscal year 2016 budget, following the extension of the city's universal free lunch program in stand-alone middle schools. The mayor strongly believes that no child should go to school hungry, and that low income and food insecurity should not create a barrier to learning."
Ray has long been committed to helping others live a healthier lifestyle. In 2006, she launched a nonprofit organization, Yum-o!, which provides tools for families and children "to develop healthy relationships with food and cooking."
But is her mission for New York City students financially feasible? Ray says absolutely.
"Over 90% of school lunch costs are covered by federal and state reimbursements. Each additional lunch served brings in additional federal and state funds. The budget for FY2017 is $82 billion and the funds needed to roll this out would be a very modest investment for a transformative change that will have a positive impact."
Ray adds other large cities that have seen success by providing its public school students universal free lunch include Boston, Chicago, Dallas, Philadelphia, Detroit and Washington, D.C.
Skeptics may too be wondering if free lunch means sacrificing the quality of ingredients used in order to cut costs.
"We have national school lunch guidelines that most public schools that participate in free and reduced lunch programs have to follow, so kids aren't getting a bunch of sugar and a bunch of white bread and canned, sugary fruit and those types of things," Castle says.
As for what kind of lunch program New York City schools should adopt, Castle refers to School Meals That Rock, an organization that showcases national school lunch programs that are offering innovative menus.
"I think if you're banking on the future of the city, or the future of the state, or the future of our country, we're looking to make sure that children are educated and well-nourished and healthy, because when they're not it costs a lot more money than it does to proactively ensure their health and success through education and nutrition," Castle adds.
New York City's final fiscal 2017 budget is slated to be released this week.