Following a Vibe to Fashion a Business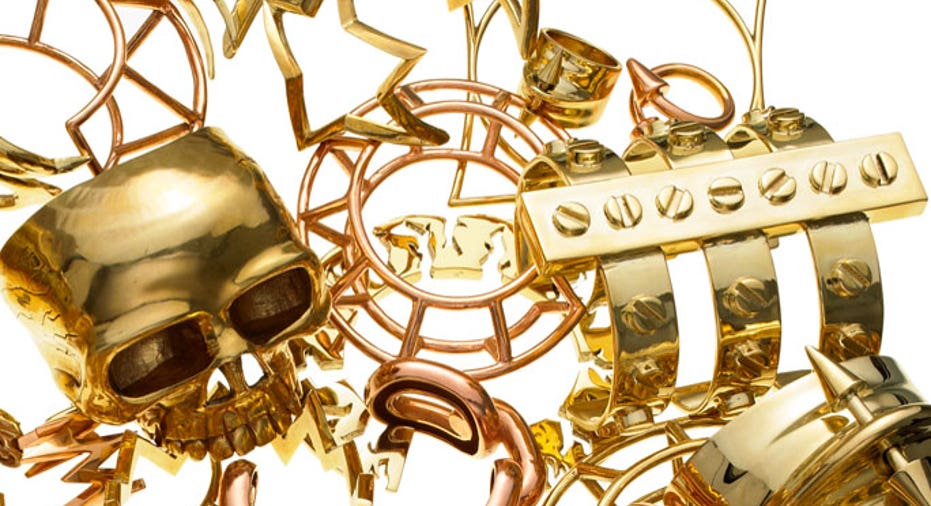 I like Jennifer Fisher before I even get to her showroom in Manhattan's SoHo. Because what I already know from what was supposed to be research for an interview, but quickly became joyful browsing on her website, is that Jennifer Fisher Jewelry is about individuality.
"The website is supposed to be an experience," Fisher tells me.
And it is. Charms and rings and bracelets and earrings that are anything but cookie cutter. They are, in fact, about unique expression. As I clicked around her site, I quickly digressed into fantasy about my unique combo -- the feather, the Capricorn symbol and a little Buddha hanging from a chain. Maybe a nice white gold cigar band ring with my initial in black pave diamonds.
See what I mean?
As I sit on a black leather couch with Fisher, surrounded by windows and light on the ninth floor, I am immediately struck by how much jewelry she is wearing. It is a confident look, yellow gold worn in layers, her expression of self. A tag each for her son and daughter, a black pearl, the word 'patience,' a dagger and a bullet (representing one she dodged) among much more. What would be a cluttered aesthetic on some is eye-catching and organic on this youthful looking 40-year-old.
"At one time I wouldn't be caught dead in yellow gold," she says, laughing.
But I am not here to write about the fashion. Instead, it is to draw out Fisher about how one starts a business she had no intention of starting and how fearlessly following her gut was helped along by health scares that made everything else seem minor in comparison.
"My jewelry is for anything you go through in life," she says. "For momentous occasions, to represent things important in your life."
That is why the jewelry she is wearing is key to the story. A once wardrobe stylist in Los Angeles for commercials and even for Aaron Spelling's Sunset Beach at one point, Fisher takes me through a time in 1997 of getting breast implants, the doctor finding a rare sarcoma "that doesn't metastasize unless you cut into it," a breast cancer scare, thoughts ranging from hormone issues in her birth control pills to workout bras that were too tight, relief at finally hearing a doctor say "you're not going to die" and eventually chemo.
She was dating her now-husband at the time (he was working in finance and lived in New York) and, despite being drained, continued working as a stylist all through it. They eventually married on Sept. 8, 2001 and she moved to New York, but doctors had been clear they didn't want her carrying a child. The couple enlisted the help of a surrogate, but she miscarried twice and opted out.
"I decided to try it on my own," Fisher says.
They went the in vitro fertilization route, but found it a "horrible experience" and decided to take the summer off. As it turned out, Fisher got pregnant that summer and carried the baby against doctor's orders. When her son Shane was born in March 2005, she set out looking for a piece of jewelry to commemorate his birth.
"I didn't like all the 'mom' jewelry," Fisher says. "I couldn't find anything, so I went out and figured out how to get a piece made in the type of style I wanted. It took me a day."
It bears mentioning that while many wouldn't know the first place to begin a hunt like this, being a stylist allowed her to tap into skills she'd acquired over the years. When you're on a shoot and you need something pronto, you learn how to trouble shoot and problem solve.
Soon came the requests that boiled down to something like this – will you make me one?
"When I started doing this out of my bedroom, I had started the website, and one day my husband came home and I said, 'I just sold $8,000 worth of jewelry from my bedroom,'" Fisher says. "It kept growing and growing."
Her vision was of different diamonds, different stamping, different golds to reflect a person's style. The business developed, she got pregnant again and had her daughter, Drew, and the Sex and the City movie came knocking. Her jewelry was worn in both movies, in fact. Later, she shows me the actual delicate white diamond hoop earrings Sarah Jessica Parker wore; she keeps them in the showcase as a lucky reminder.
We talk a bit about luck and Fisher is clear it's 100 percent about you driving, making good decisions and knowing your path. Anyone who knew her growing up in Santa Barbara may not be all that surprised at her entrepreneurial spirit, as she was making earrings from vintage buttons at age eight with her babysitter. From an avocado stand to flowers, she was always selling something and eventually went on to study business marketing at USC.
Her grandfather was a silver smith who had a studio in their garage, so she'd often watch him work after school. Fisher says she was also prone to outlandish fashion and had a subscription to French Vogue at an early age. When her family moved and Jane Seymour bought their house, she requested that the "wall paper" in Jennifer's room be left up. It was actually magazine covers she had pasted all over her wall.
The life coach in me can't help but wonder if it was a vision board of sorts, for a look at the press page on Fisher's website shows wall-to-wall magazine covers with celebrities wearing her jewelry. Nicole Kidman wore Fisher's wares for her wedding to Keith Urban. She showed me the earrings she made for Rihanna for the Grammy Awards – yellow gold hoops big enough to go around my neck.
What is telling, though, is that so many of the celebrities that wear her jewelry aren't donning it for a role or special event. It's for their personal expression outside of the spotlight's glare.
"The celebrity stuff wasn't intentional," Fisher says. "I had some connections from [12 years as a stylist] and then they started contacting me directly."
Now she is doing a brass line with Barney's, the only retail outlet that sells her products. There are four employees working the phones in SoHo and two manufacturers in New York and they ship all over the world. Eighty percent of her business is via the web and she also has regular customers and tourists who know they're coming to town and make appointments months in advance.
"It's fun to see the people," Fisher says.
Meanwhile, she is applying for membership in the CFDA and looking to grow the business outside of jewelry. She tells me she's already "drawing" sunglasses.
"Ever since I started this business, I have to be able to take things that happen, learn with that and grow with that," Fisher says. "It's also important to be aggressive enough to say, 'What about this?' Take the risk and see what happens."
Taking an occasional dagger and dodging a few bullets along the way.
Nancy Colasurdo is a practicing life coach and freelance writer. Her Web site is www.nancola.com and you can follow her on Twitter @nancola. Please direct all questions/comments to FOXGamePlan@gmail.com.