Fmr. Ravens Star Ray Lewis Explains Why Athletes Go Broke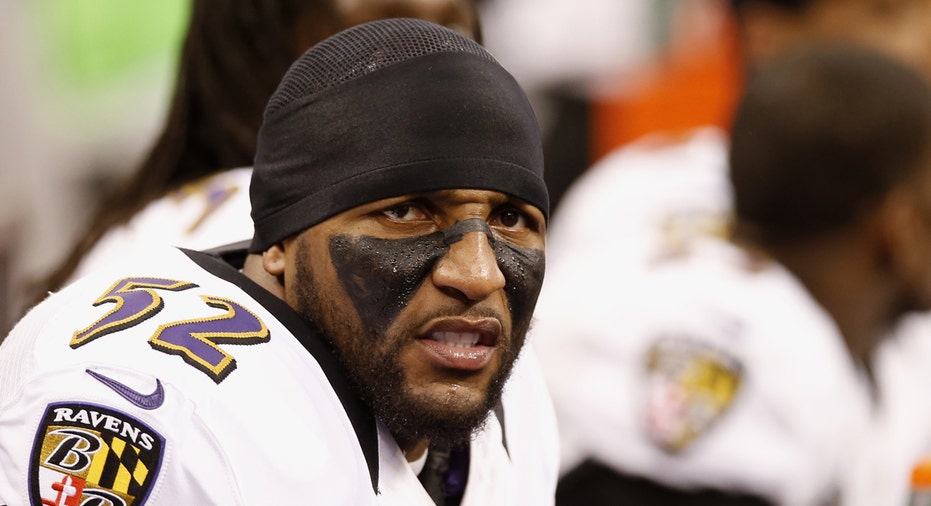 Nearly two decades in the NFL gave Ray Lewis a firsthand look at how bad investments and wild spending can destroy a player's finances, no matter how big their signing bonus. Now that his playing days are over, the former Baltimore Ravens linebacker is focused on ensuring long-term financial stability for his family and teaching young athletes the skills they need to avoid becoming another cautionary tale.
Lewis earned more than $95 million during a 17-year career with the Ravens that included two Super Bowl wins, two NFL Defensive Player of the Year awards and 13 Pro Bowl appearances. But that level of financial success is rare in the NFL, where guaranteed contracts are rare and a salary cap limits even the most talented player's earning potential.
The average NFL career lasts less than three seasons, and while average career earnings after taxes are about $4 million, most players earn far less than that. Careful money management is crucial to ensuring that money lasts. Lewis said that too many young athletes fall victim to the temptation of fancy cars and huge mansions, unaware that their spending has long-term consequences.
"Everybody's not signing a $20 million contract. Some guys are coming in and their signing bonus is $2 million," Lewis told FOXBusiness.com. "At a 39.5% [tax bracket], you break that down, you may walk out with $1.4 million. So now you have to start managing that, but before you start managing that, you have to pay back everything you've spent. And it shocks the heck out of people when they racked up charges and its $250,000 already."
In retirement, Lewis has stayed active with charity work and new business ventures. Aside from short stint as an ESPN football analyst and a run as a New York Times bestselling author, he serves as an advisor and ambassador for YieldStreet, an online investment platform that connects accredited investors to potential asset-based investments.
Lewis appears in the YieldStreet's promotional campaigns and holds an equity stake in the company, a company representative* told FOXBusiness.com. The exact financial terms of the deal were not disclosed.
Founded in 2015, YieldStreet recently closed a seed round of $3.7 million and says it's already returned $7 million in principal and interest to its clients. Each deal carries a minimum investment of just $5,000 and a target yield of between 8% and 20%. For example, qualified users can invest in a $200,000 loan made to an unnamed NBA player, which is secured by that player's $2 million contract.
The concept of having direct control over individual investments "resonated with me instantly," Lewis said. In 2013, Lewis was one of 16 NFL players who sued BT&T Bank, alleging that the bank allowed a disgraced financial advisor to make millions in unauthorized investments.
The 41-year-old asserts that athletes are often so fixated on their playing careers that they put blind trust into financial advisors, with little understanding of how their money is being invested.
"We come into it and we're 100% [focused] on being in shape, making it to training camp, getting a star position, all of these different things," Lewis said. "And we do get a signing bonus of 20-plus million dollars, and what's the first thing you do? You sign a 20-plus million dollar check over to a guy that you're trusting. And once he starts breaking it down to do whatever he's going to do with it, from that point, you no longer have control over your money."
Lewis wasn't always so focused on money management. He admits that early mistakes, such as wasteful spending by some of his associates and a lack of knowledge about his own investments, led him to re-evaluate his approach to business ventures.
He advises young athletes to pay attention to "every penny" of their money, in terms of both daily spending and long-term investments. No transaction is too small for a second look, because even minor purchases can add up quickly.
"These young guys coming into the game, when I sit them down, when they leave me, their mouths are wide open," Lewis said. "Because they realize, oh my god, I'm in trouble."
Athletes who mismanage their money during their playing career can find themselves in dire straits post-retirement. Without a steady flow of game checks, players who haven't focused on investments and new revenue streams quickly blow through their savings.
"Realistically, unless you have your own entrepreneur thing going on, unless you have the right investments and the right people around you, to come back and keep up that type of lifestyle is extremely hard," Lewis said. "And that's why so many former athletes go broke."
*Correction: A YieldStreet representative initially told FOXBusiness.com that Ray Lewis did not have an equity stake in the company. This article has been updated to note that Lewis holds an equity stake.