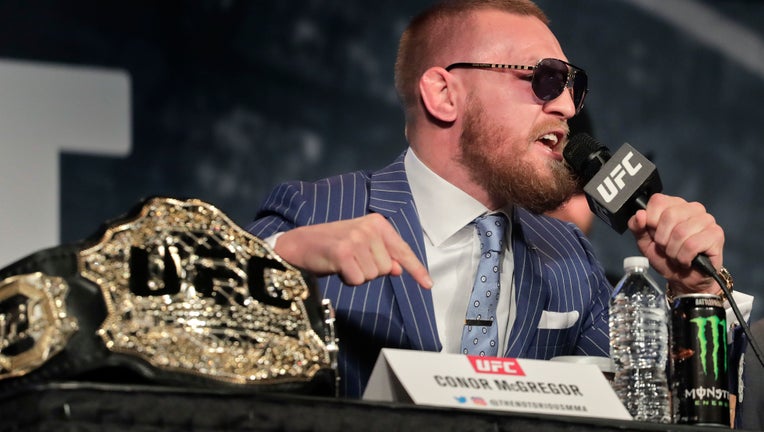 Fans can already place bets on the outcome of a highly-anticipated bout between UFC star Conor McGregor and undefeated boxer Floyd Mayweather – even though the fight has yet to be finalized or scheduled.
WestGate SuperBook, a Las Vegas-based legal sportsbook, has already taken more than 40 bets on the fight, ESPN reported on Thursday. To date, the wagers have totaled more than $10,000, with the majority of the money placed on McGregor. Mayweather is currently listed as the favorite in a potential match.
Since UFC President Dana White and representatives for McGregor and Mayweather have yet to reach terms on the bout, WestGate's wager comes with two caveats. Bets will be refunded if the fight takes place as anything other than a traditional boxing match, or if it takes place after May 13, 2018, ESPN noted.
WestGate SuperBook did not immediately respond to FOX Business' request for comment.
White, McGregor and Mayweather have all expressed optimism that terms will eventually be reached for the bout, which would arguably be the most high-profile prize fight since Mayweather defeated rival Manny Pacquiao in May 2015.
"It's an intriguing fight. It really is intriguing," White told FOX Sports in April. "If you break the thing down and listen everybody has their opinions and I'm not saying who's going to win or lose, but Floyd's 40 years old. Conor's 27 [years old]. Floyd has trouble with southpaws, Conor is a southpaw. Conor has knockout power in both hands and Floyd does not."
McGregor, who is known as one of UFC's most charismatic figures, currently holds the organization's lightweight championship. Mayweather, who retired from boxing in late 2015, has a career record of 49-0.