Floyd Mayweather on putting legacy on the line: 'It's worth it'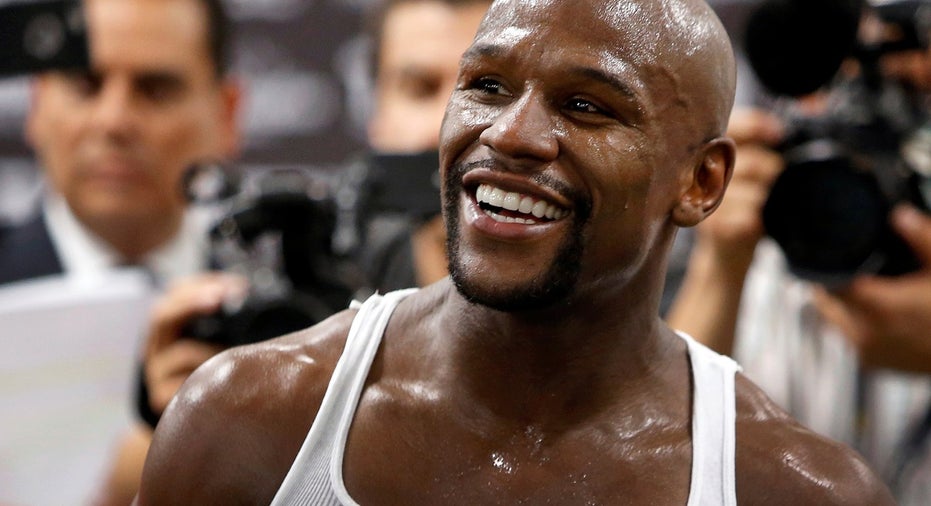 With his superfight against Conor McGregor a little over a week away, Floyd Mayweather struck a reflective tone on Thursday as he discussed the risk of coming out of retirement for a massive payday.
Mayweather, who has not fought in nearly two years, needs a win next week to surpass Rocky Marciano's record and reach 50-0 for his career, while McGregor, who is making his professional boxing debut, is 21-3 in mixed martial arts.
"When a fighter has lost before, if he loses again they say 'oh, it's nothing, he's lost before,'" Mayweather told a conference call. "But when a fighter has been dominating for 20-some years and never lost, everything is on the line.
"My legacy. My boxing record. Everything is on the line."
The fight, which the two combatants promoted with a four-city international media tour stretching across three countries, has garnered plenty of interest despite scepticism about how competitive it will be.
Mayweather, a master defensive technician and tactician, is heavily favored to win the Aug. 26 fight in Las Vegas but the 40-year-old has said that, on paper, everything leans toward the 29-year-old Irishman, who is taller and has a longer reach.
Mayweather acknowledged the physical demands of training for a fight had become much harder on his body than when in his prime, but said he did not let negative thoughts enter his mind.
"I try not to think about losing or taking the 'L.' That's not really my focus. Every day I tell myself I am a winner. I was born to be a winner at life. Not just in the ring but I was born to be a winner," said Mayweather.
"It's all about taking risk. I wouldn't be where I'm at if I didn't take risks so I don't mind putting a 49-0 record on the line, putting everything on the line for this fight. I feel like it's worth it."
Mayweather may be far from his prime but feels his sheer experience in the ring will carry him through what he says will be his last fight, one that is expected to be the most lucrative event in the history of combat sport.
"I don't think that I'm the same Floyd Mayweather that I was 21 years ago. Of course not," he said.
"I don't think that I'm the same Floyd Mayweather that I was 10 years ago. I'm, not even the same Floyd Mayweather that I was I was five or two years ago.
"But I still have a high IQ in that ring. And experience wise, it leans toward me, period, because I have been in the ring at such a high level for so long."
(Reporting by Frank Pingue in Toronto; Editing by Ian Ransom)