Flight Canceled? Travel Insurance can Help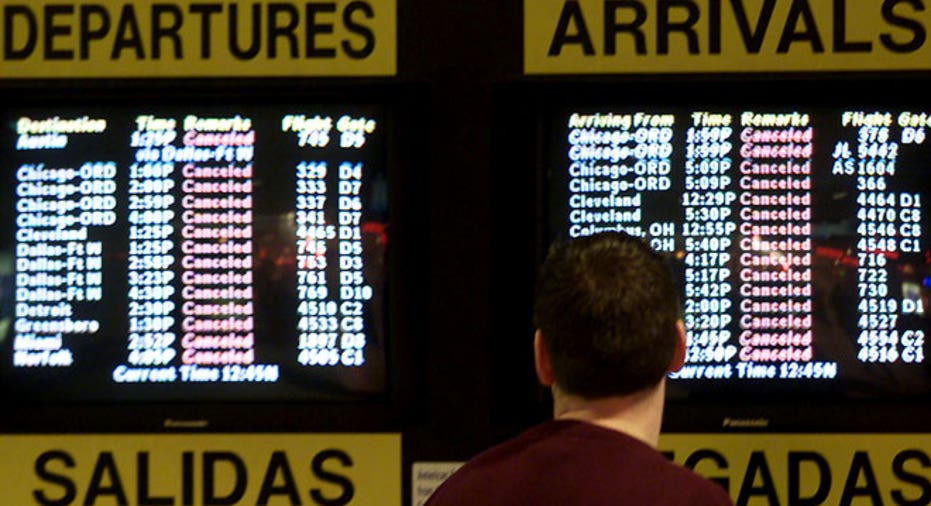 No matter how much careful preparation you put into a trip, Mother Nature can always clip your wings with weather bad enough to cause flight cancellations and delays.
Given the unpredictability of travel, consumers are turning to travel insurance to keep their finances on solid ground when flights are earthbound.
U.S. consumers spent almost $1.9 billion on travel insurance in 2012, up 14% from the previous year, according to the most recent figures from the U.S. Travel Insurance Association. The most popular policies include some sort of coverage for interrupted or canceled travel plans, the trade group says.
Travel insurance benefits run the gamut: reimbursing you if you need to cancel your trip because your mother dies; paying for medical care if you're injured or become ill abroad; or covering expenses if your bags are lost. And yes, the policies can protect you when airlines knock your plans off course.
Cancellations are a Fact of Flying
By some measures, airline cancellations have been getting worse as carriers move more quickly to ground flights in the face of ominous weather forecasts. The aviation data analysis firm masFlight says a pilot shortage has contributed to the problem, along with federal rules now limiting on-duty time for pilots and cracking down on long tarmac delays.
The U.S. Department of Transportation reported that airlines scrapped 6.5% of their scheduled domestic flights in January 2014 and 5.5% during February. Wicked winter weather during the period led to tens of thousands of cancellations, the most in more than 25 years, according to an analysis by The Associated Press.
In warmer months, hurricanes, thunderstorms, tornadoes and wildfires cause airlines to ground or delay their flights.
Travel Insurance Offers Some Relief
If you're flying from New York to Miami to take a Caribbean cruise and your flight is delayed, "the cruise ship is leaving with or without you. Nothing on your credit card would cover that," says Jim Grace, CEO of the online travel insurance agency InsureMyTrip.com.
That's where travel insurance comes in, he says. It can cover unexpected expenses for stranded travelers in these sorts of scenarios, according to the U.S. Travel Insurance Association:
If you're booked on a cruise and miss the boat because of a weather-related flight cancellation.
If you need to book a hotel room because your connecting flight is delayed a day.
If you need to scrap a prepaid hotel reservation at your destination because a hurricane has grounded your flight.
"With comprehensive insurance, if you have any nonrefundable, prepaid expenses or your trip is interrupted or delayed, it will cover it," says Linda Kundell, a spokeswoman for the U.S. Travel Insurance Association.
Which Insurance for Air Travel Headaches?
Insurance that can help airline travelers often goes by different names. Here are some definitions:
Travel insurance and trip insurance are two names for the same thing: the insurance that protects you if you book a trip and your plans go awry for a variety of issues, including airline delays and cancellations.
Flight insurance often means the same as travel insurance and trip insurance, though the term can be used to describe life insurance that pays a benefit if a passenger is killed or seriously injured in an airline accident.
Trip cancellation is a coverage within travel insurance that reimburses you for prepaid, nonrefundable expenses if you need to cancel your trip for a variety of reasons.
Trip interruption is a coverage within travel insurance that reimburses you for prepaid, nonrefundable expenses if you need to cut your trip short for a variety of reasons.
Sources: InsureMyTrip.com; Linda Kundell, U.S. Travel Insurance Association
Coverage and Costs
Comprehensive travel insurance policies typically provide trip cancellation and interruption coverage that takes care of many of your expenses when flights are grounded by weather or certain other issues.
Another option is cancel-for-any-reason policies, which compensate you if you scrap your trip for any reason up to 48 hours before departure.
"It's more expensive, but it gives you control over whether you want to go or not," Grace says. He adds that one drawback is that these policies may refund as little as 50% of your costs.
Comprehensive policies generally cost 4% to 8% of the cost of your trip, while cancel-for-any-reason policies run 8% to 12% of your trip's cost, Grace says.
When deciding whether to buy any policy, the key question is: How much financial loss can you sustain? "Losing $200 on a nonrefundable airline ticket might be a lot to one person," Kundell says. "To another person it could be nothing."
New Policy Focuses on Airline Issues
While comprehensive travel insurance usually includes features not directly related to flying, such as medical and emergency evacuation coverage, a new type of policy is focused squarely on air travel headaches.
AirCare, from Berkshire Hathaway Specialty Insurance, can be purchased up to an hour before your scheduled departure and costs just $25 per flight. The policy will pay you $50 for a flight delayed more than two hours; $500 if you miss a connection due to a flight delay, or if your luggage is delayed more than 12 hours; and $1,000 if your plane sits on the tarmac more than two hours, or if your luggage is lost or stolen.
Do Your Homework
As with any kind of insurance, you need to do your due diligence before you buy a travel policy.
Airlines rake in more than $2.5 billion in ticket cancellation and change fees, with many charging $200 to change a ticket, according to the National Consumers League. With an eye toward consumers trying to avoid those hefty fees, airlines and online travel sites offer travel insurance when you purchase your flight, says John Breyault, a league vice president.
Those policies often provide limited coverage and plenty of exclusions, he warns. "We've seen time and again consumers think they're protected, but conditions in the policy may or may not be clearly explained."
Breyault recommends that you purchase travel insurance separately from your flight and take the time to read all the terms and conditions before you buy.
Learn About the Claims Process
As you research travel insurance policies, search for online consumer reviews to determine whether the claims process might be a hassle or a relative breeze.
When you need to file a claim, you're usually required to provide proof of your loss.
If your flight was canceled, your airline will typically give you a printout that explains the situation. You'll also need paperwork on your expenses, such as any hotel booking you had to make because of the cancellation.
You may face payment delays if you don't have the records you need, says Kundell.
Copyright 2014, Bankrate Inc.