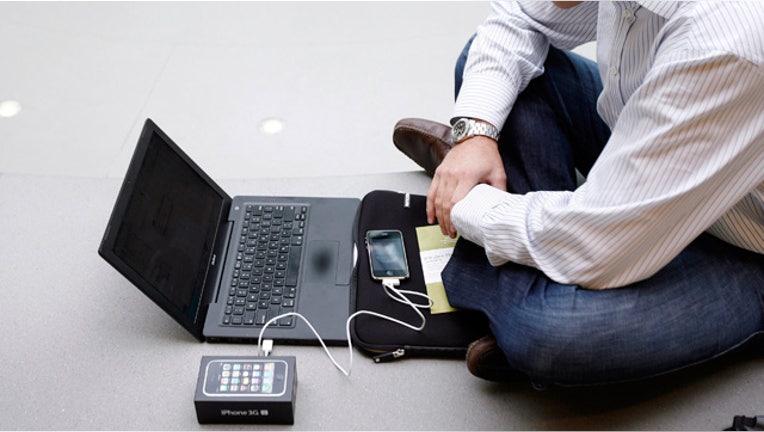 Welcome to OnSale at FOXBusiness, where we look at cool deals and insane bargains.
This new website wants you to look good – and give back while doing it. A new educational platform tells you all you need to know about using new web tools, and Samsung's latest tablet is on its way. And music lovers rejoice: streaming music service finally comes to BlackBerry, and YouRenew wants your old iPhone.
Shop for a Cause
Fashion-conscious individuals who like to give back will love this new flash sale site. It's called Community Collection and it features existing and limited-edition products from the likes of Alexander Wang, Alexis Bittar and Whetherly.
At least 20% of proceeds from apparel purchased benefits organizations that support animals (The World Wildlife Fund), the environment (Heal the Bay), education (Pencils of Promise), health (The American Cancer Society), human services (Operation Homefront) and disaster relief (Operation USA). Each featured designer chooses their favorite cause and dedicates a portion of the sale to their selected charity.
Interested shoppers can register for access to Community Collection sales and sign up for news of new designers by clicking here.
Free E-Learning
Grovo Learning Inc. wants to teach anyone with Interent access to learn how to use online tools.
The online learning education and training platform provided by Grovo has step-by-step instructions on how to use programs such as Google Analytics, WordPress, Yelp, and Twitter. Non-premium content is free, while access to premium, business-oriented content is $9 per month.
New lessons are added weekly and pre-written notes, glossary terms and quizzes are provided.
Sign up for a free Grovo account by clicking here.
A Galaxy Near You
Samsung's 16GB version of the Galaxy Tab 7.0 plus WiFi can soon be yours. Available for pre-order this week, it has a seven-inch display, is 9.96 mm thin and weighs in at 345g. It runs on the Google Android Honeycomb platform, and has a 1.2GHz dual core processor.
The phone is set to hit store shelves in many retailers including, Best Buy, (NYSE:BBY) Amazon (NASDAQ:AMZN) and Tiger Direct Nov. 13. The retail price on the 16GB version is $399.99.
Spotify Meets BlackBerry
OnSale told you about the arrival of Spotify in the U.S., and music lovers have been enjoying the site's songs ever since. Now the streaming music provider is available for BlackBerry users (NASDAQ:RIMM).
Spotify for BlackBerry can be previewed by clicking here, and a Spotify Premium subscription of just $10 per month is required to use the application.
Sell Your Old Phone
iPhone fans who purchased the 4S can get paid for their old phone. YouRenew.com is paying up to $200 for a 32GB iPhone 4, $161 for a 16GB version, and $105 for an 8GB 3GS. Those who didn't spring for the iPhone 4S can sell other electronics they no longer use at YouRenew, from calculators to tablets to e-readers and MP3 players, and get paid via check or PayPal.
Know of a killer deal or insane bargain? E-mail the goods to OnSale@FOXBusiness.com and share the wealth.