Five Steps to Cutting a Big Car Repair Bill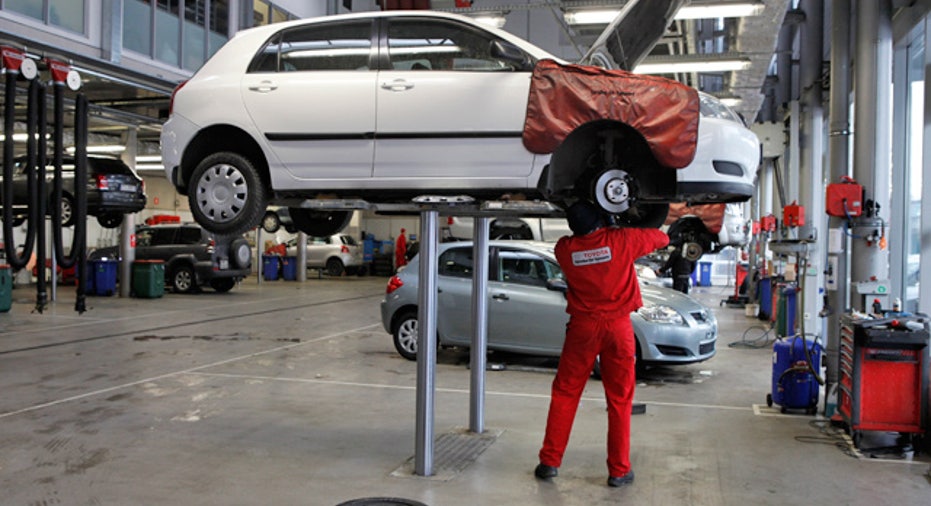 Every day, hundreds of car owners take their Toyota, Ford, Lexus or other brand to the local auto shop and receive unexpected, expensive news: They need major car repair work that will cost several hundreds -- or thousands -- of dollars.
What should they do next?
In a perfect world, that car repair place would be one the consumer trusts, because he or she is familiar with the shop's service, says John Nielsen, director of auto repair and buying services at AAA's national office in Heathrow, Fla.
Find the best auto loan rates
Bankrate can help you find the best auto loan rates.
"If you visit the same shop regularly for oil changes, tire rotations and other minor maintenance, and have an established relationship with them, then you could approve their estimate with confidence," he says.
But if you're like many drivers, you probably don't have that sense of trust in your local mechanic's shop. In such situations, it's important to weigh all options before making an expensive decision.
Here are five potential money-saving steps auto experts say car owners should take after they receive a major car repair estimate.
No. 1: Ask Probing Questions.
Owners should ask for details about proposed repairs, and keep asking until they fully understand the services they'd be paying for, Nielsen says.
"Get in the habit of asking questions by using the phrase, 'Help me understand,'" he says. "Make sure the adviser walks you through all the problems."
Dana TePoel is the owner of Lake Arbor Automotive & Truck in Westminster, Colo.??He says that good service advisers should be able to answer complicated technical questions in easy, straightforward terms.
If a vehicle has a bad sensor in its exhaust system, for example, the provider needs to speak plainly about what's malfunctioning and how it affects the car owner.
"The adviser should be able to explain that the sensor is misrepresenting information to your car's computer, and that it could cause your computer to add too much fuel. That would mean something to you, because your car is wasting fuel," TePoel says.
No. 2: Check the Shop's Qualifications.
Scan the walls of the auto shop to see what certificates and awards the service provider has earned. Awards don't guarantee a shop will provide excellent work 100% of the time, but they can show the auto business has made an effort to adopt industry best practices.
For example, the Blue Seal of the National Institute for Automotive Service Excellence, or ASE, indicates a business' mechanics have been certified in their areas of expertise.
"It is voluntary, but it provides an avenue for a shop to demonstrate their credibility and competency," TePoel says.
AAA also has an approved auto repair program that regularly monitors auto repair businesses.
"Shops must have a customer satisfaction index of at least 90% in order to be invited to participate in the AAA auto repair program," Nielsen says.
No. 3: Prioritize Your Vehicle's Needs.
"If the shop presents you with a laundry list of car problems, and the service adviser says that everything's urgent and must be repaired immediately, that's a red flag," TePoel says. "Instead, customers should insist that advisers address their concerns first, because the customer's concerns are what brought the car into the shop in the first place."
After the customer's concerns are answered, the next priority should be to provide an estimate on work that "must" be done, TePoel says. This would be a repair that's critical for the car.
Next, advisers need to share repair estimates for work that "should" be done for the proper maintenance of the vehicle, but aren't necessarily required to be completed during that service appointment.
Finally, TePoel suggests the estimate could include work that "may" be done, meaning that it's a good idea to complete, but of the least critical importance.
It's up to customers to determine which services to approve, but the adviser should help them prioritize what's most important, he says.
No. 4: Get a Second Opinion.
If a car owner is not sure that an estimate reflects work that is really needed, Nielsen suggests making a few phone calls to other shops first, in order to help determine if the quote is fair.
"Pick up the phone and call other shops," he says. "Don't be afraid to say, 'Hey, I've got an estimate in my hand. Does this sound right?'"
Even though it's a good idea to get a second opinion, Nielsen cautions that consumers should still be aware that an alternate estimate could be erroneous, especially if the other mechanic has not physically inspected the vehicle in question.
No. 5: Get Detailed Estimates in Writing.
Before approving any work, car owners should get a written record that spells out exactly what's being done, what type of warranty will be applied (if any) and how long it will take to complete the work, Nielsen says.
Owners should also know the process the shop has established for resolving disputes, such as third-party arbitration.