Five Major Banks Plead Guilty to Felony Charges Over Currency Rigging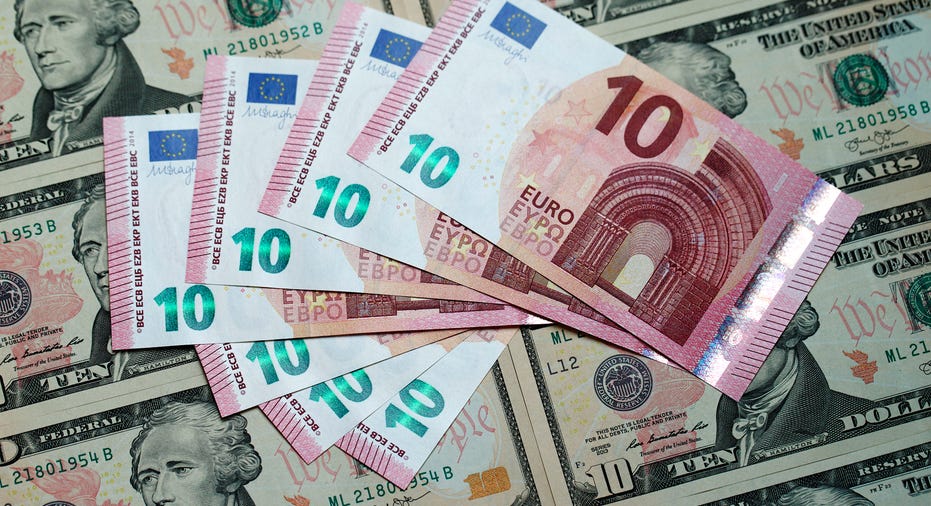 Five of the world's largest banks will plead guilty to felony charges and pay fines totaling nearly $5.8 billion following a multi-year investigation into allegations the banks banded together to manipulate global financial markets, the U.S. Justice Department announced Wednesday.
Four of the banks – Citicorp (NYSE: C), JPMorgan Chase (NYSE: JPM), Barclays PLC (NYSE: BCS) and The Royal Bank of Scotland (NYSE: RBS) -- will plead guilty to conspiring to manipulate the price of U.S. dollars and euros in foreign currency markets and the banks will pay fines totaling more than $2.5 billion.
According to federal prosecutors, traders at the four banks charged in the FOREX scheme referred to themselves as "The Cartel" and used online chat rooms to communicate with each other.
The fifth bank, UBS AG (NYSE: UBS), will plead guilty for breaching an earlier non-prosecution agreement in connection with a long-running investigation into manipulation of the London Interbank Offered Rate (LIBOR) and other benchmark interest rates. UBS will pay a $203 million fine, the Justice Department said in a statement.
Separately, the Federal Reserve imposed fines of more than $1.6 billion on the five banks for "unsafe and unsound practices," among the largest fines ever imposed by the Fed. Barclays will pay an additional $1.3 billion in fines in settlements with the New York Department of Financial Services, the Commodity Futures Trading Commission and the U.K.'s Financial Conduct Authority.
Forcing the banks to plead guilty to felonies as part of the settlements is a relatively rare technique for federal prosecutors, who have been criticized in recent years for not coming down hard enough on big banks in the wake of risky and often-illegal activities that contributed to the 2008 financial crisis.
U.S. Attorney General Loretta Lynch said in a statement: "The penalty these banks will now pay is fitting considering the long-running and egregious nature of their anticompetitive conduct.  It is commensurate with the pervasive harm done.  And it should deter competitors in the future from chasing profits without regard to fairness, to the law, or to the public welfare."
But Chicago securities attorney Andrew Stoltmann said the punishment has more bark than bite because the banks got regulators to eliminate much of the sting from the penalty during negotiations.
"In exchange for pleading guilty and paying these hefty fines, the banks demanded that regulators not ban them from certain business practices," said Stoltmann.
"These accommodations render the plea deals effectively useless. The pain of an indictment comes from banks not being able to, as a felon, engage in certain lucrative business practices.  By getting the SEC and Labor department to ok the continuation of these business practices, the pleas are not very meaningful," he added.
According to plea agreements to be filed in federal court in Connecticut, between December 2007 and January 2013, euro-dollar traders at Citicorp, JPMorgan, Barclays and RBS used an "exclusive electronic chat room and coded language to manipulate benchmark exchange rates," the Justice Department said.
Traders allegedly rigged by the markets by manipulating two major daily rate "fixes," the 1:15 p.m. European Central Bank fix and the 4:00 p.m. World Markets/Reuters fix, according to prosecutors.  Third parties collect trading data at these times to calculate and publish a daily "fix rate," which in turn is used to price orders for many large customers.
The Justice Department said "The Cartel" traders allegedly coordinated their trading of U.S. dollars and euros to manipulate the benchmark rates set at the 1:15 p.m. and 4:00 p.m. fixes in an effort to boost their profits.
The traders also used their exclusive electronic chats to manipulate the euro-dollar exchange rate in other ways, prosecutors said.  For instance, the traders manipulated the euro-dollar exchange rate by agreeing to withhold bids or offers for euros or dollars to avoid moving the exchange rate in a direction adverse to open positions held by co-conspirators.  By agreeing not to buy or sell at certain times, the traders protected each other's trading positions by withholding supply of or demand for currency and suppressing competition in the FX market.
Citicorp, which was involved from as early as December 2007 until at least January 2013,  has agreed to pay a fine of $925 million.
Barclays, which was involved from as early as December 2007 until July 2011, and then from December 2011 until August 2012, has agreed to pay a fine of $650 million;.
JPMorgan, which was involved from at least as early as July 2010 until January 2013, has agreed to pay a fine of $550 million.
RBS, which was involved from at least as early as December 2007 until at least April 2010, has agreed to pay a fine of $395 million.
The Justice Department said the settlements announced Wednesday bring the total fines and penalties paid by the five banks to resolve the currency investigations to about $9 billion.
Barclays, according to the Justice Department, has agreed that the bank violated a principal term of its June 2012 non-prosecution agreement that settled the government's investigation of the manipulation of LIBOR and other benchmark interests rates.  Barclays has agreed to pay an additional $60 million criminal penalty based on its violation of the non-prosecution agreement.
In addition, the Justice Department has determined that UBS violated its December 2012 non-prosecution agreement resolving an earlier LIBOR investigation.  For that UBS has agreed to pay a criminal penalty of $203 million.