Five Low-Risk Ways to Earn Higher Interest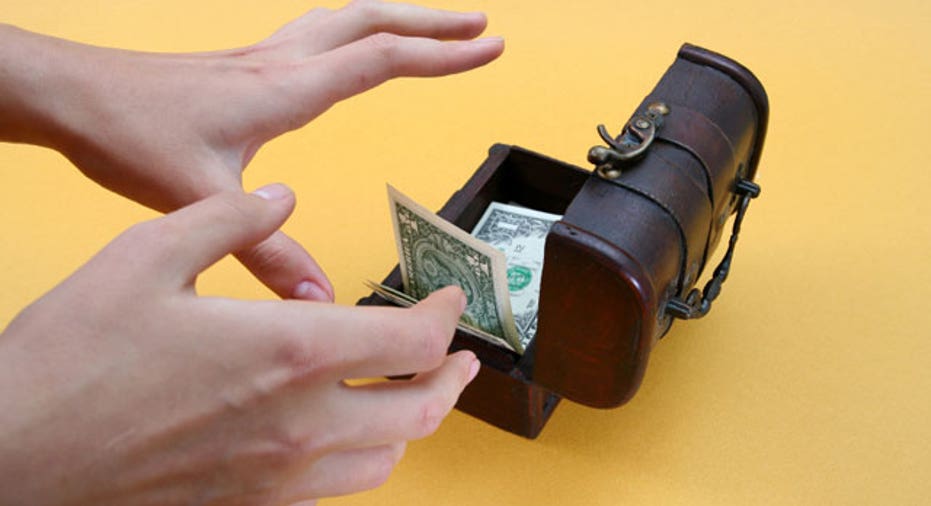 If you have cash to park in a bank, be a rate-chaser these days. You don't need to have a jumbo account to earn higher interest anymore.
Even just switching savings accounts can tack a full percentage point onto your earnings, says Greg McBride, CFA, senior financial analyst at Bankrate.com. "That's an easy way to boost return," he says.
But there are other low-risk instruments you can tap, including rewards checking, low-penalty certificates of deposit and bank incentives.
It can take some scouting. Big banks usually don't offer big rates these days. "Sometimes you can get better deals at community banks and credit unions," says Ken Tumin, a financial blogger who writes about deposit accounts. For example, two-thirds of the banks offering rewards checking are community-based, he says.
One word of caution: Don't choose a higher rate over safety. Make sure your money is insured, Tumin says. Banks are covered by the Federal Deposit Insurance Corp. and most credit unions by the National Credit Union Administration.
Here's the lowdown on some low-risk ways to boost your rates.
Rewards Checking Can be, Well, Rewarding
Racking up rewards on checking accounts can substantially boost earnings.
"You can easily get up to 3% rates on up to $25,000," Tumin says. Some FDIC-insured banks recently paid even more, such as Southern Bank, which is based in Missouri and paid an annual percentage yield of 5.01%.
The trick is clearing the checking account hurdles, which can include: meeting monthly minimums on the number of transactions, using online rather than paper statements and switching to direct deposit. "These debit card transaction (minimums) are starting to go up," Tumin says. "Now, it's 12 a month, rather than 10."
McBride says that if you don't meet account restrictions, you'll earn a substantially lower rate. Still, sometimes there are rewards other than a better interest rate. Some companies like Capital One offer frequent-flier miles or merchandise on rewards checking accounts.
Overall, Tumin says if you're willing to jump through some hoops, rewards checking accounts can be profitable and easily found. They're offered at credit unions, big banks and even local banks.
"In the past two years, the best deals are on rewards checking accounts," Tumin says.
Scoop up Bank Incentives
If you're opening a new account, check out bank incentives first.
For example, JPMorgan Chase recently offered $125 bonuses on its new accounts with some restrictions. Some other banks offer incentives for adding direct deposit or online bill payment to existing accounts.
Credit unions and Internet banks also offer bonuses, Tumin says. "Most bonuses are applied to checking accounts, and it's very typical to require direct deposit," he says.
Tumin advises investors not to be swayed by incentives over the long term. "If a large bank gives you $100, you probably won't make much money after that," he says.
Don't be Afraid to Use Internet Banks
Online banks are a good bet for higher yields.
"They make it easy," Tumin says. "They don't have minimum balances and do have online transfer features." They're also usually covered by the FDIC, so your money is insured up to $250,000 per account.
And some juicy rates are found in unexpected places. For example, American Express offers an FDIC-insured, high-yield savings account online that paid 1.15% APY in mid-March. There are no fees or minimum balances. And Sallie Mae had a similar online account with a 1.1% APR rate.
Though much banking is done in physical branches, online banks such as Sallie Mae are just as good. SmartyPig, a free online piggy bank with a twist, is another option. It recently paid a high 1.35% APY rate. But you'll need to set a savings goal and deal with some restrictions. For example, partial or periodic savings account withdrawals aren't allowed. You have to withdraw the full amount.
Check out Low-Penalty CDs
Low-penalty certificates of deposit are nearly liquid money. But they also pay higher rates.
"In the past few years, some banks began offering CDs with no lockup time," says Carol Kaplan, spokeswoman for the American Bankers Association.
The pluses are significant. They include taking money at any time without a large penalty, earning higher interest than a savings account and having FDIC insurance.
For example, Ally Bank offers no-penalty, 11-month CDs paying 1.15% APY with no withdrawal penalties as of mid-March. There's also no minimum investment.
"These CDs are almost liquid," Tumin says. "Then, you also get the benefit of a rate lock."
Don't Accept a Low Rate
Don't just depend on big, brick banks. Credit unions or community banks can offer rates worth chasing.
The amount of money kept in low-yielding money market funds is staggering. But there is lots of competition for that money, which can be easily moved out of a savings account.
According to McBride, the average savings account nationwide earns just 0.17% in interest; the highest-yielding one pays 1.25%. That's a big spread. "You want to cast a wide net," he says.
That means you can't park your money and forget it. Plan to move your money frequently. "Few banks stay rate leaders for over a year," Tumin says. "They end up dropping their rate."