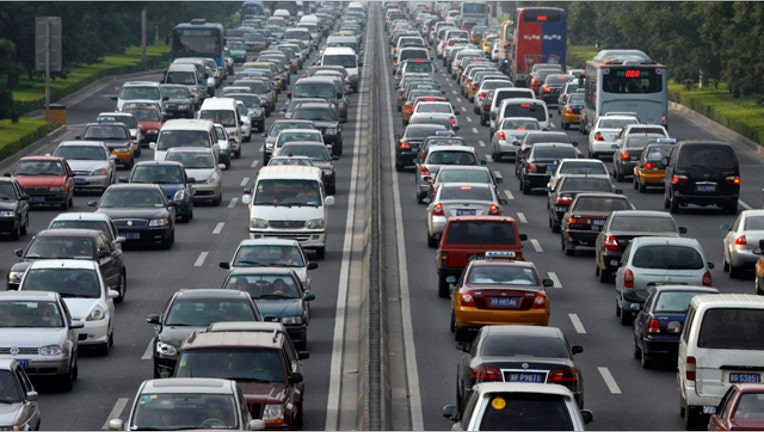 Cars to buy with your bonus
Surprisingly, there are still companies that pass out year-end cash bonuses, and it's in that spirit that Bankrate assembled a list of the five best cars to buy with a big bonus.
Not all bonuses are created equal. Consequently, each of the five cars represents an ascending bonus range. Because bonus earners might want to pay cash for their car, the manufacturer's suggested retail price of each car falls below the dollar amount at the bottom of the range.
Any bonus amount could be used as a down payment for a car. But, to pay the full purchase price in cash of the least expensive car on today's market, bonus amounts begin at $15,000.
Listed car prices are before manufacturer delivery charges and include air conditioning, at least six air bags, power windows, door locks and outboard mirrors.
Fuel economy had no bearing on the choices, but the fuel economy rating in mpg from the Environmental Protection Agency is listed for each car.
If that bonus check is burning a hole in your pocket, Bankrate presents the cars to spend it on.
   Mazda2 Sport hatchback    Bonus: $15,000 to $20,000    Price: $14,720    Gas mileage:        City - 29 mpg        Highway - 35 mpg
Anyone with $15,000 in cash to pay for a new car won't do any better than the Mazda2. An engaging little runabout, it's the best car for a fun drive and easy on the wallet. Its sharp styling cues translate into a bit less room inside, but it's still comfortable and efficient.
A 1.5-liter four-cylinder engine delivers 100 horsepower to the front wheels via a five-speed manual transmission. A four-speed automatic is available as an extra-cost option for those who don't want to stir the transmission themselves.
A tidy interior features pleasing, stylish and simple-to-use controls. "Sport" is the entry-level version, but it is still well-appointed with such equipment as a rear intermittent wiper, 60/40 split-folding rear seat, and a four-speaker audio system with CD player and iPod interface.
To add goodies such as cruise control and trip computer, you must step up to the more expensive Touring trim.
   Dodge Dart Limited    Bonus: $20,000 to $35,000    Price: $19,995    Gas mileage:        City - 25 mpg        Highway - 36 mpg
Dodge dug deep into its archives for the "Dart" moniker and introduced the nameplate to a whole new generation of drivers.
A bit of the excitement surrounding the all-new Dart stems from its Italian influences. Some of what's beneath the Dart's handsomely sculpted skin comes from the nimble Alfa Romeo Giulietta. Go is in the form of a 160-horsepower 2-liter four-cylinder engine. A six-speed manual transmission ushers engine output to the front wheels. Dodge offers a driver-shiftable six-speed automatic transmission as an option.
Shouting "performance," the interior is more cockpit than cabin. Roomy and comfortable, the interior reflects the Dart's sporty mission.
A turbocharged R/T trim is coming later in the year that will pack a more potent engine, along with other upscale features such as leather seating. In the meantime, the Limited is the Dart's top dog, with such features as heated outboard mirrors with integrated turn signals, keyless entry, 10 air bags, rear backup camera, Bluetooth connectivity, and a six-speaker audio system with CD player, touch-screen control and iPod integration.
   Hyundai Genesis Coupe 3.8 Grand Touring    Bonus: $35,000 to $70,000    Price: $32,000    Gas mileage:        City - 18 mpg        Highway - 28 mpg
Value can be defined several ways, but good looks, dynamic performance, luxury appointments and gobs of standard features, all for slightly more than $30,000, make this one of the best cars for the value. You can spend $10,000 more for a car and not get nearly as much.
Offering all the get-up-and-go most mortals need, the engine is a 348-horsepower, 3.8-liter V6. Handing the power off to the rear wheels is a driver-shiftable eight-speed automatic transmission. Acceleration is swift and enthusiastic.
Looking every inch the luxury sport coupe it is, this Genesis sacrifices some rear-seat legroom for its sexy looks. Its highly stylized cabin makes its driver feel like he's piloting an F-15. In its Grand Touring dress, it's loaded with heated outboard mirrors with integrated turn signals, backup parking sensors, six air bags, keyless entry/start, leather seating, heated front seats, power sunroof, Bluetooth connectivity, navigation system with 7-inch touch screen, and 10-speaker Infinity audio system with CD player and iPod integration.
   Cadillac CTS-V Wagon    Bonus: $70,000 to $100,000    Price: $63,215    Gas mileage:        City - 12 mpg        Highway - 18 mpg
Whether you choose the sedan, coupe or wagon version of this Cadillac, the base price is the same. What the above price doesn't include is the $1,300 gas guzzler tax that's tacked on to the total of every CTS-V. But hey, you're rolling in cash, so what's another grand or so when you want to buy the best car to get the most from your bonus?
The price is also the same for the driver-shiftable six-speed automatic transmission as it is for the six-speed manual; the fuel economy listed is for the more fuel-efficient automatic. It sends production from the 556-horsepower, 6.2-liter, supercharged V8 to the rear wheels. A Cadillac with the "V" designation can reach 60 miles per hour from a standstill in four seconds.
Sporty and inviting, the cabin seats four comfortably. Extra-supportive Recaro front sport seats are optional. Features that are standard include dual-zone automatic climate control, keyless entry/start, power rear liftgate, power tilt-telescoping steering wheel, Bluetooth connectivity, backup camera, navigation system with 8-inch monitor, and a 10-speaker Bose-infused audio system with CD player, satellite radio, 10 gigabytes of available music storage and iPod interface.
   Jaguar XKR Coupe    Bonus: $100,000 plus    Price: $97,500    Gas mileage:        City - 15 mpg        Highway - 22 mpg
For those of us who have to balance our checkbook before taking the family out to dinner, it may not look like it, but the Jaguar XKR is a bargain in the world of high-performance, high-end luxury coupes. However, qualifying as a value doesn't translate into subpar. This is one fine automobile.
A 5-liter supercharged V8 delivers 510 horsepower to the rear wheels by way of a driver-shiftable six-speed automatic transmission. Jaguar claims the XKR can sprint to 60 mph from a stop in 4.6 seconds, making it one of the best cars to let your hair down.
Only the constraints of the small rear seat will prevent neighbors from trying to invite themselves along on routine trips to the grocery store and post office. The cabin is opulent and intimate. Among the standard features are leather seating; hand-stitched, leather-covered door panels and instrument panel; 16-way power-adjustable front seats; heated and leather-wrapped steering wheel; heated and cooled front seats; and a 14-speaker Bowers & Wilkins audio system with an in-dash, six-disc, CD changer, high-definition radio and iPod interface.