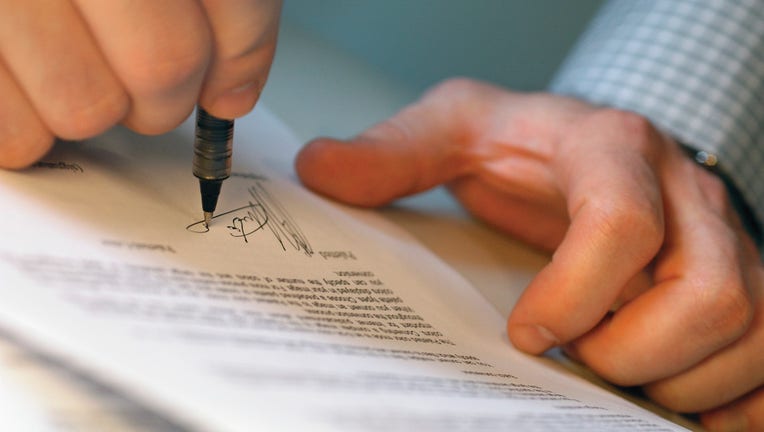 For many retirees, individual retirement accounts are their single largest asset, a financial war chest meant to supplement their income during their lifetime and provide for their heirs once they're gone.
Yet, all too often IRA owners commit costly errors on their beneficiary form that negate their best intentions, leaving loved ones out in the cold.
From failing to update their document after a divorce, to forgetting to name a beneficiary, such financial fumbles can force future generations to surrender too much to Uncle Sam -- or worse, deny them their rightful inheritance.
"It happens more often than you'd think," says Certified Financial Planner professional Joel Larsen, a principal with Navion Financial Advisors in Davis, Calif. "Otherwise capable and intelligent people don't always do proper estate planning because they don't want to address their own mortality."
Outdated Forms
Perhaps the most common mistake when it comes to designating an IRA beneficiary is forgetting to update your beneficiary form after you divorce or remarry, or when the person you intended to pass your assets to passes away before you.
Your beneficiary form should be reviewed and updated after every life event, says Neil Brown, CFP professional and CPA with Burkett Financial Services in West Columbia, S.C. Updating your will is not enough.
"The IRA beneficiary form overrides your will," says Brown.
Indeed, if you get remarried and change your will, but forget to amend your IRA, the person named on your IRA beneficiary form (most likely your ex) would be legally entitled to your assets when you die -- and, thus, able to pass that money along to any children he or she had from other marriages.
"Retirees can very easily leave their IRA to someone not within their wishes, or leave it to someone within their wishes, but with very negative tax consequences," says Brown, noting many of his clients have insisted that their beneficiary forms are "taken care of" only to discover on closer inspection that their ex-spouse was still named as sole beneficiary.
Naming Your Estate
This is the biggest blunder of all.
Those who name their estate as their IRA beneficiary, or who inadvertently do so by failing to select a beneficiary, deprive their heirs of a significant growth opportunity.
Normally, nonspouse beneficiaries who inherit a traditional IRA can choose between two options: Either liquidate and pay taxes on those assets within five years of the owner's death, or "stretch" their required minimum distributions out over their lifetime.
"Too many people do not understand the significance of a beneficiary form and leave them blank or name their estate," says Brown. "This is a complete mistake because it limits the beneficiaries' ability to stretch the IRA after the owner's death. It speeds up the income taxes on the distributions as well and can amount to hundreds of thousands of lost growth potential."
Another negative to not naming an IRA beneficiary: The probate court would consider that asset to be part of your estate after you die, and thus it would be subject to any creditors.
If that's not enough, your IRA would also not be distributable to your heirs until the probate process concludes, which can take more than a year.
Do your family a favor and be sure you've named an actual person as your beneficiary, not your estate.
No Financial Controls
Another IRA no-no is naming your child as sole beneficiary without establishing controls, especially if she lacks financial sophistication.
After you die, the money in your account belongs to your beneficiary. She can spend it however she likes -- on a college education, a down payment on a house, or at a tattoo parlor in Tennessee.
So much for tax-deferred growth.
If a loss of control concerns you, you might consider naming a trust as beneficiary instead, says Brown.
A trust enables you to stipulate how much your beneficiaries will receive and how often.
"If you are going to leave it to someone who you fear is going to just blow it, a trust gives you control provisions," says Brown, noting such documents must be handled by an estate lawyer to avoid future legal entanglement. "The language might stipulate that the income can only be distributed out for health, education, support or maintenance purposes."
That said, trusts can be pricey to maintain, with many corporate and bank trustees charging 1% to 2% of the IRA's value per year.
Estate attorney Bill Dendy, president of Elite Financial Management in Dallas, advises clients to check first with the custodian or insurance company to see if they offer "restrictive beneficiary endorsements" on their IRA or annuity products.
Such endorsements provide "earnings only" to beneficiaries on an annual basis, which preserves the principal.
"This is simple and low-cost compared to a trust," says Dendy.
Forgetting to Name a Guardian
Parents who wish to leave their IRA to an underage child also frequently forget to select a guardian, with potentially disastrous effects.
If you die before your child reaches adulthood, the court will appoint a guardian for you to oversee those assets until he or she reaches the age of majority. It might not be the person you would choose.
"Naming a minor child is a problem," says Larsen. "If you are divorced, guess who the courts will name? The estranged spouse."
When choosing a minor child as a beneficiary, he notes, consider how you want that money controlled and select your own trustee or guardian.
The Form is MIA
You did everything right: named a beneficiary, kept your forms current and created a trust to rein in reckless spending. But you didn't tell your loved ones where to find the paperwork.
Oops.
Even the most bulletproof beneficiary form won't help your heirs if they can't track it down after you pass away.
And don't assume that your bank or brokerage firm has a copy. Amid the flurry of mergers and acquisitions in the financial services industry, there's no guarantee they'll be able to produce the document when it matters most. Better to retain your own record, says Larsen.
Without an IRA beneficiary form, the courts have no choice but to subject your heirs to the faster payout schedule, causing them to miss out on the tax-deferred stretch IRA.
Get a copy of your beneficiary form from your IRA custodian, keep it in a secure location (fireproof safe at home, deposit box at the bank or scanned file) and tell your beneficiaries where it is.
This is also a good time to review your wishes for the account -- explaining to your children and grandchildren how you'd like their inheritance used, and the benefits of stretching out their distributions versus liquidating the account, says Brown.
To prevent other unforeseen mishaps, have your IRA beneficiary form reviewed by a professional to be sure it reflects your wishes and adheres to federal and state law. If you live in a community property state, for example, you can't name someone other than your spouse as a primary beneficiary without obtaining a notarized release from the spouse.
"So often people don't go back and look at their financial paperwork," says Larsen. "Financial planning is not an event. It's a process."
Copyright 2013, Bankrate Inc.