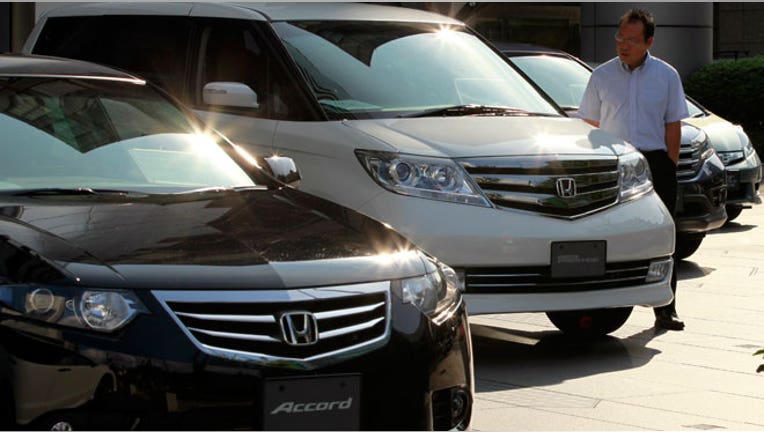 Best 4-door, AWD Cars for the Snow and Cold
Whether driving in the rain, snow or mud, any of Bankrate's five best all-wheel-drive, four-door cars for winter driving are foul-weather champs.
In putting this list together, Bankrate weighed price, safety and overall reliability.
All-wheel-drive systems aren't cheap. Consequently, there are only a handful of AWD cars that cost less than this list's $35,000 price ceiling. From those, Bankrate weeded out any car that didn't earn the Insurance Institute for Highway Safety's top score of "good" in front-offset and side-impact crash tests.
Finally, each car had to post an overall score of 70 or higher out of a possible 100 in tests performed by Consumer Reports, measuring a car's safety, reliability, maintenance costs, ride quality, performance and owner satisfaction.
In each case, the AWD is a system that operates without driver input, making its own decisions regarding when to redistribute some amount of torque from the front wheels to the rear wheels.
Every car on this list has power windows, door locks and outboard mirrors as well as air conditioning and at least six air bags.
Prices are before destination charges, and the fuel-economy numbers are Environmental Protection Agency estimates. Pick the one that best suits your taste and budget, and prepare to thumb your nose at Old Man Winter.
Subaru Legacy 2.5i Premium
Consumer Reports score: 81
Price: $22,495
Mileage: City - 24 mpg Highway - 32 mpg
City - 24 mpg
Highway - 32 mpg
Notable as the most affordable of our AWD cars and the only one with AWD as standard equipment, the Subaru Legacy also generated the highest Consumer Report score. Until it released the all-new BRZ for 2013, Subaru had made nothing but AWD cars for the previous 15 years. In other words, it knows a little something about all-wheel drive.
Legacy's other unique feature is that its engine cylinders lie flat rather than in a "V," contributing to the car's low center of gravity and added control. It's a 173-horsepower, 2.5-liter four-cylinder engine that delivers output to the wheels via a continuously variable transmission, as priced here.
A midsize sedan, the Legacy is roomy inside with more passenger space and a larger trunk than a Mercedes-Benz C-Class sedan.
With the 2.5i Premium model, you get such goodies as Bluetooth connectivity, keyless entry, auto-on headlights, power-adjustable driver's seat and a four-speaker audio system with iPod interface CD player.
Toyota Venza LE AWD
Consumer Reports score: 77
Price: $30,970
Mileage: City - 18 mpg Highway - 25 mpg
City - 18 mpg
Highway - 25 mpg
Some might quibble about whether the Venza is a hatchback, a wagon or a crossover, but it does have four doors, and for our purposes here, we're going to call it a hatchback.
Sharing some DNA with the Highlander crossover, Venza is well-suited for an AWD car.
As priced here, it comes armed with a 268-horsepower, 3.5-liter V-6 engine mated to a six-speed driver-shiftable automatic transmission. It can tow up to 3,500 pounds -- the most of any car on our list.
Venza is smaller inside than the Highlander, but not by a lot. Yet, with its reclining second-row seat, it offers plenty of comfort all around.
When not bragging to your friends about Venza's aptitude for plowing through the white stuff, you can point out its grocery list of standard features. The entry-level LE comes with keyless entry, dual-zone automatic climate control, heated outside mirrors with puddle lights, power eight-way driver's seat Bluetooth connectivity, and a six-speaker audio system with touch-screen interface, CD player and iPod interface.
Dodge Charger SXT AWD
Consumer Reports score: 75
Price: $31,295
Mileage: City - 18 mpg Highway - 27 mpg
City - 18 mpg
Highway - 27 mpg
Dodge takes its role as the performance arm of Chrysler very seriously, as its Charger flagship sedan proves. From the top of its head to its 19-inch alloy wheels and tires, the Charger looks agile and mean.
Although the tamer SXT with its 292-horsepower V-6 appears as one of our AWD cars because that's the vehicle Consumer Reports tested, the more potent Charger R/T with its 370-horsepower V-8 would slide in under the price ceiling.
Even with the V-6, the Charger is fun to drive. Fuel economy is decent, thanks in part to an eight-speed driver-shiftable automatic transmission. Charger has the roominess most of us expect in a full-size sedan, with a fair amount of luggage space.
The Charger isn't typically lumped in with luxury sedans, but it does provide a number of high-end bits of comfort and technology. It comes standard with keyless/remote start, dual-zone automatic climate control, auto-dimming rearview mirror and an 8.4-inch color touch-screen interface. These are in addition to other standard equipment, such as Bluetooth connectivity, heated front seats and outboard mirrors, and a six-speaker audio system with iPod interface.
Audi A4 Premium quattro
Consumer Reports score: 76
Price:$34,600
Mileage: City - 26 mpg Highway - 30 mpg
City - 26 mpg
Highway - 30 mpg
Although not the most expensive four-door on this list, the A4 is the only luxury model here. Like Subaru, Audi has a rich heritage with the AWD car that it calls "quattro." Audi gave the A4 a makeover for 2013.
Unique to our winter four-door list is turbocharging. The A4 uses a 211-horsepower 2-liter four-cylinder turbocharged engine for its giddy up. As priced here, it is bolted to a driver-shiftable eight-speed automatic transmission.
Spacious, with a healthy amount of leather, the cabin reflects the A4's luxury pedigree. Standard is a multimedia interface that oversees the automatic climate control and 10-speaker audio systems.
Unfortunately, you have to opt for the $1,100 convenience package to get Bluetooth and iPod integration. That puts the A4 over the price ceiling. However, a power sunroof, eight-way power front seats, rain-sensing automatic wipers, auxiliary input jack for personal listening devices and satellite radio with 90-day free subscription are standard.
Honda Crosstour 4WD EX-L
Consumer Reports score: 73
Price:$34,990
Mileage: City - 18 mpg Highway - 28 mpg
City - 18 mpg
Highway - 28 mpg
Think of the Crosstour as an Accord with attitude. It's what an Accord would look like at the end of six months after working out in a gym for five hours a day. Although it is arguably a crossover, Crosstour contains so much Accord DNA that Honda originally called it the Accord Crosstour. Moreover, if you want an Accord with AWD, the Crosstour is as close as you're going to get.
To get AWD -- Honda calls its system Real Time 4WD -- Crosstour must be armed with the 278-horsepower, 3.5-liter V-6 engine. It uses a driver-shiftable six-speed automatic transmission to deliver output to all the wheels.
Included on the standard-equipment list are dual-zone automatic climate control, backup camera, Bluetooth connectivity, leather seating, heated front seats and a seven-speaker audio system.