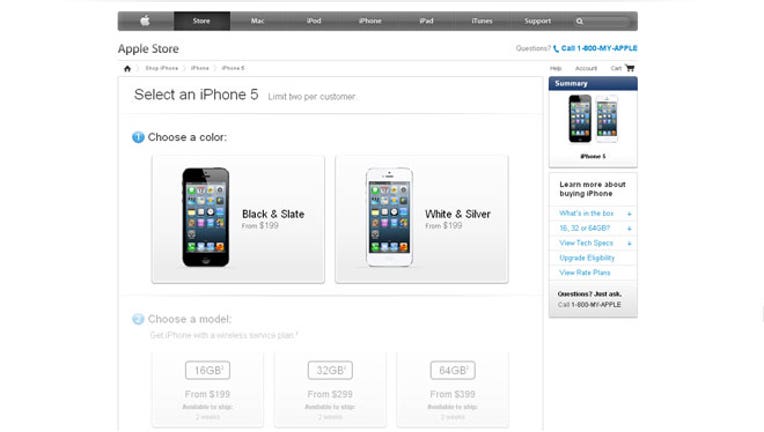 Customers looking to buy Apple's (NASDAQ:AAPL) new iPhone 5 online through Apple in the U.S. will need to wait two weeks for it to ship, according to Apple's website. Pre-orders for the September 21 debut became available at 3:01 am ET Friday and sold out within an hour.
In comparison, the iPhone 4S, which represented a smaller upgrade, took nearly a day to sell out.
Apple did not immediately return requests for comment on the subject.
People looking to snatch one up on launch day can still do so at Apple's retail stores at 8 a.m. local time. Historically, there have been long lines at these events, although Apple has worked to increase staff and inventory levels ahead of these releases in recent years.
Verizon Wireless, AT&T (NYSE:T) and Sprint (NYSE:S), the three carriers that will support the new phone, all say on their websites that it is possible to pre-order for arrival on launch day on September 21. It is unclear, however, if those measures represent current inventory levels.
The process reportedly didn't go off without its flaws. Danny Sullivan, a tech writer, dispatched a tweet showing a screenshot of Apple's website that says "we're currently unable to reach the carrier systems to process your order, but will reserve an iPhone for you."
The new phone represents a substantial upgrade to the iPhone 4S. It is made completely of aluminum and glass, with a taller screen, faster processor, better camera and a host of other improvements.
Analysts across Wall Street are bullish on Apple and the new device. In fact, Goldman Sachs (NYSE:GS) boosted its price target on the tech juggernaut to $810 from $790 following the announcement earlier this week. The biggest American company by market capitalization is forecast to see sales of $156 billion this year, and $193 billion the following year, according to estimates from Thomson Reuters.
Shares were up 1.8% to a fresh all-time high at $695.21 in morning trading in New York.