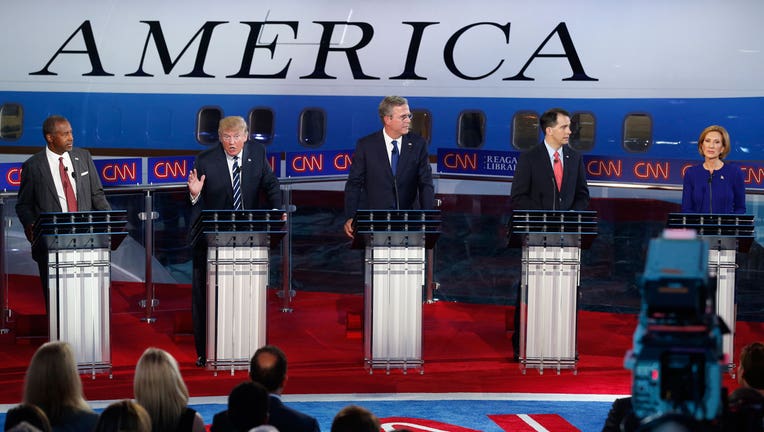 The stand out candidates during the second round of the GOP debates on Wednesday night were not front-runner status. Former Hewlett-Packard (NYSE:HPQ) CEO Carly Fiorina and Senator Marco Rubio both shared a strong showing on the main stage while holding single digit poll numbers.
One of the highlights for Fiorina came at the beginning of the night when asked if she would feel comfortable with Donald Trump's finger on the nuclear codes.
"That's not for me to answer, it is for the voters of this country to answer and I have a lot of faith in the common sense and good judgment of the voters of the United States of America," said Fiorina.
The hyped up showdown between Fiorina and Trump has been growing since Trump's comments about Fiorina's "face" that appeared in a recent Rolling Stone story. According to the magazine, Trump said "Look at that face! Would anyone vote for that? Can you imagine that, the face of our next president?" Trump later walked back his comments explaining he was talking about Fiorina's 'persona'.
When asked about Trump's comment Fiorina calmly responded, "I think women all over this country heard very clearly what Mr. Trump said." Trump eagerly responded "she's got a beautiful face and she's a beautiful woman."
Defunding Planned Parenthood was another topic where Fiorina shined and received the loudest applause from the audience. She challenged President Obama and Democratic presidential candidate Hillary Clinton to watch the controversial undercover Planned Parenthood tapes.
"Watch a fully formed fetus on the table it's heart beating it's legs kicking while someone says we have to keep it alive to harvest it's brain," said Fiorina. "This is about the character of our nation and if we will not stand up to force President Obama to veto this bill shame on us."
On immigration, Fiorina pointed out President Obama chose not to address the immigration issue even though he campaigned in 2008 to find a solution.
"The Democrats don't want this issue to be solved, they want it to be an issue they can use," said Fiorina.
Asked why voters should choose her private sector experience over Trump's, Fiorina went on the defensive about her dismissal from HP back in 2005.
"As for the firing, I have been very honest about this from the day it happened. When you challenge the status quo you make enemies I made a few," said Fiorina. She added that the man who fired her Tom Perkins, threw his support behind her via the New York Times, to say he was wrong and she was right.
Fiorina also took time to take aim at former Secretary of State Hillary Clinton.
"Mrs. Clinton needs to defend her track record about lying about Benghazi, of lying about her emails, about lying about her servers, she does not have a track record of accomplishment," said Fiorina.
Florida Senator Marco Rubio took command of the foreign policy discussion throughout the night. At one point, he fervently responded to the question about who bears the responsibility for the crisis of refugees fleeing Syria. Rubio pointed his finger at President Obama who he said told congress the attack he was going to conduct would only be a 'pin prick'.
"The United States military was not built to conduct pin prick attacks," said Rubio. "If the U.S. military is going to be engaged by a Commander-in-Chief it should only be engaged in an endeavor to win. And we are not going to authorize use of force if you are not putting men and women in a position where they can win, and quite frankly people don't trust this president as the Commander-in-Chief because of that."
Rubio also weighed in on ISIS saying the Obama administration's lack of action is responsible for the terrorist group's growth. He said "radical terrorism cannot be solved by intellect."
"We allowed a vacuum to emerge in Syria, they used it as an operating space to grow," said Rubio. "You cannot allow radical jihadists to have an operating safe haven anywhere in the world."
Rubio didn't hesitate to go after Donald Trump on the value of knowing who some of the U.S. enemies are and stressed the importance of being ready to be president on day one.
"These are extraordinarily dangerous times that we live in and the next president of the United States better be someone who understands these issues and has good judgment about them," said Senator Rubio. "The number one issue that a president will ever confront and the most important obligation that the federal government has is to keep this nation safe and today we are not doing that."
On the domestic front, immigration was a hot topic that the Senator from Florida addressed with a two-fold plan. Rubio says the United States must secure it's physical border and create an exit-entry system with an electronic verify plan to modernize legal immigration.
"You come to America on the basis of what you can contribute economically not whether or not simply you have a relative living here," said Rubio. "After we have done those two things I believe the American people will be very reasonable and responsible about what you do with someone here who is not a criminal."