Find Me a Husband, Get Free Haircuts for Life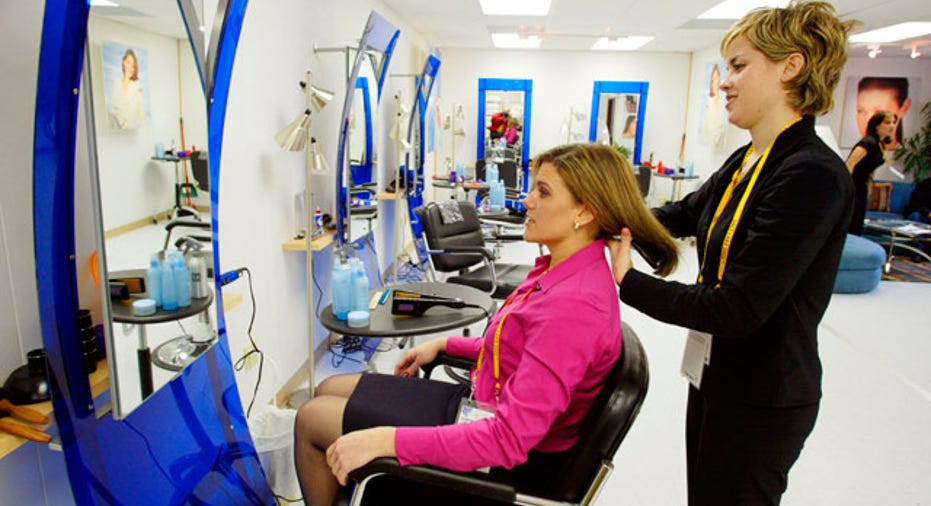 There have been moments in the last few months when hair specialist Jill Hammelman has asked herself, Am I really going to pull the trigger on this?
And then she gave it some more thought and decided, oh yes, she is going to offer free hair services for life to the person who introduces her to her future husband. Why the heck not?
I said, no fear, 36-year-old Hammelman tells me in our recent interview in her bright and cozy apartment/hair salon in New York Citys East Village. Not everyone is going to like it.
Surely in this era where mean-spiritedness has become sport there will be detractors, but dont count me among them. As I sip water from an intricately cut glass shes served me on a fuchsia cocktail napkin and put it down on the coffee table adorned with fuchsia daisies and an array of fashion magazines -- pure panache -- I start to see this is an enterprising woman who is marketing her business while opening to new possibilities in her personal life.
The word enterprising first pops into my mind as we speak of her background as a flight attendant/chef on private jets over the last decade-plus. After training in hair at New Yorks esteemed Bumble and bumble 16 years ago, Hammelman decided to follow her travel dream and wound up at United Express ground school. While there, she met a woman who worked for an airline that flew professional sports teams. She landed a job with that airline while still training, thereby skipping the commercial airlines step altogether.
After flying with many pro athletes (she was on the flight with the Dallas Stars when they won the Stanley Cup in 1998-99), two United States presidents (Bill Clinton and George W. Bush), and countless Fortune 500 CEOs, she had one goal left within this private jet world.
Before I quit flying I wanted Oprah [Winfrey], Hammelman says. I went to Chicago to get her. I knew that if I put myself in Chicago I would have a chance. There are not many people with those qualifications.
After about eight months, Winfreys flight attendant got pregnant and Hammelman slid into the open slot.
I spent six months with Oprah, she says, a time that included going to South Africa due to the opening of Winfreys school there.
Intrigued, I pressed Hammelman on why she was so intent on meeting Winfrey.
Because I had met everyone else, she says. Shes the top.
Enterprising, yes? Even more so because when I ask what attracts her to the top she tells me it just seems natural to go for it.
While traveling to more than 50 countries has been wonderful, it is not the ideal scene set for a meaningful relationship, especially for a woman who would like to get married and have a family. So in March of this year, Hammelman moved from Chicago back to New York. She had been on a schedule where she flew roughly three weeks of a month and did hair for one. Her goal this year was to get to where the majority of her income comes from doing hair.
She started offering 20% off a persons next hair service if they referred a friend. It worked like crazy. Her business started taking off, which was great, but the next thing she knew she was in her space either working or crashing 24/7.
The only man I was meeting was my door man, she says.
Then one night she was watching The Tonight Shows funny ads segment and she got an idea.
I tripled my business overnight, she says. So why not love?
She had spent money on advertising, but so much in life is about referrals, Hammelman realized. She even got her prime apartment because of a friend. She felt like she was on to something, so she made a YouTube video for Hair for Love -- after 11 takes -- and started planning a July event to launch it.
Much to peoples surprise when they meet this creative, outgoing hair specialist, she is not prone to date rock stars but digs more conservative, nerdy guys like her celebrity crushes -- Stephen Colbert, Jeff Goldblum or naughty Jeff Saget.
I wish Colbert was single, Hammelman says with a laugh. But really Im open to anything. You dont know what package love comes in. Thats what my married friends tell me.
Her real push to do this was the array of single women in their 30s, 40s and 50s -- she has as clients in New York who seem less than excited about dating in the city. Hammelman wants to introduce some new energy around this, especially, she observes, since online dating can start to feel like a nightclub.
Theyre fabulous women, she says. I want everybody to get excited.
And so not only did she put together a Hair for Love launch party -- that includes the services of a photographer, Pilates instructor, makeup artist and the like -- shes offering a beauty finders fee of sorts. If she goes on a date with someone you set her up with, you get 20 percent off your next hair service. Another date, another 20 percent off a hair service. Finally, if she marries the guy, youve got cut and color for life. That person could also opt to donate the service to a non-profit like Dress for Success.
I thought offering the discount right away would make people put thought into it, Hammelman says.
Currently at a point where her income is about 99 percent hair and 1 percent flying, shes forging ahead in spite of overhearing some women talking about her edgy venture in a not-so-kind way. Shes polled others whose opinions she trusts and they gave it a thumbs up.
At one point, while Hammelman is relaying her Winfrey story, I ask if anything can stop her when she sets her sights on something. She thinks for a moment and says, No.
Hair for Love, piece of cake.
Nancy Colasurdo is a practicing life coach and freelance writer. Her Web site is www.nancola.com and you can follow her on Twitter @nancola. Please direct all questions/comments to FOXGamePlan@gmail.com.