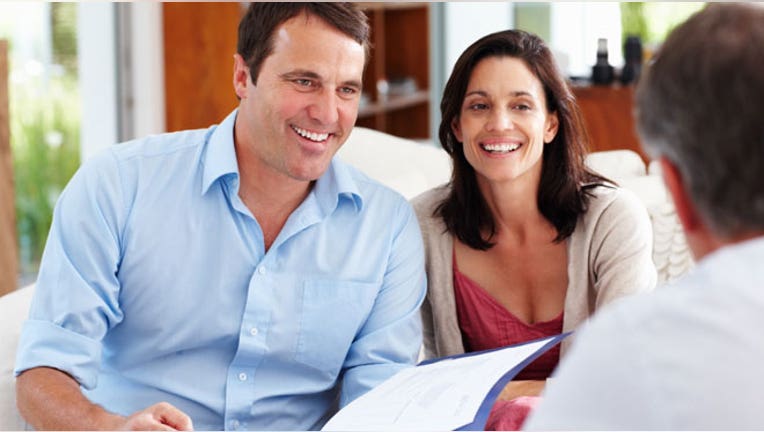 Couples getting ready to walk down the aisle spend a lot of their planning fussing about flowers, meals, playlists and guest counts, but experts say a major part of creating a "happily ever after" is often not discussed: finances.
In fact, more than half of respondents in a recent MassMutual survey of 500 newlyweds, say they spend 20 hours or less each year thinking about financial planning and saving for the future.
Additionally, nearly three in 10 newlyweds say they were nervous when it came to either telling their fiancé about their finances or talking about financial planning in the future.
Financial talk in the midst of wedding planning can be a buzz kill, but money is a leading catalyst for marital disputes and a top cause for divorce, according to experts.
"Couples should understand they are likely to run into disagreement about one or more aspects of finance," says Greg Kuhlman, a New York City psychologist who runs Marriage Success Training (stay hitched) with his wife, sociologist Patty Kuhlman. "It's very important to realize this is common and will not necessarily cause trouble—but it can cause trouble if they stick their heads in the sand."
Laying the groundwork and establishing a healthy approach to financial planning before tying the knot can avoid quarrels down the road.
If the conversation is too uncomfortable or isn't going anywhere, Bradley Atkins, a general agent for MassMutual South Carolina in Mount Pleasant, suggests getting a professional involved.  "It's helpful to have someone help you take care of things you wouldn't think about when you're focused on the florist and the videographer."
He says many younger couples reject the idea of using a financial professional due to their lack of assets, but he claims there are many products designed for this group.
"A financial professional can help couples put together a to-do list of immediate tasks and necessary products and inform open and honest discussions about each partner's current financial situation, their values and attitudes toward money and their long-term financial goals."
Couples need to approach marriage with their eyes wide open, says certified financial planner Lisa Peterson, president and founder of Boston-based Lantern Financial and its UniteBright: Premarital Financial Counseling program.  She recommends adopting a tough love approach to financial planning early on to set the right monetary tone for the marriage.
For couples gearing up for their big day, here are some tasks and conversations financial experts recommend putting at the top of their to-do list:
Get protected. Your income stream is your largest asset during your working years, says Atkins, who recommends getting disability income insurance and life insurance in case you become unable to work or die unexpectedly.
"Coverage through your employer won't be enough," he says. He adds that the new partnership should lead to the creation or modification of legal documents, paying particular attention to establishing health-care powers of attorney. If a life-threatening accident occurs, families in which no one has decision-making authority can be bankrupted over a battle to terminate or continue care.
Examine your credit histories. Your credit history and score shed light on how you handle money, says Peterson, which is helpful for the other person to know.
Be prepared to talk about any irresponsible debt or past credit missteps, and work to create a plan on how to build a strong credit history together and how to commit to paying off any debts.
Start with multiple checking accounts. Atkins and Peterson suggest a joint account to cover expenses tied to a household budget and individual accounts to accommodate your individual spending styles.
It's unnecessary for individuals to divulge how they spend every nickel, but transparency is essential—no secret accounts or large amounts of money spent or borrowed, advises Kuhlman. Still, he recommends establishing a threshold amount at which each spouse must disclose spending for a particular purchase.
Understand your family's financial history. You've internalized money values through your upbringing that influence how you think about money as an adult. It's not just about numbers, says Peterson, but about attitudes and feelings about money that will translate to your financial resources later in life.
Don't assume you are on the same page when it comes to managing the household budget, says Kuhlman. That's unrealistic given all the dimensions of finance. The key, he emphasizes, is determining how to deal with diverse financial attitudes in a constructive way.
Decide who's going to be in charge. Moving away from traditional gender-based roles has its advantages, but it can make marriage more daunting, cautions Kuhlman.
Should the person who brings home the lion's share of the bacon have more decision-making clout? There's no right or wrong answer, Kuhlman says, but be intentional in finding a solution that accommodates both points of view.