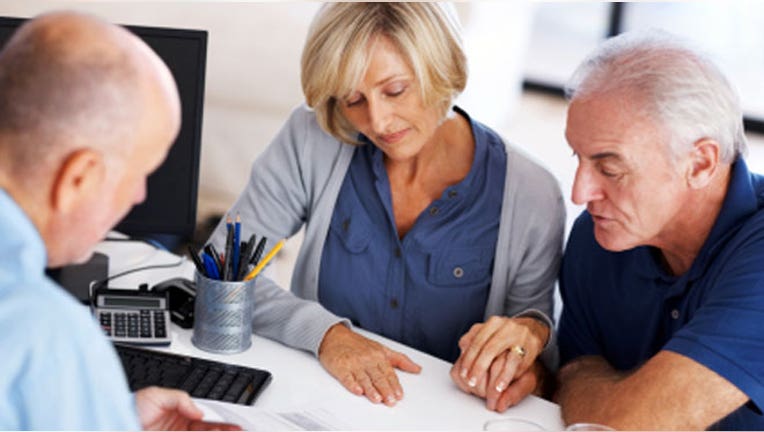 Valentine's Day is a special time to show your significant other how much you care. Gifts of chocolates and roses will always have a romantic appeal, but taking care of your finances can help to solidify your relationship and financial future. After all, that those who budget, stay together.
"When you put finances in a relationship, it makes the relationship more real," says Randy Kessler, founding partner of Kessler & Solomiany.
One of the most important things people can do to say "I love you" from a financial perspective is to get their financial situation on a positive path. "If you look at the number of relationships that end, especially the divorce piece, financial matters are a huge contributor," says Scott Halliwell, certified financial planner at USAA. "If you want to do great service to your partner, get your finances in order."
Whether you're married or dating, couples can help to eliminate relationship stress by making the right financial decisions. "One of the major topics that creates arguments are finances, and the more disciplined that you are about managing your finances as a couple, the less likely that you'll argue about them," says chartered financial analyst Robert Stammers, director of Investor Education for the CFA Institute.
Experts provide gift suggestions that can be just as special as material goods.
Talk about money. "One thing you can do to protect your significant other or relationship is to have a very open conversation about how you feel you're doing about your money goals — commit together to make some trade offs, which can be a very significant gift over time," says Suzanna de Baca, vice president of wealth strategies at Ameriprise Financial. These regular conversations can be one of the most important parts of your relationship.
Create a budget and plan together. Creating a financial plan can help your partner feel more secure about your future as a couple. Discuss both long-term goals, like retirement or saving money for a child's college, and short-term goals, like vacations, as you create the plan, says Katherine Dean, managing director of wealth planning, Wells Fargo Private Bank. "Put some stakes in the ground." As you work towards these goals, and communicate around how you're budgeting and whether you're on or off track to achieving these goals.
Get a life insurance policy for your partner. Not everyone has the discipline to save, but buying a life insurance policy for your sweetheart can jumpstart the process. "There's an obligation to pay into them over time and this can help people build a nest egg," says Stammers. "Either fund the whole thing or get one and start it, and let them continue. If you're not married, maybe just fund the first year and let them continue or cash it out."
Get a life insurance policy for yourself. "Many people have families with woefully-insignificant levels of life insurance because they didn't understand the repercussions," says Halliwell. Having a policy can help prevent your family from being destitute if something unexpected were to happen to you. "As counterintuitive as life insurance might seem as a great gesture for a relationship, having it is greatly important," he adds.
Open an account together. "You can open a joint account together with checks that have both your names," says Kessler. This move will provide a more accurate picture of your finances.
Make a sacrifice so your partner doesn't have to. "You can give someone a gift of a financial compromise," says de Baca. If you've specific savings goals and are following a budget, but your partner wants to do something that's expensive, cutting back in a different area to make it happen can be a very significant gesture. "It may even be compromising on a certain expense so your partner or loved one can do what they want," she adds, or letting your partner decide what to do with an already-earmarked expenditure, like a vacation.
Insure your gifts. "If you're going to go out and buy your sweetheart something nice, like art or jewelry, nothing says 'I love you' more than giving the gift and insuring it's protected," says David Spencer, vice president of Premier Client Services at ACE Private Risk Services. Having the item insured on a Valuable Personal Property policy will provide protection in case the gift is damaged or lost. Make sure the policy includes a market value adjustment to allow for fluctuations in the market place. "Putting the thought in the gift is wonderful, but insuring the gift is the hug on top of 'I love you'."
Fund an account for your partner. "When it comes to savings, you can fund an IRA or a taxable account for someone so they can get started — start something they can continue funding over time," says Stammers. Once the account is started, your partner is more likely to continue adding to it. "You can always give stocks and bonds, or other investments for a loved one," he adds, and these can be held in the accounts.
Clarify roles and volunteer to take on responsibilities. "Though they may not see it as a gift, try to clarify where there might be some disagreements about roles or responsibilities," says de Baca. Discuss who manages what, and as an extra bonus this year, volunteer to take on other responsibilities to provide clarity — providing clarity can be a very valuable gesture.
Help educate your partner, financially. "Financial education is extremely high value for people who are starting along and feel a little uncomfortable or anxious about their investing acumen," says Stammers. "There's a lot of education who can teach someone about investing or finances, and this might be money well spent for someone who's not confident about their financial skills."
Give the gift of time. "We're often very focused on purchasing something for Valentine's Day when in fact your spouse or partner might want time with you — that doesn't cost you anything," says de Baca.