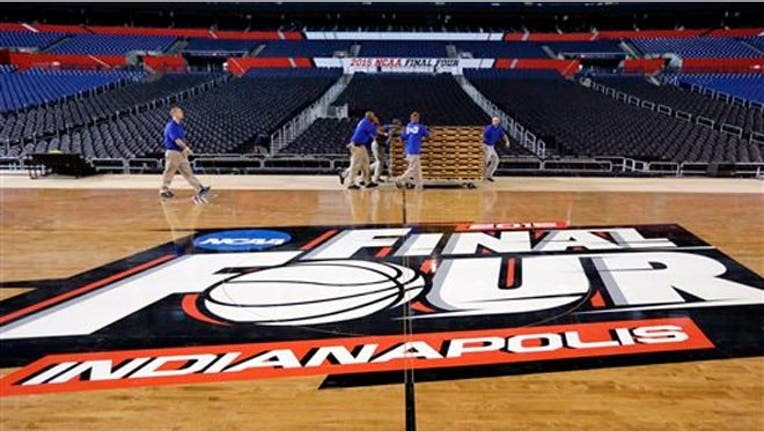 The NCAA men's Final Four gets underway this weekend in Indiana; and if you're planning to attend this year's tournament, then get ready to dig deep into your wallet.
Despite growing protests over Indiana's Religious Freedom Restoration Act, which some believe could be a vehicle for discrimination; ticket prices on the secondary market are at the highest levels in years.
"We have seen a drop in prices since Indiana's Religious Freedom Restoration law was enacted, but it's most likely due to the normal drop we see for most events as the games get closer," Chris Matcovich, TiqIQ Director of Data and Operations said.
According to TiqIQ, fans will have to shell out about $1,033.33 to watch the Duke Blue Devils take on the Michigan State Spartans followed by Kentucky versus Wisconsin on Saturday.  That's the highest price since 2011 when the Final Four was in Houston, TX.  The most expensive ticket available is in Section 140 Row S for $6,100+.
The average price for a Final Four All Sessions pass, which gives you access to both the Final Four and the Championship game, is currently $1,471, with a get-in price at $494. The most expensive seat up for grabs is in Section 140 row DD for $9,300+.
TiqIQ attributes the high ticket prices to large fan bases and close proximity of the schools.  "Three of the four teams are within 350 miles of Indy," Matcovich said.  "And another big reason is that all four schools are perennial national powers in college basketball."   Kentucky is the closest program to Indianapolis at just under 200 miles, while Duke is the furthest, with more than 600 miles separating Lucas Oil Stadium from Cameron Indoor Stadium.  Fans from Kentucky make up 31% of sales for the Final Four, while North Carolina accounts for 5%.
But attending the Final Four won't be as costly for the parents or guardians of many players this weekend.  An NCAA pilot program approved in January helps pay for travel, food and hotel costs by providing schools $3,000 per player.
The Final Four action begins Saturday at Lucas Oil Stadium in Indianapolis. Michigan State will tip-off against Duke at 6:09PM ET on TBS; followed by Kentucky versus Wisconsin. The championship game is scheduled for 9PM ET Monday, April 6.