Fields to Succeed Mulally as Ford CEO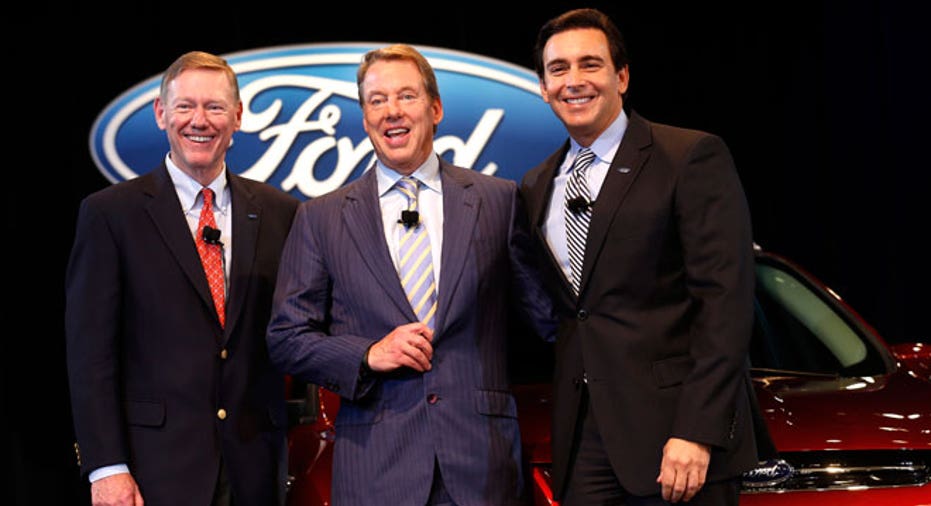 Ford (NYSE:F) named Mark Fields as its next chief executive to replace Alan Mulally, who plans to retire from the automaker on July 1.
The end of Mulally's tenure as CEO comes about six months earlier than expected. Ford had provided a timeline that indicated Mulally would remain in his current role until at least the end of 2014. In an announcement on Thursday, Ford said Mulally recommended an accelerated timetable "based on the readiness of Ford's leadership team."
Fields, 53, has served as Ford's chief operating officer since December 2012 and was widely seen as Mulally's eventual successor. According to the company, Fields has been leading all of Ford's global business operations and most of its skill teams, such as product development, manufacturing and marketing and sales.
Before becoming COO, Fields helped lead a turnaround in North America as president of Ford's Americas division.
"He became a battle-tested executive through it all," executive chairman Bill Ford said during a press conference at Ford's headquarters. "I would have been disappointed if we had to go outside [Ford]. Fortunately, the best person was inside the company."
Fields indicated he has no plans to change Ford's executive team once he steps into the roles of president and CEO in July.
Mulally, 68, has been credited with resurrecting the nation's second-largest automaker since he took over in September 2006. He developed the Dearborn, Mich.-based company's One Ford plan, which called for the company to restructure its operations and develop new products.
Over the course of Mulally's tenure, Ford shares have nearly doubled. The stock was down 11 cents, or 0.7%, at $16.03 in recent trading.
Jack Nerad, executive editorial director and senior analyst for Kelley Blue Book, believes Mulally's leadership and vision prevented Ford from going into bankruptcy like its American rivals, General Motors (NYSE:GM) and Chrysler Group.
"Based on that, you can say he saved Ford," Nerad said.
One Ford also emphasized profitability, which Ford delivered. The company said it has booked a profit in 19 consecutive quarters. Last week, Ford reported a 39% drop in its first-quarter earnings amid higher warranty costs.
"The One Ford plan has served us well over the years, and it will continue to serve us well. My commitment is to build on that success and accelerate our pace of progress," said Fields, who also thanked Mulally for "leaving us this gift of a transformed Ford."
Mulally said he has "nothing left to teach" Fields, and when asked about leaving before year's end, the outgoing CEO stressed that Ford is prepared to make the transition now.
"We are absolutely, fully confident our team is ready. This is the time to do it," Mulally said. "And it's fun to get ahead of all the rumors and speculation."
Nerad said he first met Fields when the auto executive was responsible for product planning at Mazda, which had a partnership with Ford at the time. Since then, Fields has quickly climbed the ranks "based on just doing things right."
"Ford has gone to great lengths to prove they have a deep bench. In Fields, they have a Ford insider who has been right alongside Mulally," he added.
Fields is expected to bring continuity to Ford's leadership, with the only major difference being his background, Nerad noted. Mulally came to Ford from Boeing (NYSE:BA), where he started as an engineer before eventually taking over the company's commercial airplane business. Fields is a veteran of the auto industry, working for Ford since 1989.
Mulally, who is also retiring from Ford's board of directors, didn't rule out taking on a leadership position elsewhere. The executive was long rumored to be in the running for Microsoft's (NASDAQ:MSFT) top position, which eventually went to insider Satya Nadella in February.
"I haven't decided what I'm going to do next," he said. "I like that retirement thing. It sounds good, too."