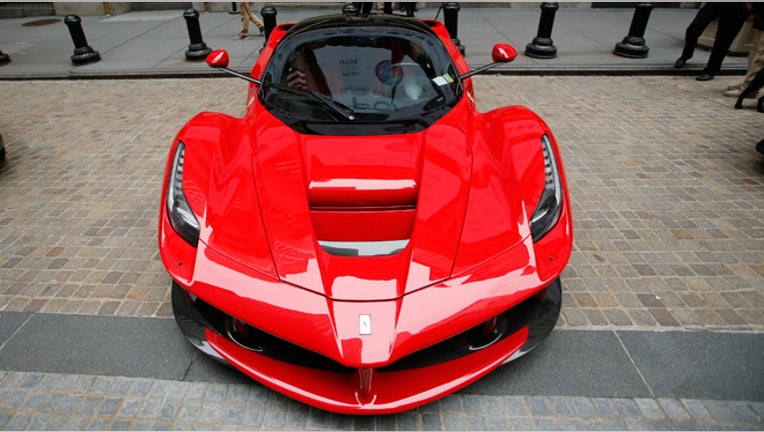 Fiat Chrysler Automobiles (NYSE:FCAU) announced plans to spin off Ferrari and list shares of the iconic sports car brand in the U.S.
The newly combined automaker, which is looking to raise cash for its current long-term plan, also detailed an offering of up to 100 million common shares and the sale of a $2.5 billion mandatory convertible bond.
The capital-raising moves came shortly after Fiat Chrysler reported third-quarter earnings that remained flat compared to the prior year.
Shares raced 13.1% higher to $10.99 in recent trading. As of Tuesday, Fiat Chrysler was up about 8% since making its market debut Oct. 13.
Fiat Chrysler's five-year strategy calls for heavy spending on new models. The Italian-American automaker hopes to reinvigorate Maserati and Alfa Romeo, while Jeep will play a critical role in expanding global sales.
Fiat Chrysler has said it will spend more than $60 billion to accelerate growth across its brands. The ambitious plan sparked questions on Wall Street, since Fiat Chrysler hoped to use existing funds to pay for it.
During a conference call with analysts Wednesday, Chief Executive Sergio Marchionne said the new plans to raise cash deal with the "worst possible scenarios."
A 10% stake in Ferrari will be part of an initial public offering in the U.S. and possibly a European exchange, Fiat Chrysler said. The remainder of FCA's Ferrari shares will be distributed to Fiat Chrysler shareholders.
The spinoff is expected to be completed sometime in 2015.
"As we move forward to secure the 2014-2018 Business Plan and work toward maximizing the value of our businesses to our shareholders, it is proper that we pursue separate paths for FCA and Ferrari," Marchionne said in a statement.
He later added on the conference call that Ferrari, which also generates revenue from merchandise, will achieve a higher valuation as a separate entity.
Fiat Chrysler's internal overview "properly positions Ferrari in the luxury goods world," Marchionne explained. "We need to wait until the market assigns a value. I can tell you it's drastically different to the valuation applied to Ferrari today. I think we'll all be pleasantly surprised when [Ferrari] floats."
Rumors of pending changes to Ferrari were fueled in September when Marchionne dismissed Luca Cordero di Montezemolo, the luxury brand's longtime chairman.
Di Montezemolo often expressed his opposition to a Ferrari IPO and higher volumes. Meanwhile, Marchionne has suggested that Ferrari could raise annual production to 10,000 vehicles without diluting the brand's exclusiveness.
On Wednesday, Marchionne said production can increase if there's a larger customer base that wants access to the high-end sports cars. He declined to comment on how much Ferrari may add to its volumes.
In the third quarter, Fiat Chrysler booked a net profit of €188 million, or approximately $239 million, almost even with the €189 million profit reported in the same period last year.
The company earned €926 million ($1.18 billion) before interest and taxes, a 7% increase over the year-ago period's €862 million. Analysts were looking for an operating profit of €940 million. Revenue of €23.55 billion ($30 billion), a 12% gain, beat Wall Street expectations.
Net industrial debt jumped to €11.4 billion by the end of September versus €9.7 billion a year ago.
Progress made in North America and Asia-Pacific was overshadowed by continued weakness in Europe. However, Fiat Chrysler's operating earnings in Europe narrowed amid revenue growth.
Revenue in North America climbed 19.8% as Fiat Chrysler brands boosted their higher market share in Canada and the U.S. Jeep and Ram have driven strong U.S. sales gains for Fiat Chrysler this year. The company noted that recall costs impacted third-quarter earnings in North America, which edged 2.4% higher.
Worldwide shipments rose 10% to 1.1 million vehicles in the third quarter.
Fiat Chrysler affirmed its full-year guidance for revenue of €93 billion and net income of €600 million to €800 million. Operating earnings are expected in the range of €3.6 billion to €4 billion.
Fiat Chrysler sees global sales of 4.7 million vehicles. That would reflect an increase of 6.8% year-over-year.