Fiat Chrysler Has a Lot Riding on UAW Talks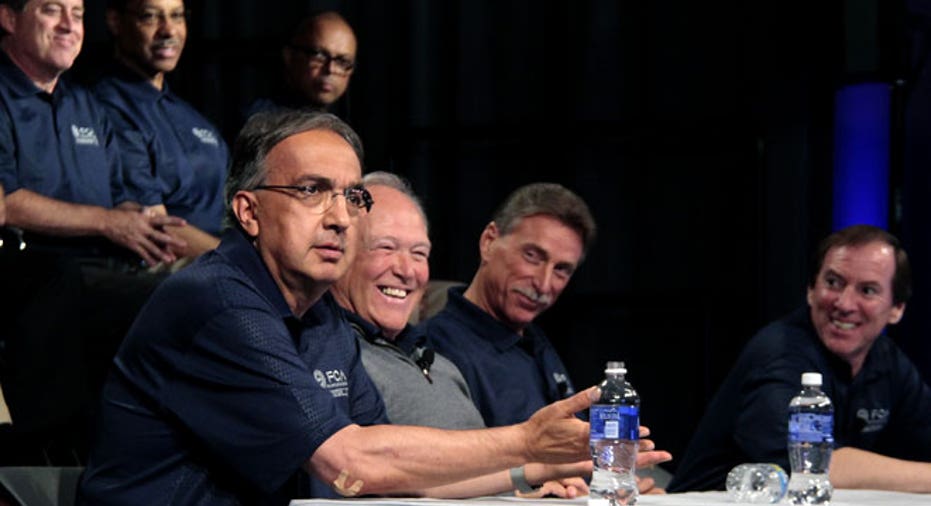 As contract negotiations with the United Auto Workers enter the home stretch, Fiat Chrysler Automobiles (NYSE:FCAU) has more at stake than its larger peers.
One of the central issues in this summer's talks is a two-tier wage structure that has been in place for eight years. Anyone hired after 2007 is paid up to $19 an hour as Tier 2 employees, while veteran workers in Tier 1 receive around $28 an hour.
Many in the industry believe the system helped automakers control costs and add thousands of employees at U.S. factories.
But FCA, the least profitable of Detroit's Big Three automakers and whose workforce has the largest percentage of lower-paid employees, has sided with union officials in calling for an end to two-tier pay.
"We are going to try our darnedest to close it up," CEO Sergio Marchionne said during an event that marked the start of negotiations in July. "We need to design a career path for people who come into this business that tells them that if they work hard they can get there."
Marchionne has been even more adamant in the past. At the Detroit Auto Show in January, the Italian-born executive said the current pay structure is "almost offensive."
"There can't be two classes for people who do the same work," Marchionne told members of the press.
So it certainly appears that Marchionne and the UAW agree that tiered wages are on their way out. The only question is how it might happen.
Under their current four-year deals with the UAW, Detroit's Big Three automakers agreed to cap their Tier 2 employees, who earn close to half the total wages and benefits of Tier 1. FCA's Tier 2 cap was set at 25%, but the lower wage group accounts for an estimated 45% of FCA's factory staff of 36,000 people.
FCA will look for flexibility to narrow the gap at its own pace. If FCA is asked to shift 20% of its Tier 2 workers to Tier 1, it would cost $145 million a year and lower profit margins by 0.3 percentage points, according to Susquehanna Financial Group.
"Do I think that the UAW is going to hold a super-hard line and force [FCA] to convert all those people to Tier 1? No, I don't think it will be that draconian," said Matt Stover, an automotive analyst at Susquehanna.
Tier 2 caps do not appear to be a problem for General Motors (NYSE:GM) or Ford Motor Co. (NYSE:F).
GM agreed to implement a Tier 2 cap of 20% to 25% of its hourly workforce once the current UAW contract expires after Sept. 14. But GM's Tier 2 workers already fall below that ceiling, comprising approximately 19% of all production employees.
Ford fell below its cap of 20% after promoting about 500 workers early this year.
"I think this is more challenging for Chrysler to navigate because it's so significant a proportion of their headcount. Therefore, this issue matters most to them," Stover said.
Efraim Levy, an analyst at S&P Capital IQ, expects FCA and the UAW to reach an agreement that would put the automaker on a path toward narrowing the gap between tiers or eliminating them altogether. This can be done through a step-by-step process under the next contract or over the course of multiple contracts.
"The heart of negotiations will be to get concessions on eliminating the two tiers at GM and Ford," Levy added. "There's more resistance on behalf of management for those companies. For the right trade-off, changes can be made."
UAW leaders have suggested that strong profits at GM and Ford should translate into higher wages, particularly for entry-level workers.
In 2014, GM's North American earnings came in at $6.6 billion before interest and taxes. The company issued profit-sharing checks of $9,000, a record high. Ford doled out checks of $6,900 on North American earnings of $6.9 billion.
While FCA's profit sharing rose to its highest level under the current UAW contract, its earnings remain a fraction of its crosstown rivals. Employees received $2,750 each after the company reported a modified North American operating profit of $3.5 billion.
"FCA clearly needs greater use of Tier 2 folks. They have used that system to improve their cost structure, although their margins are lower," Stover said.
Susquehanna anticipates a raise for Tier 2 workers from $19 to $24 an hour, while Tier 1 wages could remain the same.
Factory operations and quality are other issues on the table for FCA. Stover, citing low scores in J.D. Power's latest Initial Quality Study and other tests, said FCA could pay a higher productivity bonus during the next contract cycle.
!function(d,s,id){var js,fjs=d.getElementsByTagName(s)[0],p=/^https:/.test(d.location)?'https':'http';if(!d.getElementById(id)){js=d.createElement(s);js.id=id;js.src=p+"://cdn1.findthebest.com/rx/widgets.js";fjs.parentNode.insertBefore(js,fjs);}}(document,"script","ftb-widgetjs");