Fed's Plosser: No Need for More Easing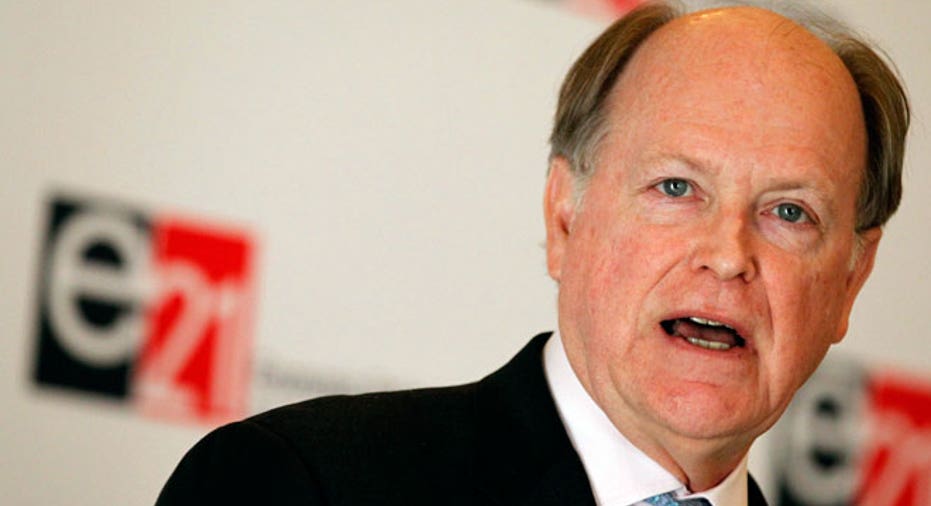 Despite Friday's weak jobs report, a top Federal Reserve official forecast 3% economic growth for this year and said that unless economic conditions substantially worsen, he would not support additional monetary policy easing.
"The economy would have to deteriorate significantly before I would think about doing more easing of any kind," including another round of government bond purchases known as quantitative easing, said Philadelphia Federal Reserve Bank President Charles Plosser, in an exclusive interview on FOX Business Thursday.
"I think that the economy is generally improving compared to when we did QE2 [in 2010]. We have to remember that the inflation rate was only 1%, unemployment was close to 10% and we did some easing and now unemployment is down to 8.2% and inflation is over 2%," he said. "It doesn't necessarily suggest to me that additional easing at this point is really called for."
Coming off the Labor Department report Friday that found employers only adding 120,000 jobs last month—about half of the expected amount--Plosser said the news hasn't change the way he views the economy fundamentally.
"It wasn't as strong as the last three [monthly jobs reports], but the last time we had four payroll months over 200,000 was in 1999," he told FBN's Peter Barnes. "Nonetheless it was a little disappointing, but I don't think it means very much. Remember, these numbers get revised periodically and next month we'll get a revision."
While he said rising oil and gas prices are a concern, Plosser, who is currently a non-voting member of the Federal Reserve's policy setting body, the Federal Open Market Committee, said he doesn't think that will derail the economic recovery.
He's also continuing to watch how European leaders are handling their debt crisis. "I am not quite as worried about Europe as I was in the fall; I am a little more comfortable that they are going to work their way through their challenges, but there are still risks out there [such as] how deep their recession might be."
Plosser, who has advocated for the central bank to raise interest rates sooner rather than later, said the timing of the exit is dependent on the economy. "My forecast for growth this year is 3% growth and unemployment rate drifting down to something like 7.8% by the end of 2012, if that is coming to pass and turns out to be an accurate forecast, than I can see by late 2012 or sometime in 2013 we may have to start to begin gradually raising rates in order to achieve our objectives."
Earlier on Thursday, Plosser spoke to the National Economists Club in Washington, D.C., and stressed the importance of the central bank's transparency.
"I believe that the Fed should provide more information about its reaction function and communicate its policy choices in terms of that reaction function," he said. He continued to suggest that the Fed issue a more comprehensive monetary policy report every quarter.
Plosser is just one of several Federal Reserve presidents taking the stage this week.
Thursday morning  Fed Vice Chairman William Dudley reportedly told an audience in Syracuse, N.Y., that the central bank should hold the key interest rate near zero until 2014, and warned continuing bond buying could spark inflation concerns.
On Wednesday, the Federal Reserve released its Beige Book survey that showed steady economic growth and hiring throughout the country in late February and through March. The report, which is based on information from the Fed's 12 regional banks, cited expansion in the manufacturing sector, an uptick in consumer spending and tourism along with increased demand for professional business services as reason for stronger economic growth. Plosser told FBN's Barnes that survey "was more or less more of the same--gradual improvement, modest, gradual increases in confidence and expectations of the future...it continues to look very encouraging."
Also on Wednesday, the vice chairman of the Federal Reserve reiterated the central bank's stance that borrowing costs are likely to stay low through 2014.
"I consider a highly accommodative policy stance to be appropriate in present circumstances," Janet Yellen said in a speech in New York City. She added that the recovery's slowing pace could force the Fed to continue its efforts to promote growth.
"Furthermore, the improvement in labor market conditions has outpaced the seemingly moderate growth of output. Looking ahead, significant headwinds are likely to continue to restrain aggregate spending, and progress in closing the remaining employment gap is likely to be quite gradual," she said at the Money Marketeers club of New York University.
The next Federal Open Market Committee meeting is scheduled for April 24-25.