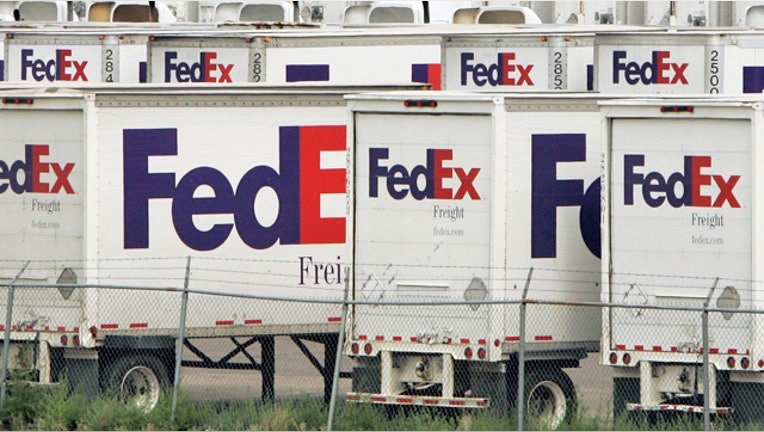 FedEx (NYSE:FDX) reported a fourth-quarter profit that more than doubled to beat Wall Street forecasts, as higher volume lifted the shipping company's revenue.
FedEx said Wednesday it earned $730 million, or $2.46 a share, compared $303 million, or 95 cents a share, in the same period a year earlier. The year-ago quarter included charges of $1.18 a share to cover the company's business realignment and an aircraft write-down.
Revenue jumped 3.5% to $11.8 billion, beating a consensus estimate of $11.66 billion. Analysts projected earnings of $2.36 a share.
Shares rallied 4.2% to $146.19 in recent trading. FedEx was down 2.4% on the year through Tuesday's close.
FedEx has embarked on an effort to boost profits, particularly at its express shipping unit, by reorganizing its businesses and upgrading its fleet with more fuel-efficient aircraft.
Meanwhile, the company is prepared to begin charging by package size at the start of 2015. FedEx said it will extend dimensional-weight pricing, which sets rates by measuring the exterior size of packages, to all ground shipments. Dimension weight is used when it exceeds a package's actual weight.
Larger rival United Parcel Service (NYSE:UPS) unveiled a similar rate structure earlier this week. The moves come in response to the rising number of e-commerce shipments, many of which are lightweight but take up a lot of space on delivery trucks.
For the period ended May 31, FedEx said its ground segment booked revenue growth of 8% to $3.01 billion. Average daily volume rose 8% year-over-year.
The Memphis-based company's express business, its largest top-line contributor, saw revenue rise slightly to $7 billion. FedEx said a 2% increase in package volume was partially offset by fuel surcharges and lower express freight revenue. The results were also impacted from one fewer day of operations compared to the year-ago period.
The freight segment posted revenue of $1.55 billion, up 12% amid a stronger performance for priority service.
FedEx anticipates per-share earnings of $8.50 to $9 in the new fiscal year. The company said its forecast reflects moderate economic growth and no year-over-year fuel impacts.
"Fiscal 2014 was a good year for FedEx and we expect fiscal 2015 to be even better," FedEx chief financial officer Alan Graf Jr. said in a statement.
FedEx also expects to increase capital spending to $4.2 billion from $3.5 billion in fiscal 2014. The spending plan includes aircraft deliveries and the expansion of FedEx's ground delivery network.