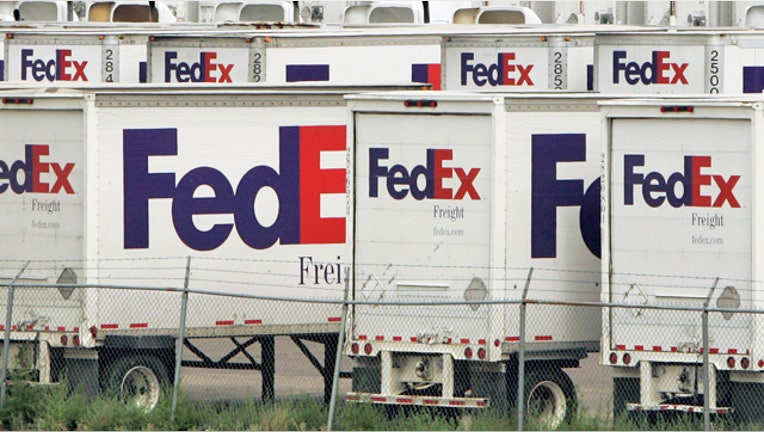 FedEx Corp. reported slightly weaker-than-expected revenue and adjusted profit in its May quarter, as the shipping giant was hurt by currency and fuel impacts and revenue fell in its biggest segment.
Shares of FedEx, up 5% this year, fell 1.1% in premarket trading.
In March, the company had warned that the strong dollar and higher fuel costs could hamper results for the quarter. Its results lately have been helped by restructuring at its largest segment, air express, where it has bought out thousands of employees and modernized its air fleet.
For the fourth quarter ended May 31, FedEx posted a loss of $895 million, or $3.16 a share, compared with a profit of $780 million, or $2.62 a share, in the year-earlier period.
The bottom line in the latest quarter was dragged down by heavy special charges. FedEx said last week that it would book a $2.2 billion pretax charge in the quarter as a result of its decision to switch to a pension accounting method that it said makes it easier to gauge plan performance.
FedEx also booked a charge of 47 cents a share related to a $228 million settlement in a long-running independent contractor lawsuit. FedEx has tussled for years over its practice of classifying its U.S. delivery drivers as independent contractors.
Excluding the charges, earnings were $2.66 a share, up from $2.54 a share a year earlier but below the consensus estimate of analysts polled by Thomson Reuters, who expected $2.68.
Revenue edged up 2.5% to 12.1 billion, below Wall Street's expectations of $12.3 billion.
For its newly-started fiscal year, FedEx projected per-share earnings of $10.60 to $11.10, while analysts had forecast $10.88 a share.
At the company's biggest segment—express—revenue fell 4.3% to $6.7 billion. A 2% increase in U.S. domestic package volume was more than offset by lower fuel surcharges and unfavorable currency exchange rates.
Revenue in the ground segment jumped 19% to $3.57 billion, helped by its acquisition of logistics provider GENCO Distribution System Inc. and a 5% increase in average daily volume.
FedEx said its freight segment's revenue edged up 1.3% to $1.57 billion, as shipments for the less-than-truckload operation improved 2%. Lower fuel surcharges also weighed on the segment.
FedEx also said it has raised the mandatory retirement age for its board from 72 to 75, effective immediately.