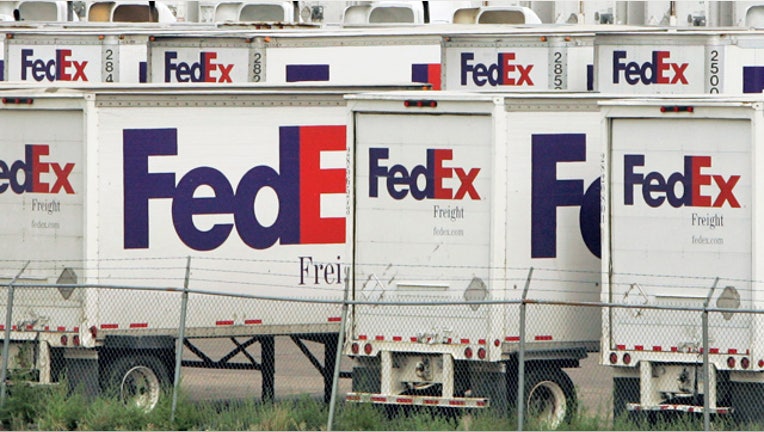 FedEx's (NYSE:FDX) second-quarter profit climbed 14% amid stronger ground-shipping revenue, although its bottom line missed Wall Street estimates.
The Memphis-based shipper reported on Wednesday a profit of $500 million, up from $438 million in the year-ago period. On a per-share basis, earnings rose to $1.57 from $1.39. The prior year's results included a negative impact of 11 cents due to Hurricane Sandy.
Revenue ticked 2.7% higher to $11.4 billion, matching expectations. Analysts were looking for a profit of $1.64 a share.
A 10% jump in ground-shipping revenue was partially offset by the larger express-shipping segment, which logged a slight 0.2% decline in revenue to $6.84 billion.
However, express shipping saw a 42% increase in operating profit. FedEx attributed the improvement to higher base package yields, lower pension expense and lower net expenses.
Express shipping across the industry has struggled to regain its footing with customers choosing cheaper and slower options more frequently. FedEx has recently made changes to its delivery options and raised prices for domestic express shipping by an average of 3.9%, effective Jan. 6.
In the latest period, ground shipping's operating profit rose 3% as revenue reached $2.85 billion. Average daily volume grew 8%, and revenue per package also rose.
U.S. average daily package volume saw a slight dip, while international priority volume fell 5%.
FedEx raised its full-year outlook for adjusted earnings, accounting for recent share repurchases. The company now sees per-share earnings growth of 8% to 14%, up from its prior guidance of 7% to 13%.
FedEx is in the middle of a multiyear plan to reorganize its businesses and update its fleet of aircraft. It has said most of the benefits won't be seen until fiscal 2015, with $1.7 billion of improved profitability expected in fiscal 2016 compared to 2013.
Earlier this year, FedEx revealed it was quickening the pace of its fleet modernization by grounding older jets sooner than expected.
Shares fell about 1.1% to $137.60 shortly after the opening bell. As of Tuesday's close, FedEx has enjoyed a 51.6% bounce this year.