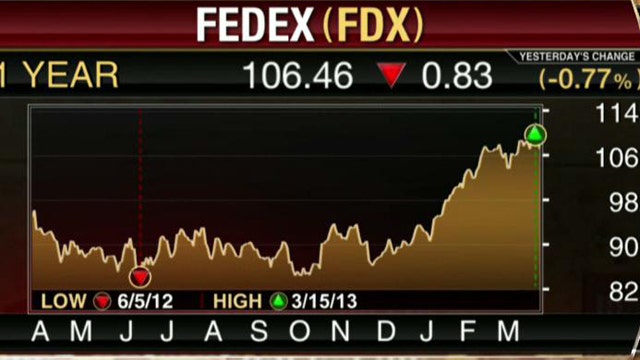 FedEx (NYSE:FDX) reported on Wednesday a third-quarter profit that fell 31% on restructuring expenses and continued pressure in its international business.
The global shipping giant also lowered its earnings outlook for the fiscal year to between $6 and $6.20 a share, before restructuring-related expenses. FedEx previously expected per-share earnings of $6.20 to $6.60.
For the current quarter, FedEx provided guidance for per-share earnings of $1.90 to $2.10. Analysts anticipated $2.07.
Shares of FedEx slipped 3.86% to $102.35 a share in early trading.
FedEx, the No. 2 package-delivery company in the U.S., said its profit for the third quarter was $361 million, or $1.23 a share, versus $521 million, or $1.65 a share, in the year-earlier period.
Adjusted per-share earnings, which exclude expenses related to cost-cutting measures and other items, were down to $1.13 from $1.55. FedEx's restructuring plan includes updating and modernizing its air fleet, as well as reorganizing its express, ground and freight businesses.
The company forecasted in December per-share earnings of $1.25 to $1.45.
Revenue rose 4% to $11 billion, above Wall Street's view of $10.85 billion.
Operating margin fell to 5.4% from 7.7%.
FedEx's express-shipping business, the largest top-line contributor, benefited from acquisitions and posted revenue of $6.7 billion, up 2%.
Meanwhile, international export revenue per package fell 3% amid a shift in demand to other services with lower yields.
FedEx is the world's largest international air shipping company.
"The third quarter was very challenging due to continued weakness in international air freight markets, pressure on yields due to industry overcapacity and customers selecting less expensive and slower-transit services," Chairman and CEO Frederick W. Smith said in a statement.
FedEx's chief financial officer, Alan Graf Jr., said the company expects continued pressure on international revenue.
"We have other actions under way beyond those already included in our profit improvement program," Graf said. "Some of these additional actions may involve temporarily or permanently grounding aircraft, which could result in asset impairment or other charges in future periods."
FedEx also announced its board authorized the repurchase of up to 10 million shares, adding to 188,000 shares left under an existing repurchase program.