Federal Reserve, Congress Go Into Summer Reruns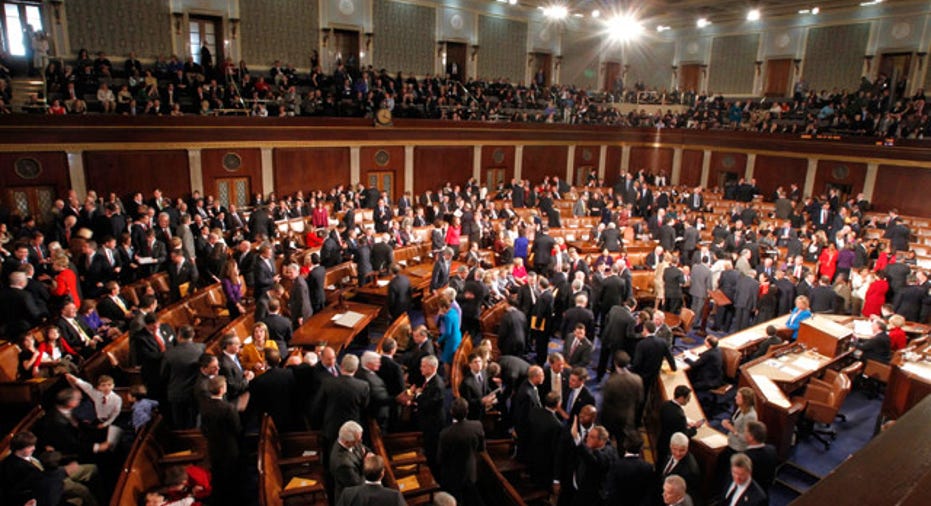 This week's meeting of the Federal Reserve's policymaking group is like that movie you watch on TV that you've already seen in the theater. You know how it ends.
The real uncertainty is whether Congress will play its role.
The Federal Open Market Committee will keep the key benchmark rate, called the federal funds rate, near zero, as expected. That will help maintain low interest rates on many consumer and business loans. The group probably won't touch its guidance to keep the federal funds rate at that level until late 2014. It will also likely reiterate that it extended a bond-swapping program designed to lower rates -- cutely nicknamed Operation Twist -- through the end of the year.
And bets are good that the FOMC will reassure the public that it is ready to prop up the economy more if things get worse.
So that leaves just the Fed statement. (There are no economic projections, and there is no press conference this time around.) Investors, analysts and economists love to play CIA decoder and parse through each phrase, comparing it with the last statement, to highlight the differences and wonder if they hint future action.
"We can look for indications that their outlook is deteriorating," says Paul Edelstein, director of financial economics at IHS Global Insight, "and for any clues that they are preparing to do something at a later date."
QE3: An election issue
That something at a later date is everyone's favorite: quantitative easing, or QE for short. That's when the Fed buys up more long-term securities in an effort to drive down interest rates. The central bank has already done two rounds of QE since 2009 and kept the possibility of a third in its pocket as the economy struggles to create a meaningful recovery.
The FOMC remains concerned, rightly so, about lackluster job growth, persistently high unemployment and an intractable debt crisis in Europe, all of which don't seem to be improving by themselves. The economy added only 80,000 jobs in June, not enough for a full recovery, while the unemployment rate didn't budge from 8.2%. And while the hoopla surrounding the eurozone has died down for now, the problems are far from resolved.
"It seems a clear case for more aggressive action," says Dean Baker, co-director of the Center for Economic and Policy Research. "But I don't believe that will happen."
Why not? Historically, the Fed is reluctant to make big monetary policy moves right before an election because it might come across as political, Baker says. But Fed Chairman Ben Bernanke and his posse may have no choice if the economy slides and Congress makes no moves to hold up fiscal policy.
Politics and Policy
Congress has been busy playing political theater with "Taxmageddon" -- the beginning of 2013, when steep spending cuts and massive tax increases may hit -- as they pander to voters. Bernanke has repeatedly warned lawmakers that going off this so-called fiscal cliff could plunge the economy into a recession. Even waiting until the last minute to reach across the table undermines confidence among businesses and consumers.
But there seems to be no persuading lawmakers. Sen. Charles Schumer of New York called the Fed "the only game in town" for the economy after Bernanke gave his twice-a-year report to Congress this month.
"With sentiment in Congress like that, Ben Bernanke has a very difficult road ahead of him," says Diana Furchtgott-Roth, a senior fellow at the Manhattan Institute for Policy Research. "He cannot be the only player trying to stave off an American recession."