Fear of Rejection is Keeping Homebuyers on Sidelines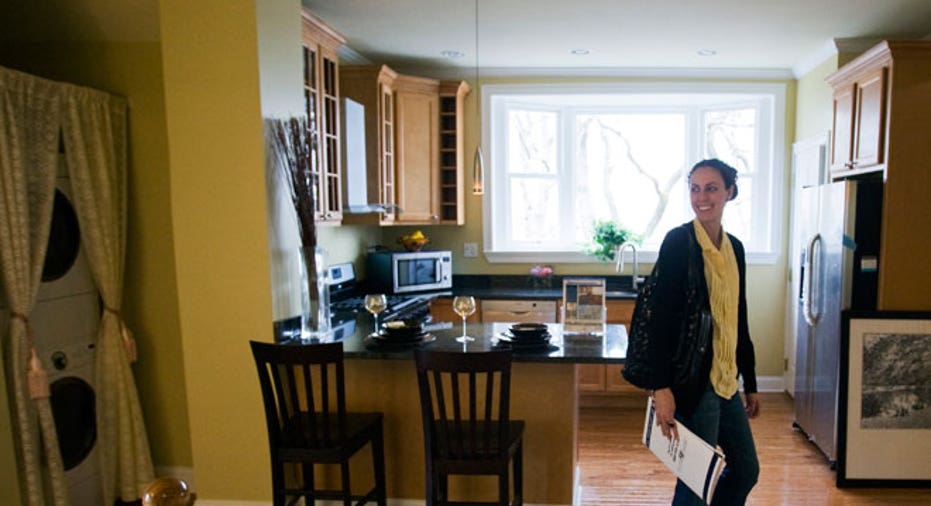 The home-buying process is notoriously arduous, but new regulations and a persistently-tight credit market are having a lasting impact on potential buyers' willingness to enter the market.
A new report from the Federal Reserve Bank of New York shows the current obstacles of getting a mortgage can reduce people's interest to apply for a home loan or even launch their hunt, an unfavorable development because the market desperately needs first-time buyers.
"One cannot overestimate the need for first-time buyers in this market," says Keith Gumbinger, vice president of housing website HSH.com. "Nothing moves without the first-time buyer, if no one buys the bottom-rung properties those people can't move up and so on and so forth. It's preventing the market from moving forward."
The Fed's report compared mortgage applications from May 2013 to February 2014, and found applications fell sharply over this period for consumers in all FICO brackets.
Application rejection rates fell for all groups except for those with FICO scores below 680, and they were rejected at about six times the rate of those with scores above 760. Not surprisingly, these borrowers indicated less interest to apply for similar loans in the next year. "This was the first inclination this group was being treated different and is a direct reflection of the tight credit market," says Ken Fears, an economist from the National Association of Realtors.
Those with FICO scores below 680 don't expect things to improve.
Earlier this year, new regulations went into effect that require lenders to verify borrowers can afford their loans. Rules created under the Dodd-Frank Act in the wake of the 2008 housing crisis require lenders to evaluate customers' long-term financial stability by assessing their income, assets, savings and debt against their monthly house payments. The Qualified Mortgage standards regulate borrowers' total debt load can't climb above 43% of their monthly income without being backed by Fannie Mae, Freddie Mac or a federal housing agency.
The restrictions have especially impacted first-time buyers.
According to Fears, first-time buyers tend to make up about 40% of sales in a normal market. Currently that rate is hovering around 30%. "These buyers tend to be a little more impaired, they don't have a credit history, don't have the savings to put down the often required 20% down payment, they haven't held a job long enough and haven't created the solid financial footing lenders are demanding with the new regulations."
While mortgage rates have ticked up nearly 80 basis points over the past year, Gumbinger says there are other reasons leading to decreased home sales this year. "If you  got rejected out of hand, it's easy to get deterred from wanting to try again, it all comes down to how strong is your stomach for the process and how close you were to getting approved."
Buyers with lower credit scores can still get loans, he maintains, but it's going to cost them more "The reality is, a 680 credit score is an acceptable credit score and you can get a conventional or FHA-backed loan. However these people will face loan level adjustments added on. That interest rate is only for the top borrows, so they can expect higher rates and a pile of fees and maybe a higher down payment—that is cash out of your pocket."
An April survey from loanDepot, an independent lender, also highlighted that fear of rejection is keeping nearly half (46%) of potential buyers out of the market. Twenty-seven percent of all wanna-be buyers who are afraid they won't get approved for a mortgage have taken steps to find out if they would qualify and 88% have simply put their dream of owning a home on pause.
"The confidence level in the mortgage market continues to erode and as a result of the last five to six years, younger generations and minorities are confused over their lending options and aren't even trying to become a homeowner," says Anthony Hsieh, CEO of loanDepot.
Earlier this month, Fannie Mae and Freddie Mac announced new policies that aim to make it easier to obtain a mortgage, but Hsieh says it's going to take a more coordinated effort with the public and private sector to get liquidity in the mortgage market flowing again.
"It's a massive market—we are talking $1 trillion—but right now with have Fannie, Freddie and the FHA controlling 90% of the market's liquidity. Normally that number's down around 40%. That shows Wall Street is still not comfortable."
He says the increased government control means less lending options for consumers. "There needs to be more programs available that fit people with less than perfect credit scores and history. When it comes to first-time buyers, they don't have as stable income and will need more leniency with debt to income ratios. The market has to create liquidity in order for perception and then reality to come together for that market to get together."
Experts say some banks have started to offer lending options for less-than-stellar borrowers, but Fears says they need to be publicized better to get people back in the game.
But Gumbinger isn't convinced buyers are ready. "Even if you said tomorrow, 'if you want a mortgage and you can breathe we will give one to you,' I don't think people will be lining up at the door. They've seen this movie, and they didn't like the ending."