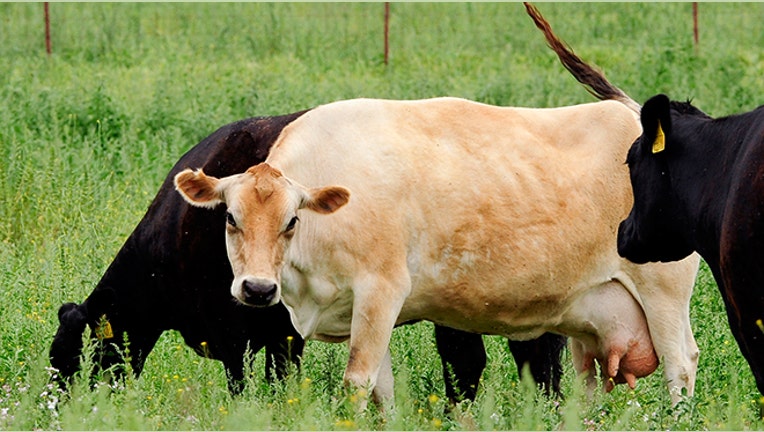 Food safety regulators said Wednesday they want food processors to begin phasing out the use of antibiotics that are fed to animals and believed harmful to humans.
The Food and Drug Administration hopes the move will cut down on the development of antimicrobial resistance in both humans and animals, helping to protect against potentially fatal illnesses caused by drug-resistant strains of bacteria.
"Antimicrobial resistance may not be completely preventable, but we need to do what we can to slow it down," said William Flynn, deputy director for science policy at FDA's Center for Veterinary Medicine (CVM).
The antibiotics are used regularly across the industry to force cattle, hogs, poultry and other food-producing animals to gain weight faster, helping meat producers to save on feed costs.
However, the FDA says the drugs can make certain medicines ineffective if the bacteria they target become resistant.
The FDA is encouraging animal pharmaceutical companies to voluntarily phase them out of regular animal feed. Under the program, feed with antibiotics would be transferred from over-the-counter to marketing status requiring veterinary oversight, meaning it would only be available by prescription to treat, prevent or control disease.
While voluntary, the FDA says it has "every reason to believe" the drug companies will support the effort. Eli Lilly's (NYSE:LLY) animal health business, Elanco, Merck Animal Health (NYSE:MRK) and Zoetis (NYSE:ZTS) have publicly supported it.
"As a company dedicated to animal health, it is our responsibility to help ensure that antimicrobials are used responsibly to protect the health of humans and animals as well as the safety of the food supply," Elanco said in a statement.
On Wednesday, safety authorities issued guidance that stems from a pledge made back in 2010 that explains how animal feed manufacturers can work with the FDA to remove the antibiotics from their products.
Drug companies have three months to notify the FDA of their intent to volunteer and will have three years to become fully compliant.
"We realize that these steps represent changes for veterinarians and animal producers, and we have been working to make this transition as seamless as possible," CVM Director Bernadette Dunham said in a statement.
The big meat producers, including Tyson Foods (NYSE:TSN), Hormel (NYSE:HRL), Smithfield Foods (NYSE:SFD), JBS USA and Cargill Meat Solutions, are mixed on the changes.
In a statement to FOX Business, a Tyson spokesperson said that the company already has veterinarians oversee antibiotic use on its supplier poultry farms but cannot account for the veterinary care of its independently-supplied cattle and hogs.
Tyson says it is still learning more about the FDA's plans but continues to promote "responsible use of antibiotics."
Cargill supports "regulatory policy that is science and risk based," including the appropriate use of government-approved antibiotics for farm animals. It says it is committed to using innovation that can reduce the need for antibiotics.
Smithfield pointed to its antibiotics policy that requires "no consistent use of feed-grade antimicrobials of human health significance over the life of a healthy animal."
Hormel and JBS USA weren't immediately available for comment.
The FDA hopes to roll out modifications to the Veterinary Feed Directives process to help ease the transition.