Farmers Turn to Internet to Save on Seeds and Other Supplies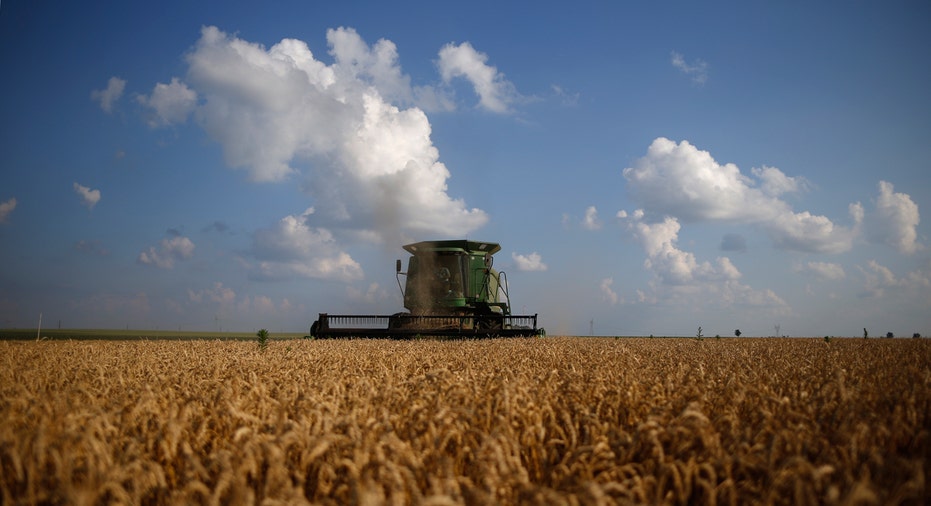 Brandon Sinclair spent $26,000 on herbicides for his corn and soybean fields last year, roughly half what he says he used to pay at his local co-operative.
The savings came from a source many U.S. farmers have been slow to tap: the internet.
Farmers have long made pilgrimages to farm stores and co-operatives to purchase seeds, fertilizer and weed and pest killers. Now, with a commodity glut pressuring crop prices and pushing farm incomes to an eight-year low, farmers are scouring the web for better deals on the products they use to grow their crops.
The shift could upend a decades-old system built around small-town suppliers that also offer farming advice and sell services such as spraying for weeds. Mr. Sinclair says the math is simple: Using savings found online, the 31-year old Illinois farmer was able to spring for a helicopter to wrangle his herd of cattle. Now he is urging his neighbors to shop online, too.
"I've always been kind of a tech guru and a tight-ass," Mr. Sinclair said.
The internet has been slow to spread across rural America, but increasingly farmers are within reach of online pricing and sellers. A decade ago only a third of people in rural areas had access to broadband internet, versus nearly half in cities, according to the Pew Research Center. As of November broadband had reached 63% of rural residents and 73% of people in cities.
Farmer proponents of online shopping say they have discovered local prices for crop supplies can vary widely across the country. Weedkillers can cost up to four times as much in one part of the country as in another, according to Farmers Business Network Inc., a San Francisco-area startup backed by Google Ventures.
FBN, which provides farming advice and sells supplies, last year launched a service allowing farmers to monitor what their peers nationwide pay for hundreds of chemicals. Farmers use the data to negotiate for lower prices from local retailers or buy products directly from FBN.
Online sellers, including some wholesale distributors and national farm retailers, often offer generic versions of popular pesticides that are cheaper than the branded counterparts frequently sold by co-ops. FBN says it also can offer products at a discount because it lacks expenses associated with brick-and-mortar facilities and is able to get better deals from manufacturers because of its national scale.
"It's infuriating knowing how deeply we've been gouged," said Nebraskan farmer Clay Govier, who said he saved more than $12,000 on herbicides for his 3,000-acre corn and soybean farm by checking prices on FBN's network.
Farm retailers say the season and the availability of supplies can fuel discrepancies in prices of chemicals, just as prices for some consumer goods vary depending on where they are sold. They also argue that online portals can't replace the relationships local co-ops foster with their customers, and the logistics of shipping large volumes of hazardous chemicals can be a hurdle for upstarts.
"It's naive to think that buying a TV or an Xbox online at Christmas is no different from buying the seed and chemicals that your livelihood depends on," said Lance Ruppert, head of agronomy marketing at Growmark Inc., a major co-operative.
Traditional co-ops and retailers are struggling along with their customers, and some see online sales and services as a way to defend their turf. Growmark is considering an online sales portal, as are fertilizer producer Agrium Inc., which is also the largest North American agricultural retailer by sales, and CHS Inc., the largest U.S. agricultural co-op.
Last year, Agrium's profit dropped 40% because of lower fertilizer prices, while CHS's earnings fell 46%. Growmark's profit declined 5% for its fiscal year ended Aug. 31.
Products ordered from online sellers are typically delivered right to a farmer's door via truck. FBN has nine warehouses in eight states to supply customers, and uses trucking companies such as FedEx Freight, a subsidiary of FedEx Corp., which can deliver chemicals in quantities up to 44,000 pounds.
FBN, which launched in 2014, doesn't disclose its sales, though co-founder Charles Baron said they have risen sharply in the past 12 months. He said the company isn't yet profitable as it invests in its technology.
Earlier attempts to bring e-commerce to the farm failed. Rooster.com, a site selling farm supplies that was created in 2000 by Cargill Inc., DuPont Co. and the co-op now known as CHS, quickly closed down.
David Black, CHS's chief information officer, said Rooster struggled because farmers were used to planning out fertilizer, seed and chemical purchases with local experts. Many potential customers weren't willing to forego their advice for cheaper prices, he said.
Now demographic shifts are helping to change that. Farmers have long tracked crop prices on their home computers and were early adopters of GPS technology; now increasingly tech-savvy young people are taking over family farms.
"Everything can be done at home," said Chad Smith, a 30-year-old former seed salesman in Elk Mound, Wis., who now sells insurance. "You don't need to go into the co-op and eat peanuts and talk to the salesman anymore."