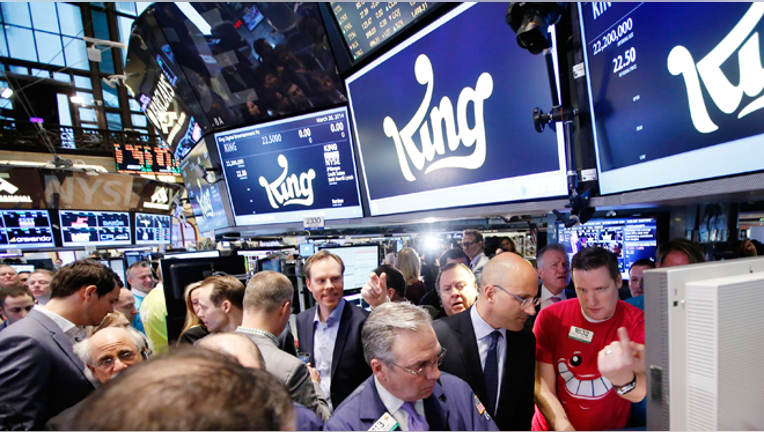 King Digital Entertainment Plc, maker of the popular mobile game "Candy Crush Saga", reported better-than-expected first-quarter results, helped by higher gross bookings for its hit puzzle game "Farm Heroes Saga".
Investors have been concerned about the company's apparent over-reliance on "Candy Crush Saga".
King's shares rose about 3.4 percent to $19.41 in premarket trading on Wednesday. The stock has not touched its IPO price of $22.50 since King went public on March 26.
In "Candy Crush Saga" users move candies to line up at least three of the same color. In "Farm Heroes Saga", modeled on "Candy Crush Saga", a player has to guard a farm, livestock and harvest particular crops in a limited number of moves.
London-based King's net profit rose to $127.2 million, or 41 cents per share, in the quarter ended March 31 from $52.7 million, or 16 cents per share, a year earlier.
Excluding items, it earned 61 cents per share.
Revenue rose three-fold to $606.7 million.
Analysts on average were expecting a profit of 59 cents per share on revenue of $601.5 million, according to Thomson Reuters I/B/E/S.
King, which has developed over 180 games, said total gross booking rose 1 percent from the preceding quarter.
However, gross margins for the two-year-old "Candy Crush Saga" slipped to 67 percent from 78 percent.
Investors have worried that unless King delivers a set of consistent hits apart from "Candy Crush Saga", it might suffer the same fate as "Farmville" maker Zynga Inc and "Angry Birds" developer Rovio Corp, which are struggling to retain players.
King's shares hit a low of $15.84 on April 15 and closed at $18.76 Tuesday on the New York Stock Exchange.