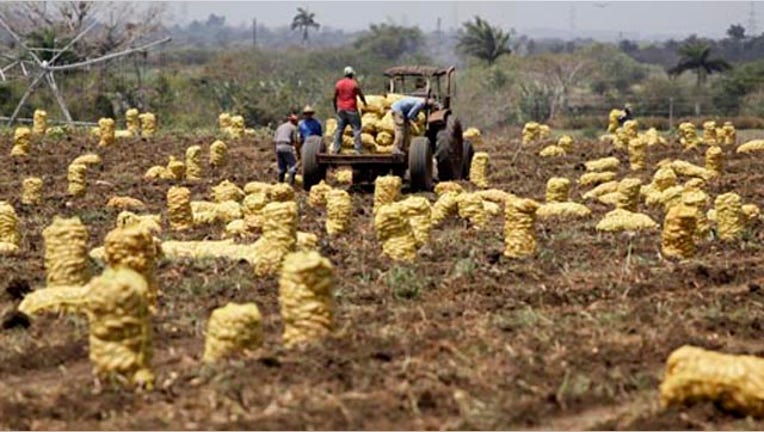 Welcome to OnSale at FOXBusiness, where we look at cool deals and insane bargains.
Go local with this new site for freshly farmed goods. Google isnt just IN your wallet, it IS your wallet. Fantasy footballers must check out this new streaming service and the latest from Samsung may be really thin, but its a huge deal.
CSA Group Deals
New group buying site Farmigo makes it easier to participate in Community Supported Agriculture by purchasing locally-grown, organic produce and meats directly from local farms. The service allows groups of people to sign up for farm-fresh goods purchased in bulk.
Through a quick, simple ZIP code search, shoppers can find the nearest producer and read all about the farms that support Farmigos direct-to-consumer sale approach. Each farm has its own web store, complete with harvest information to alert shoppers of whats in season and the next harvest. Farmers are also able to see whats in demand.
All transactions are between farmer and customer, with no middleman involved in the process. Subscription terms vary according to location, but are easily accessible before signing up. Check it out at Farmigo.com.
Cash, Check, or Google?
Google Wallet has finally arrived. Googles mobile payment system is available via Android app on Nexus S 4G, available on Sprint, and so far uses Citi MasterCard and the Google Prepaid Card.
Theres also a tap-to-pay feature, which lets users tap their phone instead of having to swipe a card. (This feature is available wherever you see the MasterCard symbol and the words PayPass. Soon you may even start seeing a Google Wallet logo, too.)
Those who use Google Offers will be glad to know that they can store offers automatically in their Wallet, for easy access on the go. Google Wallet also has a PIN feature to keep a users identity safe and secure. Google Wallet payments are currently accepted at select Sports Authority, Duane Reade, CVS Pharmacy, and Foot Locker stores, and is expected to be available at Macys, Walgreens, and Einstein Bros. Bagelss soon. You can search for locations nearby, too, by visiting Googles Where it Works section.
Want to use Google Wallet but dont have the right phone? Click here to sign up for availability notifications.
Personalized Sports Updates
Those who want to keep track of their favorite teams and fantasy players will be happy to know that Slacker Radio and ESPN Audio are making customized sports stations, just for you.
Those who use Slackers free Basic Radio service to listen to their favorite playlists now have access to an interactive station from ESPN. Slacker Radio Plus ($3.99 per month) and Premium Radio ($9.99 per month) listeners will be able to listen to the ESPN station ad-free, and sign up for personalized stations according to favorite team or sport. Hourly SportsCenter updates are available for paying Slacker customers, too. Find out more at Slacker.com.
A New Galaxy on the Way
Samsungs Galaxy Tab 8.9 is coming soon& maybe even sometime this week. The tablet, powered by Android 3.1 Honeycomb, uses Adobe Flash and has a Dual core 1GHz processor. The device can also multi-task, and provides a great gaming experience without any buffering or plug-ins to mess with. The dimensions are impressive, weighing in at 447 grams and 0.34 inches from front to back.
The Tabs access to Media Hub lets users rent or download movies and TV shows to be stored in the cloud and viewed on other Media Hub-enabled devices. The retail price: $469. Learn more at Samsung.com.
Know of a killer deal or insane bargain? E-mail the goods to OnSale@FOXBusiness.com and share the wealth.