Family Dollar Rejects Dollar General Proposal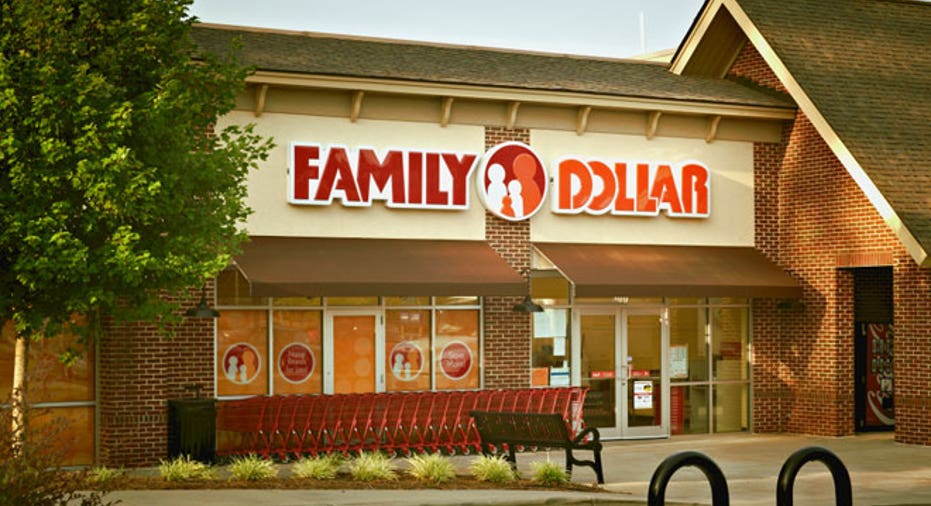 Family Dollar's (FDO) board of directors said Thursday it rejected a merger proposal from rival discount chain Dollar General (DG). The board cited antitrust regulatory considerations as the reason for the rejection, and reaffirmed its recommendation for a merger with Dollar Tree (DLTR)
Family Dollar Chairman and CEO Howard Levine said in a statement he, along with the board, unanimously agreed the proposed deal from Dollar General would not be completed on the terms proposed in the offer. He added the letter sent from its rival late Wednesday night contained "blatant mischaracterizations," which contributed to his concern for potential antitrust issues.
"Our Board of Directors, with the assistance of outside advisors and consultants, has been carefully analyzing the antitrust issues in a potential combination with Dollar General since the beginning of this year, as detailed in the Company`s preliminary proxy statement that was filed by Dollar Tree with the SEC on August," he said in the statement.
Further, the chief executive emphasized he and the company would instead continue to move forward with a proposed deal with Dollar Tree. Levine said entertaining an offer – especially one that raises potential regulatory concerns – would only do damage to the potential deal with Dollar Tree.
Two's Company, Three's a Crowd
Discount dollar-store chains have been increasingly backed against a wall, finding more difficulty in the current market landscape with big-box retailers like Wal-Mart (NYSE:WMT) and K-Mart trying to reach more spending-conscious consumers.
The battle for Family Dollar has been ongoing for the last several years. In 2011, the chain rejected a $7 billion buyout offer from investor Nelson Peltz after a previous months-long battle in which a merger with Dollar General was floated.
More recently, though, billionaire activist investor Carl Icahn took a 9.39% stake in the company back in June, becoming its biggest shareholder, and pushed for a merger with Dollar General. When the investor threatened to replace the company's board if a sale process wasn't started, the discount chain adopted a "poison pill," or a shareholder rights plan.
Since then, there have been competing offers to buy out or merge with the company. On Monday, Dollar General submitted a counter offer from Dollar Tree to acquire Family Dollar. Dollar General's $78.50 per share cash offer was a 3.2% premium to Family Dollar's close last Friday. The deal, valued at $8.95 billion, was above the $8.5 billion offer Dollar Tree extended in July, which amounted to a $74.50 per share in cash and stock
Family Dollar's move to reject Dollar General's buyout offer comes just days after FOX Business's Charlie Gasparino reported Icahn was prepared to go to war with the company's board of directors in support of the offer.
According to Gasparino's reporting, the activist believes Levin rejected the Dollar General deal because he would not remain at the company. Under Dollar Tree's proposal, though, Levin would remain on as CEO after the acquisition is completed. Icahn argued had Family Dollar moved forward with an agreement with Dollar General, the company and shareholders would have stood to lose $300 million by agreeing to a break-up fee with Dollar Tree.
Shares of Family Dollar and Dollar General  were relatively unchanged, while shares of Dollar Tree were off 1.18% in recent trade.