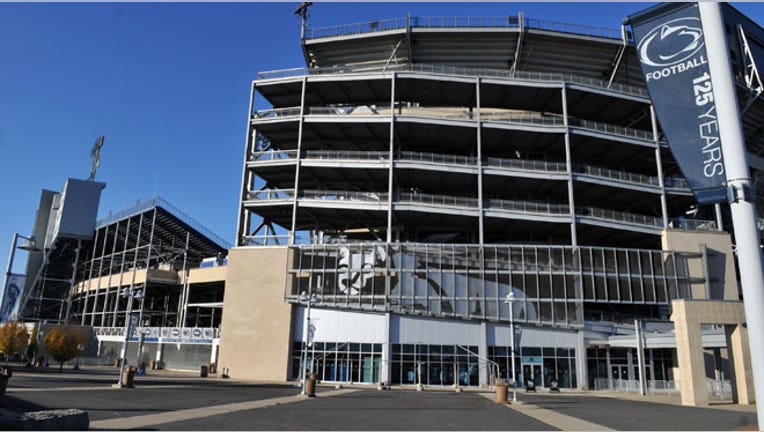 Days after Penn State was slammed with a $60 million penalty and other painful sanctions, Moody's warned it may downgrade the school's credit rating.
The warning is the latest gloomy news for Penn State, which has seen its reputation and prospects hurt badly by the Sandusky child molestation scandal that has ripped through the sports world this year.
Moody's Investors Service said on Tuesday it is placing Penn State's "Aa1" rating on review for a downgrade.
Recent reports and investigations "collectively point directly to weaknesses in the university's management and governance practices," Moody's said in a statement.
The ratings company cited the release of the devastating Louis Freeh Report, which was heavily critical of Penn State officials and legendary coach Joe Paterno for failing to stop sexual abuse of children by former assistant coach Jerry Sandusky.
Sundusky was convicted last month of 45 charges after testimony from victims that Sandusky molested them, frequently on the Penn State campus or at Penn State related events, in incidents dating back to 1998. The Freeh Report found that for years Paterno and other high ranking school officials covered up allegations made against Sandusky to protect the reputation of Penn State's football program.
Moody's said its review will "focus heavily" on the school's governance and management as well as the implementation of the recommendations included in the Freeh Report.
At the same time, Moody's cited the harsh sanctions handed down by the NCAA on Monday. The NCAA levied a hefty $60 million fine on Penn State -- equal to about one season's worth of football revenue -- vacated all wins from 1998 to 2011, prohibited bowl-game appearances for the next four years and reduced scholarships.
Moody's said its report, which is set to wrap up in 90 days, will also weigh "potential negative implications" for the school's student demand and fundraising due to the findings and NCAA sanctions.
In a further sign of the fallout from the Sandusky scandal, State Farm has reportedly dropped its sponsorship of Penn State's football program.