Falcons CEO: New Stadium's Cheap Eats Will Change the Concession Game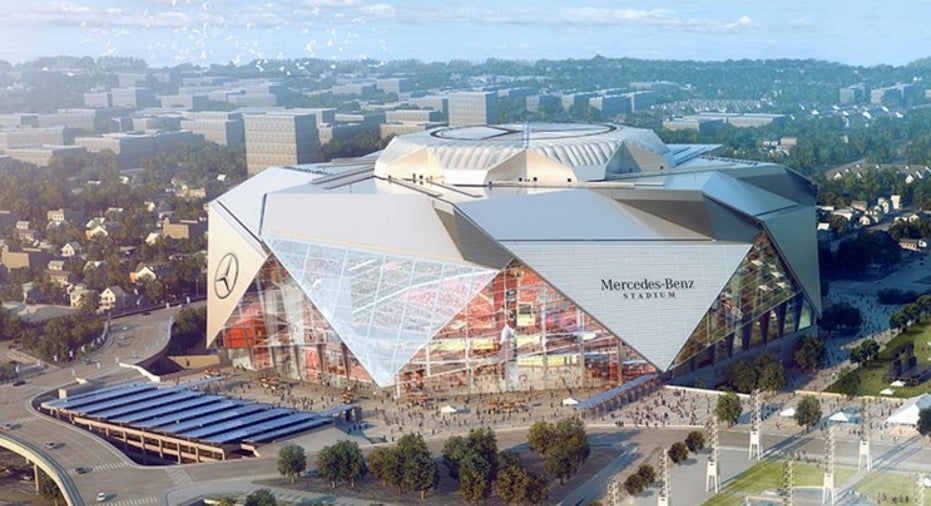 The Atlanta Falcons don't want fans to break the bank at the new Mercedes-Benz Stadium. On Monday, the team revealed a menu of low-priced foods and beverages, saying fans shouldn't be scared away by pricey stadium food.
Mercedes-Benz Stadium's concession stands will sell $2 soft drinks with unlimited refills, $5 domestic beer and other fan favorites at cheaper prices. The Atlanta Falcons say the new pricing structure creates a "fan-first menu," addressing a primary concern for ticket holders. Citing the NFL's Voice of the Fan Survey and internal research, the Falcons noted that food and beverage is the third-most important driver of satisfaction on game days. However, concession offerings are also the lowest-rated aspect of the in-stadium experience.
"We felt like we needed to change the game," Falcons President and CEO Rich McKay said in an interview with FOXBusiness.com. "We don't want people to feel like they paid for entry and then we marked up all the prices after they enter the building."
McKay noted that fans aren't used to seeing low prices at live events, with the Masters tournament being one of the few exceptions. Augusta National is known for its inexpensive concession menu, including the course's famous pimento cheese sandwiches for $1.50.
According to Team Marketing Report's annual Fan Cost Index, the average cost of a beer was $7.42 at the start of the 2015 season.  Soft drinks were priced at $4.79 on average, and hot dogs were $5.29. At the Georgia Dome, the Falcons' current home, the cost of beer ($7.50), soft drinks ($6.50) and hot dogs ($5.50) were all slightly above league average.
We don't want people to feel like they paid for entry and then we marked up all the prices after they enter the building.
The Falcons want Mercedes-Benz Stadium, which opens in 2017, to make the fan experience more inviting.
"The food and beverage experience in most stadiums is broken, and we didn't want to perpetuate that," Mike Gomes, senior vice president of fan experience at AMB Sports & Entertainment Group, told FOXBusiness.com.
Team officials are bracing for more demand as a result of the price cuts. Mercedes-Benz Stadium will have more than 670 points-of-sale, a 65% increase over the Georgia Dome's concession stands. And to keep concession lines moving, self-serve soda refill stations will be separated from concession stands, and prices were intentionally rounded to the whole dollar. The Falcons also say extra kitchen capacity will speed up service and improve quality.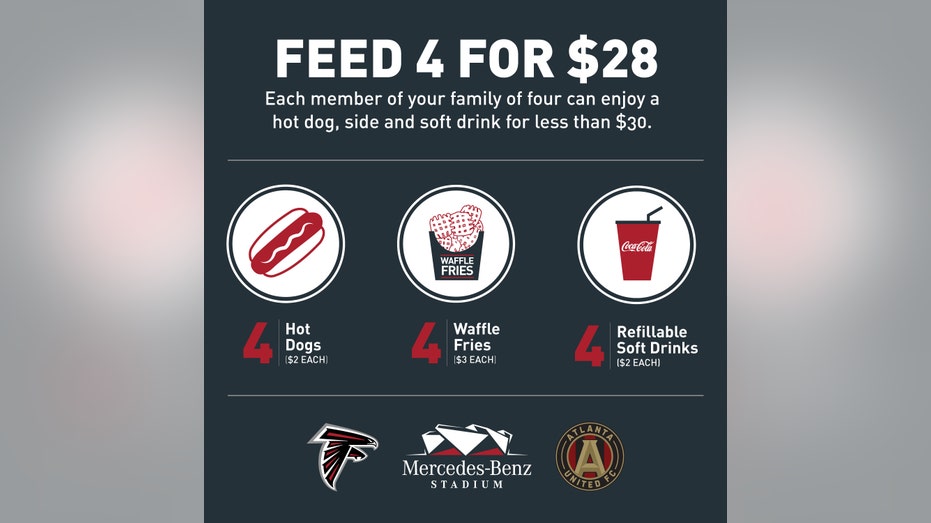 "It's an investment in fan experience more than anything that's going to return a financial gain," McKay said.
The business case for slashing concession prices can be seen as a larger proposition. More than ever before, sports franchises are competing with the in-home experience, as more fans shun the cost of attending games and stick to their high-definition televisions.
"It's something that we as a league have talked about in the past. I do think it's an issue, but we are a live experience, and people want to go to live events. I think what we've got to do is deliver on that experience," McKay said, adding that lower concession prices and big-screen displays in Mercedes-Benz Stadium are just two ways to draw fans. "What we're trying to do is change the game for fans and make the live experience so great that the only way they get it is by coming to the stadium."
Falcons owner Arthur Blank, a co-founder of Home Depot (NYSE:HD), wants the experience inside Mercedes-Benz Stadium to match "the wow factor when [fans] approach the building." He also said the menu should encourage families to eat inside the stadium, rather than eat elsewhere before or after games to avoid paying steep prices.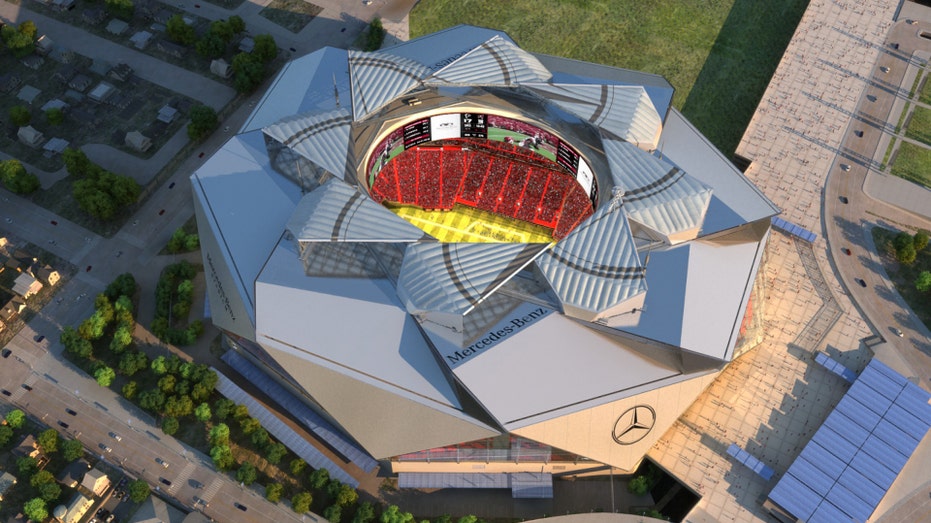 "We took the food and beverage model, a traditional one, and threw it out the window," Blank said at a news conference in Atlanta.
Cheeseburgers will be $5 apiece, and a chicken tender basket will go for $6. Other value-oriented items on the menu include pretzels ($2), popcorn ($2), nachos ($3) and pizza slices ($3). Coca-Cola will be priced at $2, Dasani bottled water at $2 and Coca-Cola in a souvenir cup at $4. A 12-ounce Bud Light will cost $5. Prices include sales tax.
Gomes, a former Walt Disney (NYSE:DIS) executive, said the deal is a great value for families. Rather than use other stadiums and ballparks as points of comparison, executives considered pricing at local restaurants.
Prices will be the same across all major events at Mercedes-Benz Stadium. In addition to the Falcons, Mercedes-Benz Stadium will be home to the Atlanta United, a new Major League Soccer franchise formed by Blank's AMB Group.
The "fan favorites" revealed on Monday account for about 80-85% of all food and beverage volume at the stadium, according to Gomes. Beyond traditional stadium food, the Falcons plan on rolling out healthier options and premium food items. McKay said the team is in discussions with local restaurants and beer makers to bring their creations inside Mercedes-Benz Stadium, and those prices will also reflect what customers pay outside the stadium.