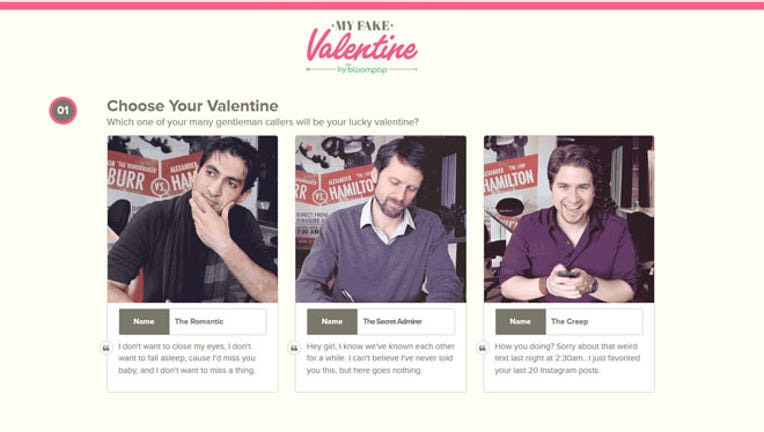 Looking for love this Valentine's Day? Would you prefer "The Romantic," "The Secret Admirer" or uh-oh, "The Creeper?"
These are the three fictitious "gentleman callers" on the new website MyFakeValentine.com, that allows users to send themselves flowers under one of the above aliases to avoid the doom and gloom of being single on the national day of love.
MyFakeValentine.com was created by Shavanna Miller, founder of Bloompop. The flower arrangements range in price as well as "jealousy level" for those around you when you receive the delivery. And, it comes with a hand-written note from the admirer of choice.
Miller founded Bloompop in September 2013 after looking for a unique way to market its products this Valentine's Day. Washington, D.C.-based Bloompop is an online marketplace that connects consumers with local florists.
"Running a flower startup, I talk about flowers a lot with people and I have a lot of single friends who dread Valentine's Day," she says. "This is a tongue-in-cheek way to send yourself flowers."
And the local florists she works with say that every year they have repeat customers who send themselves flowers on the holiday.
"They said more people send themselves flowers than you'd think," Miller says.
Above all, she says it's a light-hearted way to approach a holiday that some singletons don't see much fun in.
"We thought this is a fun way for people to not take themselves so seriously if they are single this Valentine's Day," Miller says.